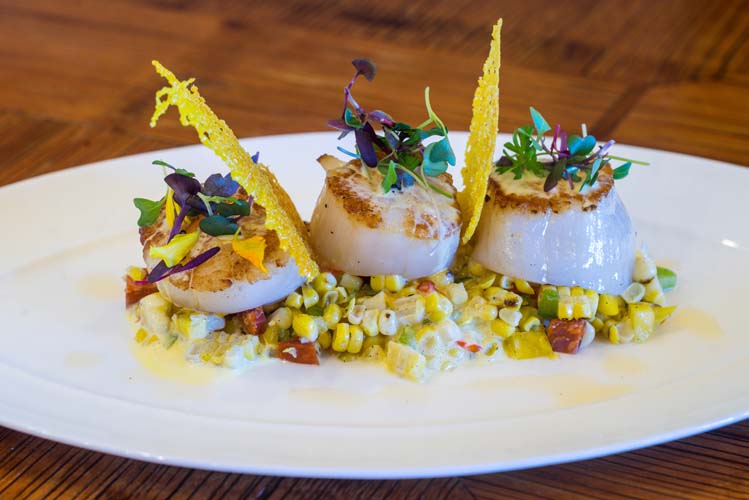 A couple of weeks ago, we heard that Cobalt – the elegant restaurant at the Vero Beach Hotel & Spa – had rolled out a new menu in preparation for the start of another winter season. So we headed there with a couple of guests to check it out.
The hostess showed us to a nice table in front of the spectacular 15-foot-high glass wall that looks out on the firepit and the sea, and a server quickly arrived to take our drink orders.
For starters on this visit, I decided to pass up the steamed clams – which I have enjoyed on several occasions – and instead chose the foraged mushroom salad ($12).  My husband opted for the poke salad ($16), one of our companions went for the crispy calamari ($14) and the other settled on the farm greens ($10).
My mushroom salad, a variety of roasted exotic mushrooms mixed with arugula, pickled red onions, crispy shallots and dressed with a lime ponzu vinaigrette, was exceptional.
The crispy calamari appetizer, served with cocktail sauce and lemon aioli, was a huge portion – plenty for two to share.  The farm greens were adorned with buttermilk blue cheese, candied pecans, figs, watermelon radish and carrots, and dressed with a champagne vinaigrette.
My husband's poke salad was one of the nicest renditions of this increasingly popular dish that we have seen recently.  The small chunks of raw yellowfin tuna were mixed with marinated seaweed, greens, cucumber and carrots, and topped with tobiko (a flying fish roe), toasted sesame seeds, with a soy reduction and carrot ginger dressing.
Then for entrées, I decided to try the red snapper ($30), my husband chose the Aussie lamb pops ($34), one companion ordered the grouper ($32) and the other opted for the hanger steak ($28).
My entrée consisted of three pieces of snapper served with jasmine rice, baby bok choy, fried basil, and Thai sweet chili. A flavorful medley of Asian tastes.  Our companion's grouper was also perfectly prepared, and served with red skin potatoes, citrus-fennel salad, and tomato consommé.
Our other companion's hanger steak was tender and tasty, served with sautéed onions, mushrooms, red skin potatoes, bone marrow and steak sauce.  My husband's lamp pops were perfectly grilled medium rare, and served with mushrooms, a goat cheese mousse.
We concluded the dinners with a dish of refreshing mango sorbet.
Dinner for two with wine, before tax and tip, should run somewhere around $150.
On other visits to Cobalt, we have enjoyed a variety of its seafood dishes (the scallops being a favorite). But meat lovers should take notice of the fact that the hanger steak is currently the only beef on Cobalt's menu.
Cobalt benefits from the fact that its adjoining lounge attracts large numbers of locals to what is clearly the top happy hour on the beach. And on a good night, the fashionable dark-paneled grill is a very good hotel restaurant – the kind you expect from Kimpton, one of the country's best operators of fine hostelries.
I welcome your comments, and encourage you to send feedback to me at tina@verobeach32963.com.
The reviewer dines anonymously at restaurants at the expense of Vero Beach 32963.  
Cobalt
Hours: Dinner daily, 5:30 pm to 10 pm; Lunch Monday-Friday 11 am to 2:30 pm; Brunch weekends 8 am to 2:30 pm.
Beverages: Full bar
Address: 3500 Ocean Drive, Vero Beach
Phone: 772-469-1060