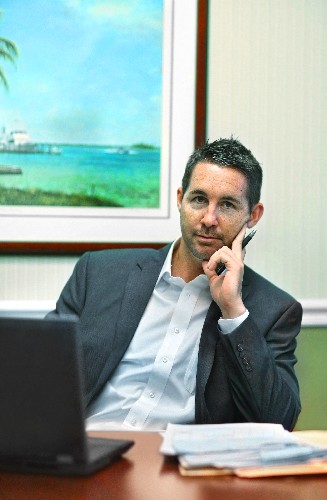 Jarrod Owen vividly remembers the day in 2003 when his twin brother, Josh, told him he was dropping out of college and moving to Nashville to chase fame and fortune as a country music singer and songwriter.
"We were both at Florida State and I had just come back from tennis practice," Owen recalled. "And I could see something was up, because all his stuff was packed."
He also remembers his reaction to his brother's news.
"I said, 'You're an idiot,'" Owen said, adding that the two of them still joke about that conversation. "Boy, did I have to eat my words."
Two years later, his brother had changed his stage name to Jake – after their maternal grandfather, who died before they were born – and signed with RCA Records.
His first single, "Yee Haw," hit the charts in early 2006 and served as the lead-in to his debut album, "Startin' With Me," which was released that summer. The title track became his first top-10 hit, and he was signed as the opening act for the tours of Brad Paisley and Carrie Underwood.
The next year, he toured with Alan Jackson and Brooks & Dunn, released his second album and was on his way to becoming the country music star he is today.
"The first time I saw my brother after he moved, after he left the dumpy bars in Tallahassee and moved to Nashville and got a record deal, was when he opened for Kenny Chesney in Hershey, PA," Owen said. "Here was this small-town kid from Vero Beach, and he's up there opening for a country music legend in front of 40,000 people.
"It was wild."
It took some getting used to, too – the transition from being "one of the Owen boys" to being "Jake Owen's brother." As close as they are, as supportive as he remains of his brother's career, Owen still winces when someone asks if he's "Jake's brother."
It wears on him.
Not because he's jealous. Not because his brother is one of the big names in country music and he's selling insurance. Not because his twin is headlining his own tour and he's still in Vero Beach.
There's no ongoing sibling rivalry.
Owen, at age 32, simply wants to be his own man.
"It's more the people who don't know me, but it still drives me crazy when I hear it," Owen said. "My friends know it. Even Jake knows it, and he hates it for me, because, being twins, what we've always tried to do is be individuals.
"He has his career and he's made a name for himself in Nashville. I'm doing the same here. Yet, I still hear it – 'You're Jake Owen's brother" – instead of, 'You're Jarrod Owen and Jake is your brother.' That's probably the only tough part of being Jake's twin brother."
Just so you know: Owen has accepted his circumstances.
In fact, he has chosen them.
Owen said his brother has asked him to move to Nashville and offered to show him the business, make him a member of his team, maybe give him a chance to work his way into a management role. And, at times, he has been tempted. But he likes his life in Vero Beach.
He likes the people, the climate, the small-town charm. He has built a business here. He doesn't feel as if he has been left behind.
This is home.
"I get asked all the time: Why aren't you on the road with Jake?" Owen said. "He's asked me several times to leave Vero, buy a house in Nashville, live up there with him and work for his team. And I've always said that was his thing. I'll still love him and support him, but from the outside, because I wanted him to establish himself in his industry and let me establish myself in my profession.
"The door is wide open, though, if I want to do that," he added. "And I've actually pondered it, just to be around my brother. I've totally considered it. It's still tempting, every day. But the things I love to do, my relationships, my business, which I've built to a point where it would be tough to walk away from – it all keeps me here.
"I think it's worked out for both off us. He's got great people around him, and I'm doing well here. It was the choice I made and I wouldn't go back on it."
The time to jump aboard his brother's bus, he said, has passed.
"Truth is, back when he first asked me five or six years ago, I should've gone out on the road with him for a year and just experienced the travel, the people, the opportunities – you never know where it would've placed me," Owen said. "But now, being in the professional world and working, it's too late to go back and do that."
Besides, mother Mitzi said the twins, for all their similarities, have their differences, too.
"Once Jake decided what he wanted to do, he was going to do whatever it took to make it happen," Owen's mom said. "He was more of a risk-taker. Jarrod tends to be more practical. He studied hard at school, worked on his tennis, did what he was supposed to do.
"Jake is always trying to get Jarrod to go out there with him, but I don't think Jarrod could ever live on the road like that. He seems to be very happy right here."
Owen agreed, saying: "I just love the community here. I grew up here. I know a lot of people here. I love to boat and fish, play golf and tennis. Even when I was at Florida State, I always thought Vero Beach was a place I would go back to and have a family.
"But I thought I'd probably go off and live somewhere else first, in some other state, maybe in Nashville with Jake. I didn't expect to come back here as early as I did."
After graduating from Florida State in 2004 with a degree in economics and finance, however, Owen accepted an offer to return home to join his father's real-estate development company. He spent three years there, then pursued an opportunity to get into the property and casualty insurance business.
Six years later, he has an office on State Road A1A and many of his customers reside on the barrier island.
"I love it," he said, adding, "What's really helped me with my business is that I'm from here, I come from a close-knit family, and I have a lot of friends and good relationships."
There was a time, though, when Owen thought he might become a professional tennis player, going as far as to play USTA Futures tournaments similar to the Sorensenrealestate.com Tennis Classic held last week at The Boulevard Tennis Club.
A successful junior who teamed with Robert Kowalczyk to win the state doubles championship for Vero Beach High School in 1999, Owen was recruited by several Division I colleges, including the University of Virginia and Virginia Tech, before choosing Florida State.
"I was recruited by John Roddick, Andy's older brother, and growing up in Florida, it just seemed like a really good fit," he said. "Plus, I'm a diehard Florida State football fanatic."
Same goes for his twin brother, who followed Owen to Tallahassee to play a different sport – golf.
Though Owen played four years for the Seminoles, his college career was hampered by shoulder and back injuries that required surgery. It was back pain that ultimately ended his bid to play professionally.
"After a while," he said, "the pain got to a point where I had to give it up."
His brother's golf career, meanwhile, was cut short by a wakeboarding accident that damaged his shoulder. The injury proved fortuitous, however. Unable to swing a golf club, he picked up a guitar and taught himself to play.
"Turned out to be a blessing in disguise," Owen said. "Growing up, music wasn't even a thought in his head. He loved to play golf, and he was very good at it."
The twins both play golf now, as does their dad, Steve, with whom Owen won the Florida State Golf Association Father-Son Championship in 2006 and 2011.
Owen, who said he found golf boring while growing up, started playing the game seriously after his back problems prevented him from continuing his tennis career – and he discovered he had a knack for it.
"It came pretty natural to me," Owen said. "If I could go back and do it all over again, I'd have played golf instead of tennis. I picked it up so easily. I had to work 100 times as hard to get as good as I was in tennis as I did in golf.
"Thing is, with my brother and I growing up being so competitive – baseball or golf, tennis or swimming, the sport didn't matter – my mom was so happy that we picked different sports," he added. "If we both were golfers, we probably would've beaten each other with golf clubs somewhere along the way."
They still compete on the golf course, whether it's here or in Nashville or somewhere on the country music road. They also enjoy fishing, which they'll be doing together this weekend in the Bahamas.
Their longtime friend, local realtor Dale Sorensen Jr., plans to take the twins, their father and Owen's brother's tour manager to Grand Key.
"Jake doesn't get to do as much fishing, being in Nashville and on the road and busy with his career, but when we went to the Bahamas in December, it was Jake who popped a bonefish first," Sorensen said. "We all had fun with Jarrod about it, and he just laughed.
"I'm sure it's a weird dynamic with Jake becoming such a big star, but I think Jarrod handles it well. It's his brother."
Even with a different name.
Getting used to calling his brother by his stage name instead of his given name was a "big hurdle to get over," Owen said, but he no longer needs to think about it.
"Being born together as twins and growing up together, all the way through college, it was always Josh," Owen explained. "It's what I always called him. But it got to a point where, when I was visiting him in Nashville, everyone was calling him Jake, and when I called him Josh, it didn't even register with him. So, eventually, I just made the choice to call him Jake.
"Now, I always refer to him as Jake. But I still think of him as Josh."
In case you were wondering if Owen sings ….
"I get asked about that a lot, too, and I tell people I dabble," Owen said. "I sing all the time; I just don't sing like my twin. God blessed Jake with good lungs. I didn't get that."
What was Owen blessed with?
"We're not identical – we really don't look that much alike – but when people ask how to tell us apart, I always tell them I'm the better-looking twin," Owen said. "And my brother is like, 'Whatever, I can sing.'"
The more famous Owen does think enough of his twin brother's ear, however, to run songs by him before recording them.
"I'm the first person to hear his music," Owen said. "A lot of times, I've heard the song months before he puts it out on a CD or the radio. He asks my opinion because I'm just a normal guy, like anyone else listening to the radio, and I listen and give him my input. He's pretty open with me as far as what he thinks the public likes."
The twins often discuss each other's professions, though their businesses are completely different. Someday, they might even engage in a joint venture.
"He's as supportive of my career as I am of his," Owen said. "Even with everything he's got going, he always asks how work's going for me. We've even talked about doing some kind of business together somewhere down the road."
In the meantime, Owen said he'll try to spend time with his twin when he can, but he fully understands the massive demands on his brother's time, much of which now goes to his sister-in-law, Lacey, and niece, Pearl.
"We make it happen, whether it's me going to Nashville and playing golf for a few days with him, or it's him coming down here, or it's me going on the road," Owen said. "I'm looking forward to seeing him this week. But he has his own life with his family now, so it's going to be different.
"We're still close," he added. "Being a twin, I don't think that ever goes away. We were born into this world together. We had beds next to each other growing up. We went to college together. The hard part was when he made the move to Nashville; the initial separation was pretty hard because we had never been apart, really.
"But we've remained good buddies, probably even closer now because we're older and more mature and we don't get to see each other as much."
When the boys were growing up, their mom said, "Jake tended to follow Jarrod's lead." Now, Owen's brother is out front, in the national spotlight, enjoying success on the country music stage.
And Owen is back home in Vero Beach, among family and friends, selling insurance and fishing and playing golf.
He isn't jealous. He doesn't feel left behind. He couldn't be happier that his twin brother, whose annual hometown concert is scheduled for October at Historic Dodgertown, made him eat his words.
"Jake would be the first to tell you that he never expected this growing up, but he's got a great talent, he's very good with people and he has worked really hard to get where he is," Owen said. "I'm not jealous of him. I'm proud of him."
He's proud to be Jake Owen's twin brother.
But, please, call him Jarrod.