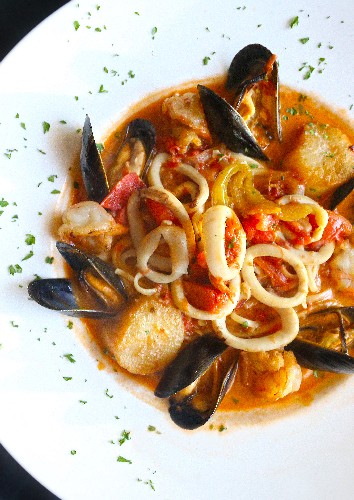 While Vero residents have no shortage of fine dining options, the list shortens dramatically on Sundays.
But an excellent choice on a Sunday or any other night is Trattoria Dario, which opened last fall on South Beach in the building that briefly housed Will's 55 and before that MT's Chophouse.
Operated by local residents Dario and Diana Bordoli, who were a very visible presence even on a Sunday, this attractively decorated Italian trattoria has had from all accounts a good inaugural season.
When we visited this past Sunday evening, we decided to take advantage of the beautiful spring weather and dine on Dario's covered patio.
Once seated, we were quickly welcomed by veteran server Bernardo, who brought a basket of delicious bread to enjoy with olive oil, and took our orders for a couple of glasses of a good pinot grigio.
For appetizers on this visit, we decided to pass up the excellent calamari fritti ($9) which we enjoyed on a previous visit. My husband opted for a half dozen oysters on the half shell ($12) and I ordered the seared sea scallops ($13).
The oysters, a half-dozen beauties from Louisiana, couldn't have been fresher. My sea scallops, not the best I've ever had, were nevertheless served with a tasty soft gorgonzola polenta and braised leaks – a very interesting and successful combination.
We then enjoyed large house salads, which are included with entrées, tossed with a vinaigrette dressing.
For entrées, we decided to make this a veal evening. I ordered the vitello Milanese ($22) and my husband decided to go for the 16-ounce veal chop au poivre ($40).
The veal Milanese was nicely crusted, and was accompanied by arugula, tomatoes and a balsamic glaze. The veal chop was as nice as we have ever seen, a thick chop – perfectly cooked medium, just slightly pink inside – tender, tasty and topped with a delicious wild mushroom marsala sauce.
On a previous visit, we enjoyed three other menu items: the risotto mare e monti ($20) – risotto with shrimp and wild mushrooms; the bucatini della nonna ($19) – grilled chicken and sausage with walnuts in a very tasty gorgonzola cream sauce; and pappardelle bolognese con salsticce di finocchi ($18) – pasta with fennel sausage prepared in a very light Bolognese sauce.
After our huge meal, there was no possibility of trying dessert so we passed on the house-made tiramisu, which we have previously found one of the better renditions of this classic dish.
Beyond being open on Sundays, another thing that sets Trattoria Dario apart from most Vero restaurants is it serves full dinners pretty much until 10 p.m., and offers a bar menu – including flat bread pizza – until after midnight.
While we favor the patio area on any night that the weather cooperates, the interior of the trattoria – still featuring the red colors that dominated Will's 55 – also has a nice open feeling.
The Bordolis, who owned Mangrove Mattie's in Fort Pierce for 15 years before it closed a year ago, are very hands-on owners who spent most of this past Sunday evening table hopping, asking guests how they were doing.
Most seemed to be doing just fine, and the Bordolis' attentiveness to patrons – not seen everywhere – together with good food seems likely to keep diners coming back.
I welcome your comments, and encourage you to send feedback to me at tina@verobeach32963.com.
The reviewer dines anonymously at restaurants at the expense of Vero Beach 32963.