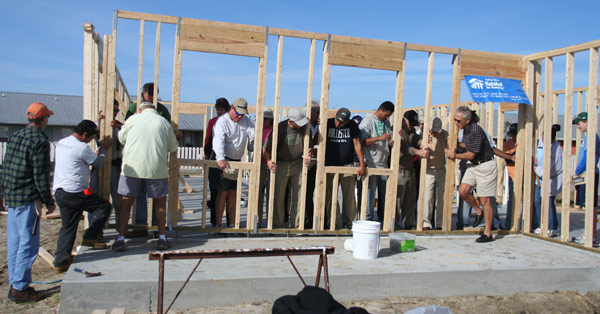 FELLSMERE – The Contreras family will have a new home to come home to in about a year.
In the meantime, the family of five will be busy working alongside volunteers from Indian River County Habitat for Humanity, hanging drywall, hammering nails and painting walls. "It really means a lot to me," Dulce Contreras said, addressing the assembled volunteers during the Passing of the Hammer Ceremony Saturday morning.
The 25-year-old mother of four ranging in age from 5 years to 5 months said that she was looking forward to providing a safe and stable home, moving them from a 3-bedroom apartment to a 4-bed-2-bath house.
"There will be plenty of room for the kids to play and grow," she said. "I will be forever grateful."
Contreras is a full-time employee at Treasure Coast Community Health, whose co-workers also attended the ceremony and will be working alongside her in building the house.
"It really is a community effort," Habitat volunteer Lindsey Goodall said.
Contreras's home is located in the Grace Meadows Habitat for Humanity Community off 101st Street. When built out in a couple years, there will be nearly 70 homes, several of which constructed with the physical and financial assistance of residents from the Town of Orchid and the Sea Oaks community.
"You see how they live and you see this – they're in heaven," Orchid Mayor and volunteer Richard Dunlop said of Habitat homeowners.