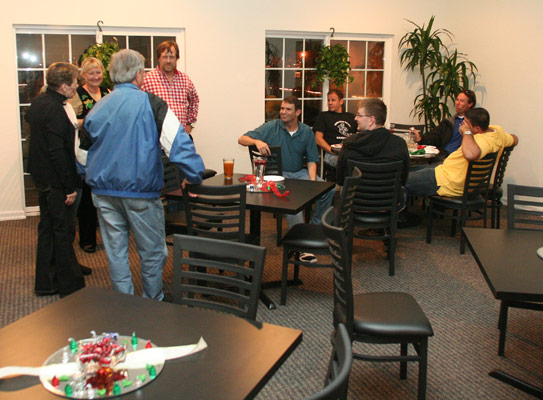 SEBASTIAN — In a couple months, Capt'n Butcher's hopes to have its restaurant fully up and running.
But before that day can happen, the riverfront bar and soon-to-be-eatery offered a sneak peek of what's been going on inside. "We've come a long way," manager Nancy Adkins said, looking over the dining room from behind a sleek new bar. "Things are looking fabulous."
The dining area is split into two sections, both of which look out onto the decks along the water.
Though the kitchen isn't up and running as of yet, Capt'n Butcher's has arranged for caterer Nancy Solook of Nancy's Nibbles  to be on-site to provide food to the hungry patrons.
"We're looking forward to opening in February," Capt'n Butcher's owner Harold "Butch" Adams said.
The outdoor bar remains open seven days a week and live entertainment is a staple on the deck.
Due to the cooler weather late last week, Adams and Adkins decided to open up the dining room to provide a warmer area for patrons to enjoy their drinks.
On Friday, the staff at Sebastian River High School gathered for their annual holiday party – and a few nights before that, the Chamber of Commerce held its own party.
Adams said that the dining room turned out about the way he had hoped, noting that it came together as he went, with no set plan.
"I'm just a touchy-feelly person," he said.
Opening the kitchen and 200-seat restaurant is just one of many projects Adams has in mind for the property, which includes lodging immediately to the south, undeveloped land across from the restaurant, and a commercial fish house across from the lodging.
Adams, who bought the property in 2000, had planned to renovate the bar and restaurant and sell it as a turn-key operation. Instead, he decided to keep it, he said.
Now he has plans to build out 54,000 square feet of space across from the restaurant on Indian River Drive, which will most likely be more lodging.
"It could be residential, commercial or motel" space, Adams said. He plans to get started on the work as soon as possible – though not before the end of the year.