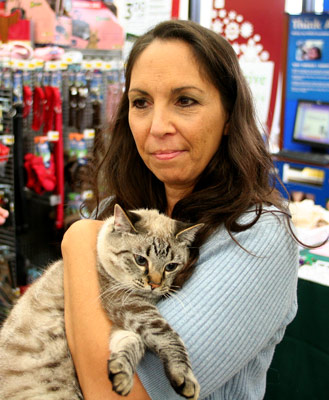 INDIAN RIVER COUNTY — More than two dozen cats and kittens strutted their stuff and made themselves as adorable as possible for the humans walking by.
Comet caught the eye of Lou Zak, who appeared ready to take home the lump of black fuzz lounging in a cage at Petco. Comet was taking in the sights that are so different from his home at HALO, a no-kill animal shelter. "He's sweet," Zak said of the fully grown nearly bowling ball-sized cat. "He just lays there. He's my kind of cat."
His wife, Coree, said that as much as they would love to bring home another cat, the black fur just wouldn't do.
"Look at your shirt," she said to Zak after he had finished petting Comet. His white shirt had taken on a grayish hue through the thousands of cat hairs now stuck to the fabric.
The Zaks have two cats already – both white – and white furniture.
"We'd like to take home all the animals," Coree said.
The Zaks, they said, appreciate what HALO has done to provide homes for cats and dogs. They said they contribute what they can to the organization.
The Zaks were but one family that took a stroll around a ring of tables laden with cat cages – each with a cat ready for its forever home.
"We would love to see all of them (adopted)," HALO volunteer Kimberly Dyson said. "But we can't count on miracles."
The larger than normal pet adoption at Petco marked the 200th HALO adoption at Petco – the organization has adopted out many times more than that from its facility in Sebastian on US 1.
Within the first hour, two cats were spoken for and another under consideration.
Petco General Manager Mike Tilton said that helping out such an organization is a "win-win" for both the store and HALO – it helps the animals find loving homes and it gets potential customers through the door.
Petco has been open since July 2008 and has helped HALO adopt out approximately 100 animals each year. And, for every adoption HALO completes – be it at Petco or the group's facility – Petco makes a donation.
"Too many cats are in the wild that used to be pets," Tilton said. The economy is partly to blame.
"Stuff like this really makes me happy," he added, surveying the tables of cats hoping to go home with someone.
Dyson said that many of the cats that were brought to the event are older and have been at HALO for a longer-than-usual amount of time.
"It's more urgent to get them adopted," Dyson said. Until HALO can free up more room, no more new animals can come in.
To that end, HALO organizers have plans to expand the facility by adding another room to the building. But funds are limited.
Fellow volunteer Linda Campbell said that the group is seeking financial donations and donations of time and services to get the room built.
"It's just such a needy shelter," Campbell said. "We're hoping and praying we get money."
***
 Anyone interested in learning more about HALO or how to help can visit www.halorescuefl.org or call (772) 589-7297, or e-mail moxas@aol.com.
Donations can be made online at www.halorescuefl.org/donation.html.
HALO is located at 710 Jackson St., Sebastian. Hours of operation are: Mon.-Fri. 9 a.m. to 5 p.m. and Sat. 10 a.m. to 2 p.m.