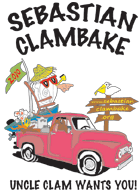 SEBASTIAN — This won't be your same ol' Sebastian Clambake Lagoon Festival when thousands of clams invade Riverview Park the first weekend in November.
New this year are a motorcycle show, the Bluffers Olympics, more demonstrations, cheaper prices and overall, more fun, according to Clambake Foundation President Anjani Cirillo.
"It's going to be a lot of fun," Cirillo said – in particularly the historic reenactment Saturday afternoon. "It's a big deal this year. I can't tell you what it is or it will ruin the surprise."
The annual festival will be held this year from Nov. 5 through 7 at Riverview Park.
The Bluffer's Olympics contest is new to the festival and will be held Saturday afternoon.
Cirillo said the competition will be open to everyone and, as a team, they will try to convince others that the lie they're telling is really the truth.
Of course, the Clambake Festival would not be complete without its signature Clam Chowder Cook-Off.
"If you think you make the best Chowder on the planet, bring a crock pot full to the Gazebo at Riverview Park by 12:30 p.m. (Sunday)," promotional materials state.
There is no cost to enter the cook-off and cash prizes will be awarded to the best chowder creators.
After the contest County Commissioner – and auctioneer – Wesley Davis will auction off the entries to the highest bidders.
Admission and parking are free, though food, drinks and other refreshments will be available at a new, lower price.
"We went even lower," Cirillo said of the food prices, noting that they have tried to keep prices low to begin with. She added that with the continued challenging economic times, the foundation worked to lower the prices more.
They have also added deserts to the menu, a first for the clambake.
Coffee, soda and water will be available for $1.
"You won't find that anywhere," Cirillo said.
Alcohol, too, will be available to those 21 and older at two beer tents. Miller and Yuengling beer will be on tap, while Smirnoff Ice and Mike's Hard Pink Lemonade are offered as beer alternatives. A portion of the proceeds from the pink lemonade will benefit breast cancer research.
Non-alcoholic beer will be available for free to designated drivers.
In order to keep the festival operating smoothly, the Clambake Foundation is looking for volunteers.
"We always need volunteers," Cirillo said, adding that it takes about 500 people over three days to keep everything running.
"You work your butt off and you're tired but you have fun," she said.
The Clambake Lagoon Festival serves as a community fund-raiser and organizers have already selected what groups will get how much.
Who gets what:
Sebastian Little League – $10,000 to renovate the group's concession stand and add lightning detectors
By the River – $7,920 for the installation of screen porches at their Senior Housing Project.
The remainder divided as follows:
SRHS Rowing Club – 60% for phase 1 of their boathouse
American Legion – 40% for clubhouse renovations
When to Clam-up
Nov. 5 – 2 to 9 p.m.
Nov. 6 – 10 a.m. to 9 p.m.
Nov. 7 – 10 a.m. to 5 p.m.