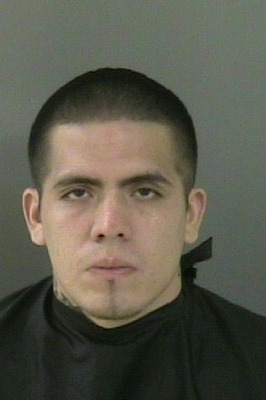 FELLSMERE – Within a few hours of receiving a call from officials in Osceola County, the Fellsmere Police Department arrested a wanted gang member and recovered a stolen vehicle, Fellsmere Police Chief Scott Melanson said Wednesday afternoon.
"We're glad to have him out of our town," Chief Melanson said of the suspect, a member of the Latin Kings who was wanted on charges of sexual battery and kidnapping, among other charges.
The police chief explained that law enforcement in St. Cloud, Fla., called early Wednesday afternoon seeking the Fellsmere department's assistance in locating and apprehending Oscar Castanon.
Castanon, according to St. Cloud officials, is suspected to have committed kidnapping, sexual battery, aggravated assault and grand theft auto.
They reached out to the Fellsmere Police Department because Fellsmere officers arrested Castanon in June this year on two misdemeanor counts of domestic violence-related battery and resisting arrest without violence.
When local officials realized Castanon had a warrant for failing to appear in Osceola County for driving without a valid license, they contacted the agency.
Osceola officials decided not to extradite him, so he sat in jail with bail set at nearly $20,000.
In July, Castanon bonded out, according to the Indian River County Sheriff's Office. Since then, it is believed that Castanon has been residing with family in Fellsmere.
Chief Melanson said that only a couple hours passed from when his department received the call from St. Cloud and when his officers found Castanon holed up in an apartment.
Castanon, according to the chief, had locked himself in a bedroom and told authorities that he had a weapon.
"My guys were able to talk him out," Chief Melanson said of the Fellsmere officers.
In a matter of 10 minutes, officers had persuaded Castanon to come out of the bedroom and were able to place him into custody without further incident.
No weapon was recovered from the bedroom, the police chief said.
At 4:15 p.m., Castanon was arrested and the vehicle St. Cloud authorities say he stole and used in an attempt to run over someone had been recovered.
"They work hard," Chief Melanson said of his officers.
Castanon is being held at the Indian River County jail waiting to be transported to Osceola County, were he will face charges of kidnapping, sexual battery, aggravated assault, grand theft, and misdemeanor battery.