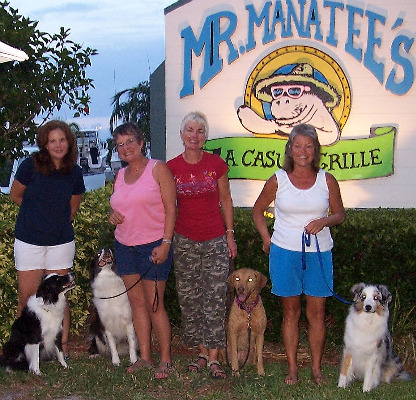 Do you dine out with your dog?
There has been so much press recently about Vero's new doggie dining ordinance; do you think there needs to be a special rule pertaining to dogs in outdoor seating areas?
Before the ordinance was actually passed, my friends, our dogs and I wanted to have an evening out. We met at Mr. Manatee's for some appetizers and conversation.
The dogs were polite and unobtrusive. They lay by our table while we talked and enjoyed our refreshments. The only commotion was the human diners who came out of their way to say hello.
They were all friendly and happy to pet our dogs. Several of the people were quite talkative and shared stories about their own pets.
 Mr. Manatee's patrons who were not interested in dogs simply walked into the restaurant undisturbed. There was no barking, no inappropriate sniffing and no sanitary clean up needed.
The staff was welcoming and mystified at the need for a specific dog dining ordinance.  I am happy to hear Vero Beach will be a bit friendlier to our canine friends. 
The eight of us had a great evening and look forward to future dining experiences.
Cissy Sumner, CPDT-KABest Behavior Dog TrainingMember, Board of Directors, CCPDTAPDT #062323AKC Canine Good Citizen Evaluator #13985Vero Beach, FL772-978-7863www.bestbehaviordogtraining.org