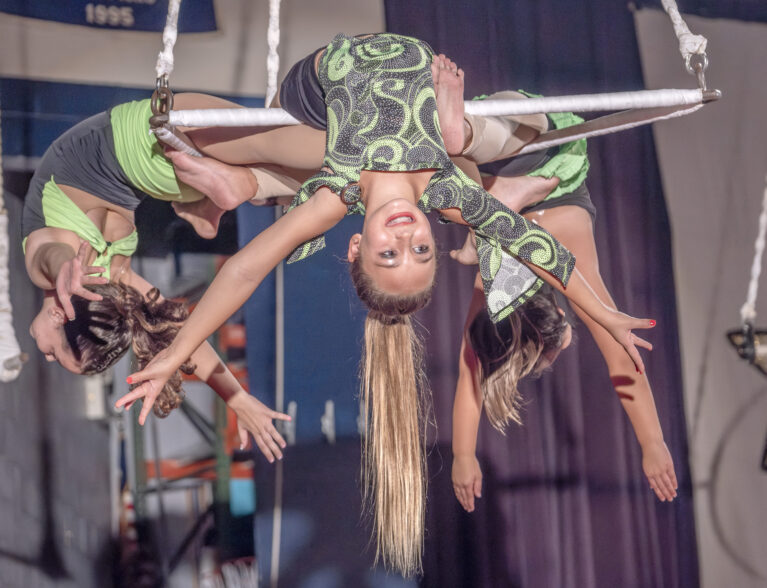 Entertaining the crowds with dancing, gymnastics and aerial routines, local youth performed to music through the ages during the 49th Annual Aerial Antics Youth Circus, presented by the City of Vero Beach Recreation Department, which was held over three nights in the Gonzalez-Lobo Activities Center at Saint Edward's School.
The One Hit Wonders-themed program was the culmination of the nine-week Aerial Antics Circus summer camp. Some 225 students, ranging in ages from 3 to 20. participate in the non-competitive, performance-based gymnastics and performing arts program, which is offered year-round at the Centerstage Acrobatic Complex at Leisure Square.
While the groups playing the songs may have come and gone, along with the 8-track tapes, cassettes and vinyl records of the era, the iconic musical pieces of the 1970s through the 2000s brought back memories for the parents and grandparents in the audience, as their little ones tumbled to "Say Something" and danced to the "Cupid Shuffle" and such toe tapping tunes as "Puttin' on the Ritz."
There was no question that the cuteness factor was increased 10-fold as the littles pranced around wearing dog hats while the song "Who Let the Dogs Out" was barked at the crowd.
The music also provided added drama as the more advanced students took to a variety of aerial equipment, including the trapeze, hoops, triangle, bungee trapeze, silks and scaffolding. As with the music, memories of these performances aren't likely to fade anytime soon.
"We offer something that nobody else around here offers. It's unique and creative," said Patty Howard, COVB Recreation Department assistant director.
"And more importantly, the kids feel very accomplished and strong. They feel that they can do anything physically. That's the most rewarding part."
The Recreation Department will also host the 63rd annual Halloween Parade and Costume Contest on Saturday Oct. 28. For more information, visit covb.org.
Photos by Joshua Kodis