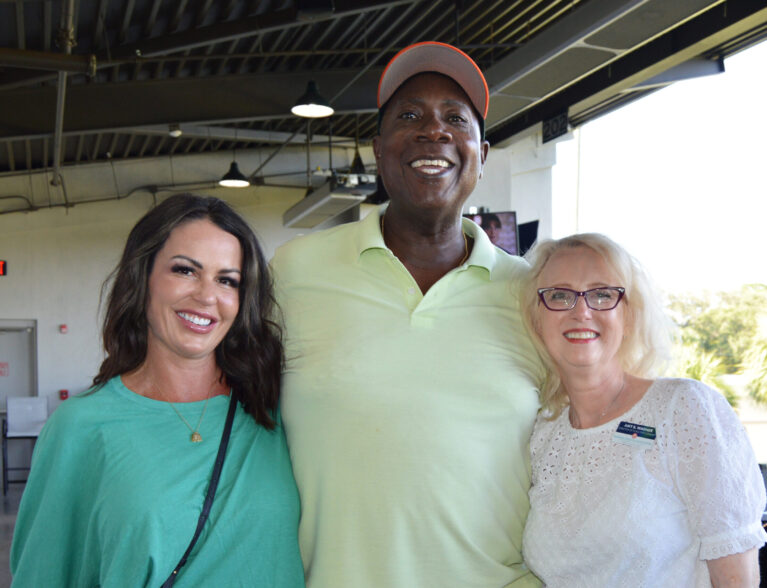 The candles were lit, and the golf balls were teed up at BigShots Golf to celebrate the 65th birthday of the Mental Health Association of Indian River County at its annual Birthday Par-Tee fundraiser, promoting the message that "It's OK to get help!"
As the party got into full swing, attendees didn't shy away from a bit of good-natured competition as they vied for bragging rights within their boxes.
With each shot, guests supported the mission of the nonprofit "to provide immediate access with no barriers to mental health care."
MHA has provided mental health services in the area since 1978 and is currently the only provider of free, same-day mental health screenings in Brevard, St. Lucie and Indian River counties, and in June they expanded into Okeechobee with a Mental Health Clubhouse.
Events such as the Par-Tee are an opportunity for the MHA to raise funds and awareness about their efforts to help residents improve their quality of life through access to a continuum of care, while also promoting a reduced stigma surrounding mental health issues by keeping the community informed about the subject.
Mental Health America statistics estimate that "46 percent of Americans will meet the criteria for a diagnosable mental health condition sometime in their life."
The MHA treats depression, anxiety, bipolar disorder, trauma, substance use, psychosis, adjustment disorders and personality disorders, among other mental health diagnoses, through its immediate mental health care and crisis intervention.
They provide free mental health services to veterans, minors, first responders, and those clients who qualify as having incomes at or below 200 percent of the federal poverty level.
During the last fiscal year, 81 percent of MHA clients were at that income level.
To deal with the community-wide shortage of mental health therapists and meet the increased demand for clinical interventions and therapy services, the MHA has hired registered mental health counselor interns and has recently expanded its team by adding three new clinicians.
"We can't accommodate all of the people that are trying to get into our doors," said Amy Wagner, MHA fund development manager.
The MHA provided 918 free walk-in mental health screenings last year, served 3,013 students through the 2020-2021 School Violence Prevention Program, and completed 291 suicide risk assessments. For local veterans, they completed 261 therapy sessions and hosted 76 peer-to-peer groups.
The MHA will have an information booth at the Veterans Resource Expo, which coincides with the American Gold Star Mothers of IRC 5th annual Walk-A-Thon for Military Suicide Awareness, beginning at 9 a.m. Nov. 5 at Riverside Park. And on Feb. 17, 2024, the MHA will host its signature fundraiser, MHA Rocks the '80s at the Oak Harbor Club.
For more information, visit mhairc.org.
Photos by Stephanie LaBaff