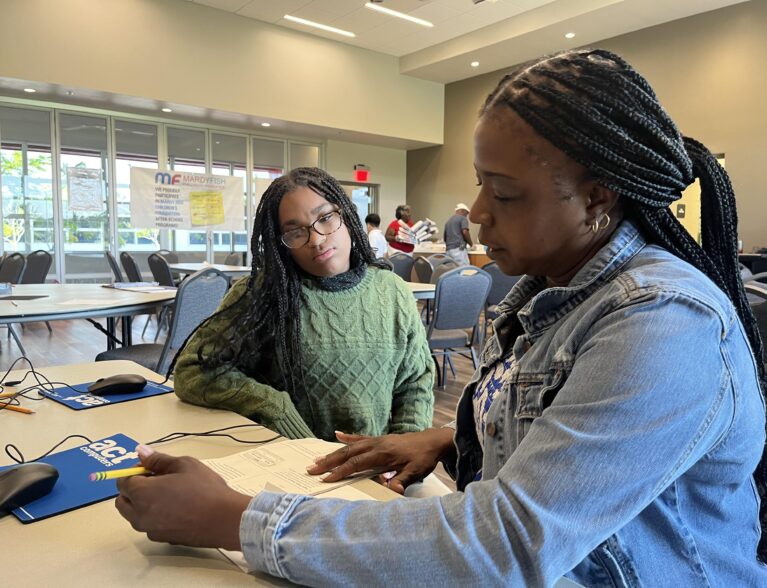 As a retired teacher, La' Toya Bullard knows firsthand the many challenges students face when it comes to academic support outside of the classroom. Now, Bullard, founder of Miss B's Learning Bees afterschool program, is focused on a new initiative that will also provide behavioral services to students. 
"We want families to know they are not alone," said Bullard, who founded the nonprofit Miss B's Learning Bees 17 years ago in Gifford. "We want to make services more accessible to families. We want to serve the whole child."
The new initiative Project C.O.P.E. – Cultivating Opportunities to Promote and Empower – gives pupils academic support, behavioral services and free bus transportation to and from the site, along with food. Project C.O.P.E. launched this school year. 
Bullard, who taught in the School District of Indian River County for 20 years, said it's vital to provide wrap-around services for local families. 
"Some of our families are transient or homeless," said Bullard, 43, of Gifford. 
Miss B's has a certified behavioral analyst that educates parents and guardians on behavioral issues. The nonprofit partners with other local organizations to bring even more services to students who might not be able to access them.
"We create behavior interventions to provide reinforcement and consequences," Bullard said. "Teachers can reward students by saying 'good work' or giving them candy – a positive consequence. If a student is running down the hall, we'll make them go back and walk the right way – a negative consequence."
The agency collaborates with Treasure Coast Community Health and Tykes and Teens, an organization that provides mental health services through counseling, education, prevention, outreach and advocacy. Miss B's also provides transportation for children and families to the Tykes and Teens outpatient office on 37th Street on Saturdays. 
Bullard said adverse childhood experiences, or traumatic events, can impact a child's behavior in the classroom and their ability to learn.  
"Some students have adverse childhood experiences (ACEs). The greater number of ACEs a child has in their younger years, the greater number of problems the child will have as they get older," Bullard said. "Some students are being kicked out of the classroom because of their behaviors. We want to hone in on the students with behavioral problems." 
Bullard began tutoring students in 2006 at her kitchen table in Gifford after she learned that children in the community were underperforming academically in the school district. She noticed families in financial distress would stop bringing their children to tutoring, a much-needed service for students.
Bullard said third-graders would be retained at their schools if they were not able to pass the FCAT state test, which has assessments in mathematics, reading, science and writing.
"A neighbor had a third-grade child in danger of being retained," Bullard said. "She went to me and asked if I could help. The student passed and went to the next grade level."   
Since then, helping students in the community has become not a task, but a calling for Bullard. 
"I was helping someone's child everyday," said Bullard, who earned a bachelor's degree in chemistry from Benedict College, a private HBCU in Columbia, South Carolina. 
Bullard's relentless passion to improve academic services for neighborhood youth led her to register Miss B's as a nonprofit in 2014. The agency began operating as a stand-alone nonprofit five years later. 
The program, previously held at the Intergenerational Recreation Center, is now being held at Grace Life of Vero Beach Baptist Church. Project C.O.P.E. serves about 30 students from 3:30 p.m. to 6:30 p.m. Monday through Friday, Bullard said.   
The afterschool program, which enrolls students in kindergarten through 12th grade, has assisted a total of 507 students to date. The program has instilled confidence and self-esteem in students, and led 98 percent of attendees to improve their academic performance in school, according to the Miss B's website. 
Some of the enrolled youth already have ambitious career aspirations in mind.
Elijah Rimsey wants to be a police detective when he grows up. The third-grader said he likes solving riddles and puzzles, and math is his favorite subject. 
"I like solving problems," Rimsey said on Sept. 7 during the Miss B's afterschool program. 
Teachers at the nonprofit give one-on-one tutoring to students. The pupils eat snacks before using their laptops to work on their individual action plans. 
Marva Madison Nicole Scott, a sixth-grader, said she previously made Bs and Cs last school year. With help from teachers at Miss B's, Scott said she is now making straight As. 
"I get to make new friends here," said Scott, who wants to be a marine biologist. "The teachers help me with my work."
Naelah Beton, a fourth-grader, said her grades have improved since attending the afterschool program. Beton said she wants to be a nurse like her mother. 
"I like helping people," Beton said. 
After their homework is complete, the students enjoy free time by either playing in the grassy area outside or in the gym. 
Bullard, who was identified as a Distinguished Educator every year from 2011 to 2017 by the Florida Department of Education, said the program is not only for students with behavioral issues, but all children. Miss B's also collaborates with TRIO's Upward Bound and Educational Talent Search programs, offered at Indian River State College.
"We want students to envision their lives differently," Bullard said. "If they see positive outcomes, they can envision all the possibilities."