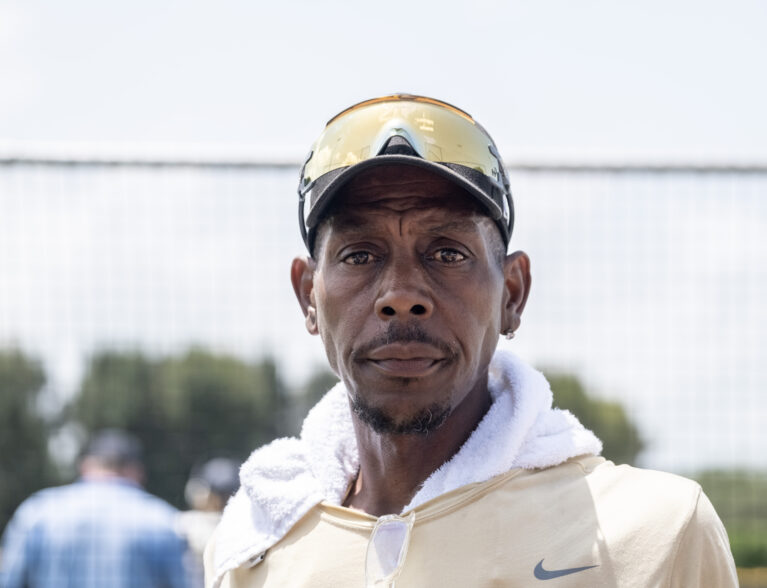 You could say Fort Pierce resident Keenan Jabeth has tunnel vision, focused on a dream of becoming a professional baseball player, slamming hits into the outfield.
And it just may happen.
The Vero Beach High School junior with a 3.5 GPA has already committed to Florida International University in Miami and obtained a scholarship to play his favorite sport.
The 17-year-old – standing at 6-feet, 2-inches tall and weighing 183 pounds – is crafting his skill even further with a little help from former Major League Baseball players, coaches and executives. 
That motivational push came as Jabeth attended the Hank Aaron Invitational baseball camp held in Vero Beach, coached by former MLB players like Pitcher Pat Mahomes Sr. and two-time World Series Champion Outfielder Ken Griffey Sr.
"It's my third year here. It's a blessing to be in front of bright players. They have so much wisdom and knowledge," said Jabeth, an outfielder who plans to attend TNXL Baseball Academy during his senior year of high school and later study sports medicine at FIU.
Those moments at the Hank Aaron Invitational during the last two weeks of July at the Jackie Robinson Training Complex, formerly known as Historic Dodgertown, were proof for organizers that the American pastime of baseball continues to inspire.
The baseball camp – hosted by USA Baseball and the MLB-MLBPA Youth Development Foundation – drew teen participants from more than 20 states, organizers say. 
Jabeth, one of 200 players who turned up for the summer camp, displayed an upbeat personality, confidence and humility that caught Mahomes' attention.
"He was coachable. That was one of the first things that stood out to me. Anytime you have talent, ability and make yourself coachable – coaches love that," said Mahomes, mostly known for playing with the Minnesota Twins. "(Jabeth) was a joy to work with. He has a chance to do special things."
For Jabeth – who also goes by K.J. – the unique opportunity to be mentored and coached by former MLB players is something he will never forget. 
"(The coaches) help us work on our weaknesses and strengths. Every coach knows my name and nickname. They want the best for every player here."
Going to Bat in Vero
The intense training sessions brought in 25 competitors from Florida and three from the Treasure Coast, including Jabeth.
Mahomes said the coaches showed the budding athletes the mechanics of playing the game and techniques to improve their physical skills.
"When we came through, we always had someone to mentor us. We're trying to show them the correct way to play the game and how to be better men," said Mahomes, 52, of Texas.
"It's only right to give back and show players the knowledge we've obtained."
MLB officials said 44 of the participants were chosen to compete in a showcase game Sunday at Truist Park, the Cobb County, Georgia home of the Atlanta Braves.
During the trip, players met Ken Griffey Sr.'s son, Ken Griffey Jr., a Hall of Fame outfielder who played 22 years in MLB and spent most of his career with the Seattle Mariners and the Cincinnati Reds.
Recruiting minority players
Mahomes said one of the goals of the Hank Aaron Invitational – named after the Alabama-born right fielder who later became one of MLB's most legendary players – was to recruit more minorities to play baseball.
"We're trying to get more people of color back into the game," said Mahomes, who also played professional baseball internationally in Japan. "We want to develop the baseball players and put them around other Black players so they don't feel like an outsider. This will let them know they're not a rarity."
Another Fort Pierce player, Bryce Braswell, 16, said his experience at the baseball camp has been amazing.
"The best part was seeing players that looked like me," said Braswell, an incoming junior at Lincoln Park Academy in Fort Pierce. "It feels good to receive mentorship from Mahomes."
History
The venue where the baseball camp is held each year was named after Hall of Famer Jackie Robinson, who broke the color barrier in MLB when he was signed in 1947. 
The Jackie Robinson Training Complex was the first fully integrated MLB spring training site in the south. 
Before Robinson, many Black players were prohibited from competing in the American and National Leagues since the 1880s amid the climate of racial segregation.
Robinson led the Brooklyn Dodgers to six World Series and one World Series Championship. The Jackie Robinson Training Complex, where the baseball icon practiced his skills, was named a Florida Heritage Landmark in 2014 and added to the U.S. Civil Rights Trail – a series of nationally recognized locations that highlight the struggle for equal rights – in 2019.
Aaron, who played 21 seasons with the Milwaukee/Atlanta Braves, made his major league debut in 1954, seven years after Robinson. In 1974, Aaron broke MLB great Babe Ruth's long standing home run record. Aaron died in 2021.
"Hank Aaron was groundbreaking for us," Mahomes said. "He was doing it at a time when there weren't many Black baseball players."     
Building a brotherhood
The sounds of baseballs crackling against bats at high speed echoed throughout Building 42, a new indoor facility at the Jackie Robinson Training Complex. A look inside the 38,600 square foot building shows images of Robinson, the number 42 he wore with the Brooklyn Dodgers and some of his famous quotes.
"A life is not important except the impact it has on other lives," one of Robinson's quotes read. 
It's a quote former MLB players like Mahomes strongly believes in. Mahomes said he has been coaching at the Hank Aaron Invitational for seven years, hoping to provide the blueprint for a young baseball player on how to make it to MLB and maintain a successful career.
The camp itself is a test of one's determination, commitment, teamwork skills, persistence and integrity – all words that can be seen posted on the walls inside Building 42. The players, who stay in dorms at the complex and are provided meals, start their days at 7:30 a.m. for practice morning sessions, Mahomes said.  
During the training, participants compete in games at about 1:30 p.m., and finish their day near 5:30 p.m. The players also train at the outdoor baseball fields at the complex, including the Holman Stadium. 
"They showed us how to properly field a ground ball," said Jabeth, who started playing baseball at five years old.
Jabeth said that while at the camp, he formed relationships with other teens that he has never met. 
"We all came together as a family," Jabeth said. 
Like Jabeth, Braswell has aspirations of becoming a MLB player. Braswell, who also plays instruments, plans to major in computer science at Florida A&M University.  
Braswell said former MLB professional Lenny Webster, a catcher who played for the Minnesota Twins and the Baltimore Orioles, showed him fresh techniques to help catch baseballs during a game. Braswell said as a young boy, he looked up to Webster and other MLB greats who dominated the field. 
Other coaches taught Braswell about bunt plays and how to keep his hips in motion when striking the ball, he said. Aside from providing discipline and training, the coaches are funny and occasionally crack jokes, the young athletes said. 
 "Coach Michael Tucker (former MLB outfielder) is always saying the other team is shaking…go give them a jacket," Jabeth said.
Father-son athletes
Mahomes vividly remembers his father coaching him in baseball at four years old. 
"He taught me what he knew. He was always there at the games," Mahomes said. "That was the most impactful for me."
Mahomes provided that same guidance and mentorship for his own son, Patrick Mahomes II, an NFL quarterback for the Kansas City Chiefs who led the team to two Super Bowl championships in 2019 and 2022. Mahomes said he started coaching his son when he was five years old. 
"I coached Patrick everywhere. I took him to the baseball fields to let him see the atmosphere, how hard guys worked at the top level and stayed there," Mahomes said. "I took Pat to the batting cages with me when I was playing."
The younger Mahomes' passion veered more toward football, a sport he played while attending Texas Tech University. Mahomes II was selected by the Chiefs during the 2017 NFL Draft.
During his career, Mahomes II has garnered a variety of awards while playing in the NFL, including two-time Super Bowl MVP, two-time NFL most valuable player and five-time Pro Bowl star, amongst others. 
Mahomes described his son's success as surreal. 
"It made me beam inside. I always knew he would have an opportunity to play professional sports," Mahomes said. "He made it a goal to be in the NFL. It makes it all better to see your child achieve their dreams."     
Playing professional sports is also a tradition that runs through the blood of the Griffey family.
Griffey Sr., a three-time all-star and Cincinnati Reds Hall of Famer, and son Griffey Jr. were the first father-son duo to play on the same MLB team at the same time. The Griffey's impact became even more historic as the two hit back-to-back home runs with the Seattle Mariners, competing against the California Angels, in 1990, according to the National Baseball Hall of Fame.
Mahomes, who was drafted into MLB at age 20, said the Hank Aaron Invitational is one of his most favorite events of the year, and that he plans to coach again next summer. Mahomes said it's important to mentor the youth early to help them make their dreams become a reality. 
"Go back and teach the kids at an early age so they don't make the same mistakes we did," Mahomes said.
Photos by Joshua Kodis