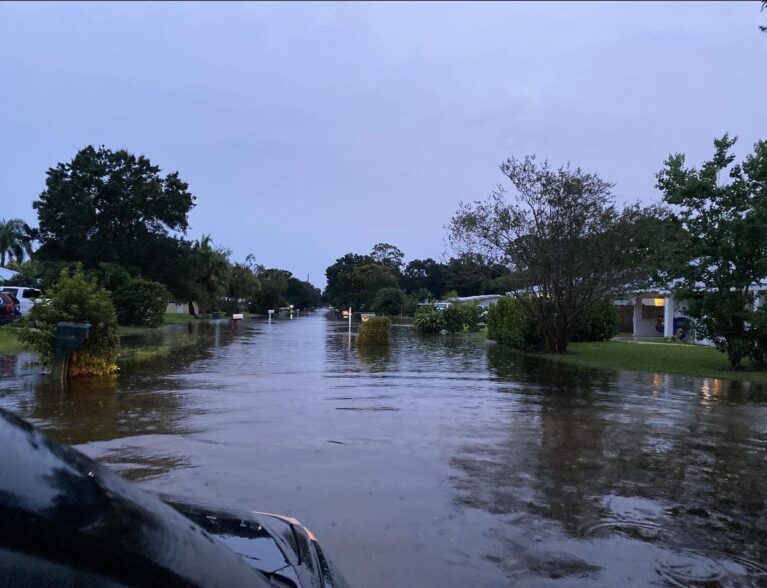 TREASURE COAST — Heavy thunderstorms and drenching rain left several streets flooded Monday throughout the Treasure Coast, including in Indian River County. The torrential downpour also caused Vero Beach and Fort Pierce to break daily rainfall records.
The storms rolled through about 4 p.m. in Vero Beach, according to the National Weather Service in Melbourne. Meteorologists issued several weather advisories throughout the day as the showers trekked south.
The rain left some streets overflowing with water, including 35th Avenue between 8th and 12th streets in the Vero Beach South area, photos show. Other sections that saw flooding include 41st Avenue, the Glendale Lakes Neighborhood, Rosewood Magnet Elementary School and 36th Avenue near Leisure Square recreation center.
The rainfall total in Vero Beach was 3.21 inches as of 8 p.m., breaking the previous daily record of 1.81 inches set on this same day in 1955, NWS Meteorologist Zach Law said. Just south in Fort Pierce, the rainfall totaled 3.84 inches, surpassing the previous daily record of 1.90 inches set on July 31, 1962.
Motorists who approach a flooded street should think, "turn around, don't drown," Law said.
"It's never smart to go through a flooded roadway," Law said. "You don't know what's underneath. You don't know the depth of the water or if the roadway has been washed out."
More rain was expected later this week for Vero Beach.
Chances of showers were 60 percent for Tuesday, 50 percent for Wednesday and 40 percent for Thursday and Friday, forecasters said. The days will have temperatures near the high 80s, which will dip to the high 70s at night.
Photos by Jen Greenaway