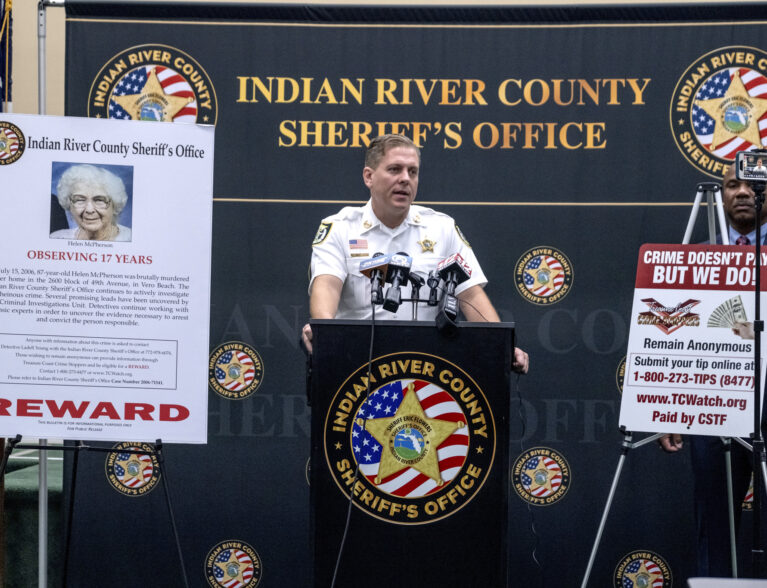 INDIAN RIVER COUNTY — She was a grandmother and longtime Vero Beach resident who enjoyed going to church, eating ice cream and having dinner with relatives. Then, on the evening of July 15, 2006, Helen McPherson was found beaten to death and strangled at her Vero Beach residence.
She was 87 years old.
"We have not given up on Mrs. McPherson," Sheriff Eric Flowers said on Friday, reminding residents that Saturday marks 17 years since McPherson's son and daughter-in-law found the woman's lifeless body inside her bedroom. "Seventeen years is a long time to wait for justice, but we know that we're capable of bringing it. We want those bad guys to know that their days are numbered."
.@IRCSheriff Eric Flowers talks about 2006 Helen McPherson homicide case as it nears toward the 17-year anniversary. McPherson, a mother and grandmother, was found murdered in her Vero Beach home on 49th Avenue. #VeroNews pic.twitter.com/zyYFsAOqHJ

— Nicholas Samuel (@JournalistNickS) July 14, 2023
Sheriff's officials reminded the public that deputies are still working to make an arrest in the case. Flowers said deputies have identified a person of interest, but could not release further details.
"We will be making an arrest in this case. It is coming," Flowers said during a news conference held at the Indian River County Sheriff's Office. "We want to warn the bad guys out there involved with this case and others that we're coming to get you."
The sheriff's Cold Case Team, led by Detective Ladell Young, is now investigating the homicide that deputies described as "brutal," along with several other unsolved crimes. But, Flowers clarified that the case has always been considered active.
"This is not a cold case to us. This is a case we have been working since the day that call came in," Flowers said. "We know the technology has evolved. Our cold case team everyday re-evaluates evidence. We are working on a number of cases with genetic DNA."
Deputies are using the updated genetic DNA technology to retest evidence found at the crime scene.
"We're working with our partners at different crime labs to vacuum out DNA from a variety of different items that we couldn't recover DNA from before," Flowers said. "When we get those strands of DNA, we're able to trace it back and figure out who these people are. Before we would've had unknown DNA sequences. Now we're tracking it down through family members."
A motive for the killing remains unknown. The unsolved case gained national attention and was even featured on the longtime crime show America's Most Wanted in June 2011.
The day before her body was found, Helen McPherson went with her son Doug McPherson and daughter-in-law Wanda McPherson to Swensen's Ice Cream Shop, which has since closed, before returning to her home in the 2600 block of 49th Avenue, Flowers said. The couple left Helen McPherson's residence that night.
The next day Doug and Wanda McPherson, who had not heard from Helen McPherson, became worried. The two went back to McPherson's residence the evening of July 15 and found her body. Her purse had been dumped with the items inside spread across the floor, Young said.
"Somebody came in that house, killed her and ransacked the house," Flowers said. "It's a terrible crime that has occurred in Indian River County. We want to remind her family that we're committed to this case."
Investigators said McPherson was not sexually assaulted, and no items were taken from the home. Over the years, detectives have pursued leads, spoken with possible suspects and witnesses and evaluated forensic evidence, deputies said.
Still, no arrests have been made in connection to the death of the widow who lived in Vero Beach for 60 years. Flowers said McPherson, who attended First Baptist Church in Vero Beach, lived alone.
Detectives have continued to meet regularly with McPherson's relatives to update them on the case.
Anyone with information on the homicide should contact Det. Young at 772-978-6076. Callers who wish to remain anonymous can contact Treasure Coast Crime Stoppers at 1-800-273-TIPS or tcwatch.org and possibly be eligible for a cash reward up to $5,000.
Photos by Joshua Kodis, flyer provided by Indian River County Sheriff's Office