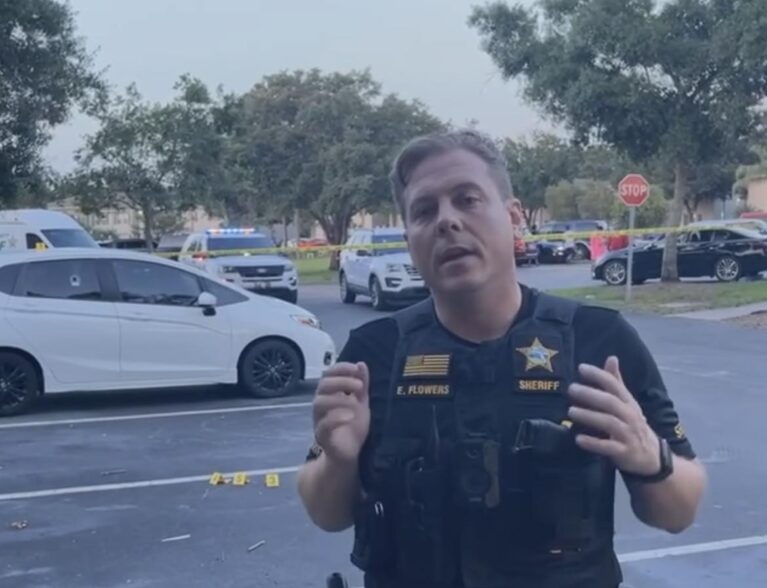 INDIAN RIVER COUNTY — Deputies are asking the public for tips in a shooting that left two Brevard County teens hurt – including one seriously wounded – in the parking lot of an apartment complex late Tuesday.
"At this time we have no suspect information," Indian River County Sheriff Eric Flowers said in a Facebook video from the crime scene. "We need more information about this to find out who did this tonight. Please give us tips, we're looking for help."
A motive for the double shooting was not available. The shooting led Cleveland Clinic Indian River Hospital to be placed on a two-hour lockdown, sheriff's spokesperson Sgt. Kevin Jaworski said.
Indian River County sheriff's officials received several 911 calls at 6:28 p.m. about shots fired at the Taylor Pointe Apartment complex, located off Lindsey Road. Four people were inside a vehicle when two of them – both males ages 17 and 18 – were struck by gunfire in the parking lot near the back of the complex.
"All four occupants were from Brevard County," Jaworski said. "They did not live in that apartment complex."
The people in the vehicle drove to Cleveland Clinic Indian River Hospital for treatment. At least one of the victims was then flown to a trauma center for his injuries, Jaworski said.
Deputies combed the area late Tuesday for evidence, found several shell casings in the parking lot and marked off a section of the lot with yellow crime scene tape, Jaworski said. Officers placed evidence markers near a white car that had a bullet hole in its rear passenger window.
Deputies have since cleared the scene. Jaworski said deputies are trying to determine why the four individuals were at the apartment complex.
Those with information on the shooting can contact the sheriff's office non-emergency number at 772-569-6700. Callers can remain anonymous by contacting Treasure Coast Crime Stoppers at 1-800-273-TIPS or tcwatch.org.
"We're looking for your help to be able to solve this crime," Flowers said.