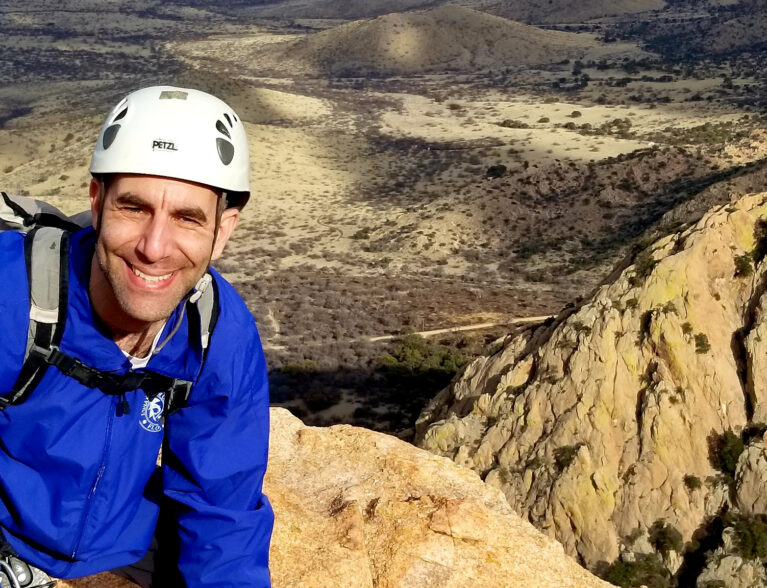 As his 50th birthday rapidly approaches, County Attorney Dylan Reingold wants to reach for new heights – while he still can.
That's why he notified the County Commission last week of his intention to resign from his $194,000 job (plus benefits) to pursue his longtime dream of traveling to Tanzania to climb Mount Kilimanjaro, the highest peak in Africa at 19,341 feet.
Reingold, an Indian River Shores resident who has served as the county's chief legal counsel for the past 10 years, said his last day in the job will be in late July or early August.
His resignation comes one month after the commissioners unanimously approved a new one-year contract.
"This is something that has been on my mind for a long time, but I wasn't ready to pull the trigger," Reingold said last week. "The more I thought about it, though, the more I realized I need to do it now, while I'm still physically able and can enjoy it.
"I'm going to be 50 next month, and while I'm healthy, fit and I feel good, I know it's only a matter of time before I start developing the aches and pains," he added. "So if I don't do it now, it's probably never going to happen.
"We don't have children. We can make it work, financially. Now is the time."
In addition to climbing Kilimanjaro in September and then going on an African safari with his wife, Reingold said he plans to fly to Nepal to join a Mount Everest base camp next March.
He said he won't dare attempt to climb to Everest's peak – at more than 29,032 feet, it's the world's tallest mountain – but he does plan to trek along various trails in the Himalayas.
To prepare, Reingold said he'll need to train to get his body in shape for the rigors of those adventures, as well as acclimate to high altitudes, so he plans to go to the mountains of either New Mexico or Montana this summer.
"Coming from Florida, it's going to take some time to adjust to being at altitude," he said.
"Fortunately, my family has a house in Sante Fe, and my wife has a friend in Montana."
Reingold said he plans to take some down time when he returns from Africa before revving up his training in February for the Everest trip. He knows what he needs to do to prepare.
In 2012, Reingold climbed to the summit of Washington's Mount Rainier, the fifth-tallest – and most glaciated – mountain in the Lower 48. Less than three weeks later, he went on a 10-day trek through the Andes in Peru. "It was right after I met my wife," he said, "and right before I took the job here."
An experienced rock climber, Reingold also has climbed and competed at several of the sport's top sites across America: Joshua Tree and Yosemite national parks in California, Devil's Tower in Wyoming and the Adirondack Mountains in New York, as well as in Tennessee, North Carolina and Alabama.
In fact, he contributed to a book – "Fifty Places to Rock Climb Before You Die," an illustrated guide to some of the world's best rock-climbing locations – submitting his review of Horse Pens 40, which sits atop Chandler Mountain in northern Alabama and is considered one of the top bouldering sites in the southeastern United States.
As for what he will do after he returns from Mount Everest, Reingold isn't sure.
"I really don't know what post-March 2024 looks like," he said. "I haven't gone deep on that yet. I'm sure I'll be a regularly employed lawyer somewhere, but I don't have anything lined up. I do know my wife and I still plan to live here."
Would Reingold return to his soon-to-be-former job if the situation arose?
"I honestly haven't thought about it," he said. "I'm not opposed to it. It's certainly something I'd consider."
Commission Chairman Joe Earman said the county needs to find a new county attorney to help address the many challenges confronting the area as a result of the surge in population and development the past three years.
Earman said Reingold's resignation will be discussed at next week's meeting, with the search for his replacement expected to begin immediately and Deputy County Attorney William DeBraal likely to serve in the interim.
Earman said he was surprised when Reingold told him of his plans.
"It caught me completely off-guard, and while I'm happy for him, I hate to see him leave, because he has been a great asset to the county," Earman said. "He's not only a really good attorney, he's very good at negotiating, especially in situations where cooler heads need to prevail."
Reingold, who started on July 1, 2013, said he has enjoyed his 10 years here and will miss working with the commissioners and other county staffers. He said he expects the vacancy to attract plenty of strong candidates.
"This is a wonderful community," he said. "Anyone would be lucky to have this position."
Reingold's resignation follows a months-long search by the county to replace former county administrator Jason Brown, who left in December to take a job in the Clerk of the Court's finance department. Brown, like Reingold, resigned for personal reasons, citing job stress and the desire to spend more time with his family.