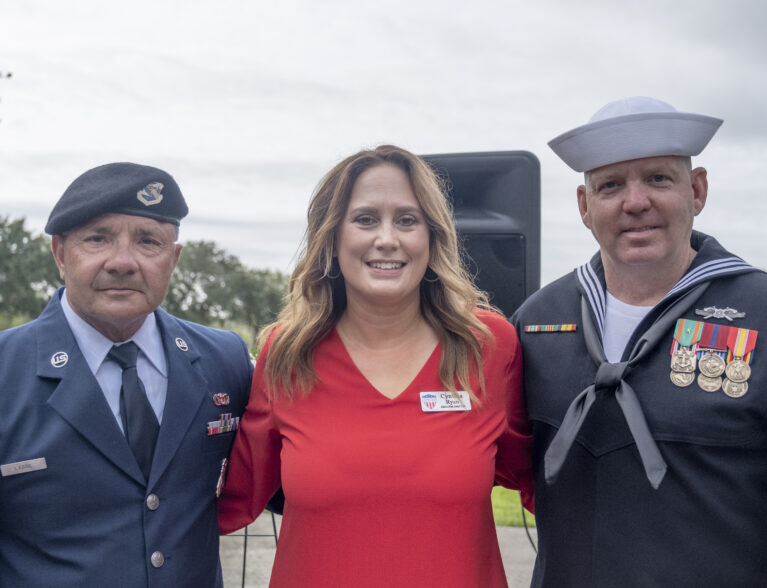 During the annual Memorial Day Ceremony on Veterans Memorial Island Sanctuary, local residents paused to reflect and honor the sacrifices of those who lost their lives while serving in all branches of the United States armed forces.
"On Memorial Day, tradition dictates that the American flag is raised briskly to the top of the staff and then lowered to half-staff, where it remains only until noon," said Fr. Dave Newhart, chairman of the Veterans Council of Indian River County, the event's organizer.
"The half-staff position remembers the more than 1 million men and women who gave their lives in service to our nation. At noon, their memory is raised by the living who resolve not to let their sacrifice be in vain but to rise up, honor, and continue to fight for liberty."
Newhart reflected on the 250-year history of our country's military, whose members have sacrificed "life and limb to preserve the only bastion of freedom the world has ever known – the United States of America," he said.
"Throughout our nation's history, conflicts have been fought to protect our citizens and those peoples who are helpless against tyranny through either declared war or combat operations other than war."
The occasion also marked an opportunity to acknowledge the surviving World War II veterans in attendance.
Vero Beach City Council member Rey Neville listed the acts of bravery of the keynote speaker, Petty Officer First Class Rob Ryan, U.S. Navy, who was fortunate to survive one of the deadliest battles of the Iraq War.
The Marine Corps Combat Veteran served in Fallujah, Iraq, during Operation Iraqi Freedom and Operation Phantom Fury, and later worked as a sniper team leader for dignitary protection and diplomat security operations for the State Department at the U.S. Embassy in Kabul, Afghanistan. He is currently a detective with the Indian River County Sheriff's Office and on the FBI's Joint Terrorism Task Force.
"It's truly an incredible honor for me to be here today as we observe Memorial Day to honor and remember those who came before us. Those who paved the way and set the highest expectations of excellence. Those who made sure that the United States remains free and those who gave their lives in service to our country," said Ryan, noting that he was a fourth-generation veteran.
"We all served in combat. We all returned home. I wish that was the case for everyone, but sadly it is not. That is a check we write and the price we pay for freedom. We have the responsibility to remember our nation's courageous men and women, whether they died on foreign soil or after a lifetime of service in uniform to our country."
The morning was rife with tradition and moving symbolism that included patriotic music, a wreath laying among the cenotaphs, a rifle salute, the tolling of the ship's bell and the playing of "Taps."
Photos by Joshua Kodis