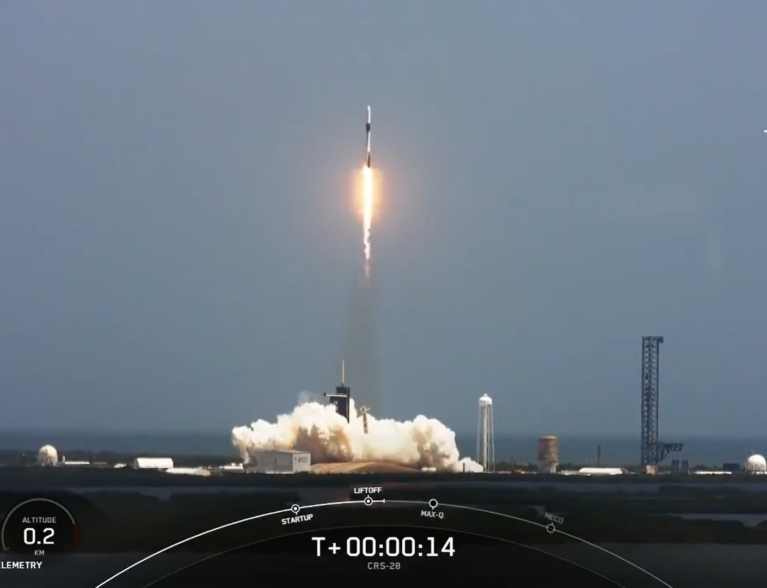 Space enthusiasts on the Treasure Coast looked toward the sky Monday to see SpaceX launch its 28th commercial resupply services mission to the International Space Station. The cargo includes new science experiments – similar to planting programs carried out by students in Indian River – food, supplies, equipment and the next pair of roll out solar arrays, NASA officials said.
More such launches – which can be spotted in Vero Beach – are expected as the space agency builds toward its Artemis II moon mission in 2024.
The uncrewed Dragon spacecraft carrying the cargo – atop the Falcon 9 rocket – lifted off from the launch pad at Kennedy Space Center in Cape Canaveral. The launch had been delayed the past two days because of weather-related issues. 
.@SpaceX launches its 28th CRS mission to the International Space Station Monday from Cape Canaveral. #VeroNews pic.twitter.com/c8YpGow3Lv

— Nicholas Samuel (@JournalistNickS) June 5, 2023
The new solar arrays, epigenetic plant biology and material science investigations were created by Redwire Space, an aerospace agency based in Jacksonville. The arrays power the station by converting solar energy to electricity.
 "Redwire is especially proud to be launching two new iROSA wings that will deliver critical power to the ISS that will support systems and experiments on the space station," Vice-President of Marketing and Communications Austin Jordan told VeroNews. Jordan, who has visited the Gifford Youth Achievement Cener to talk to students, hopes the missions will inspire youth and others about spaceflight and STEM. 
"Redwire is continuing to advance capabilities in low-earth orbit to support human spaceflight and deliver scientific insights that could deliver important benefits on earth like crop production and materials science research." 
Astronauts aboard the space station are experimenting how space-grown plants undergo changes to adapt to the environment, according to NASA. Astronauts will inspect whether or not these adaptions will carry on to the next generations of plants.
"The investigation will create a second generation of plants using seeds previously produced in space and returned to Earth. Results could provide insight into how to grow multiple generations of plants to provide food and other services on future space missions," NASA officials said in a statement. "This investigation also could support development of strategies for adapting crops and other economically important plants to marginal and reclaimed habitats on Earth."
The astronauts become space gardeners as they conduct the experiments with plant seeds using NASA's Advanced Plant Habitat, an automated plant growth facility managed by Redwire.
"Redwire has successfully completed three APH investigations which grew radishes, chili peppers, and cotton tissue culture in space," Jordan said.
The Dragon spacecraft was expected to arrive at the space station about 5:50 a.m. Tuesday, NASA officials said. This was the 38th launch for SpaceX, a private space company, this year.
Dragon flies! @SpaceX's #CRS28 cargo launch lifted off from @NASAKennedy at 11:47am ET (1547 UTC). Learn more about the @ISS_Research it's sending to space: https://t.co/V70UhN38uw pic.twitter.com/8BBVpLdpW9

— NASA (@NASA) June 5, 2023
This story will be updated.