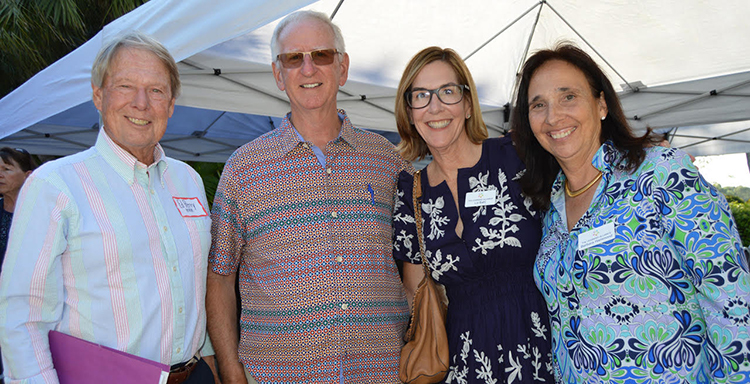 Members of Head, Heart & Hands of Indian River Club were pleased to present grant checks to 21 local nonprofits totaling $200,000 during its ninth annual Grant Award Ceremony.
Recipients gathered poolside near the community clubhouse to accept grants ranging from $5,000 to $15,000 for programs that support health, education, youth activities, homelessness, environmental change, cultural programs and scientific research.
This philanthropic arm of the Indian River Club has contributed more than $1 million to local charities since 2013, when they formed Head, Heart and Hands to pursue their shared mission of improving the quality of life for all residents of the county, said Steve Corrick, grant committee co-chair with Peter Lubell.
Corrick explained that head represents educational outreach, heart signifies funding, and hands their volunteer efforts, which he said they have plans to expand upon this year.
"You are the real heroes to us," said Corrick to the nonprofit representatives.
"Our purpose here today is to introduce 21 outstanding nonprofit organizations and to learn a bit about the programs and projects that Head, Heart and Hands have chosen to fund this year. Each of these organizations does tremendous work in our county," said Corrick.
"I don't have to tell you how much need there is in our community. You'll hear from the grant recipients about that need and about the people they help. Children, teens, young adults, parents, teachers, caregivers, seniors, and people who have encountered violence in their lives or who cannot read, who have health issues, who have nowhere to go, or who may need to get away from trouble in the neighborhood," said Corrick.
He invited members of the grant proposal committee to introduce representatives from each of the nonprofits so they could share details of the programs being funded.
This year, grants were provided to Bike Walk IRC, Boys & Girls Clubs, Childcare Resources, Children's Home Society, Crossover Mission, Feed the Lambs, Gifford Youth Orchestra, Hibiscus Children's Center, Hope for Families Center, LifeBuilders of the Treasure Coast, Literacy Services, Pelican Island Audubon Society, SafeSpace, Senior Resource Association, Special Equestrians of the Treasure Coast, Sunshine Physical Therapy Clinic, The Learning Alliance, The Source, United Against Poverty, Veterans Council of Indian River County and Youth Guidance.
Photos by Joshua Kodis and Stephanie LaBaff