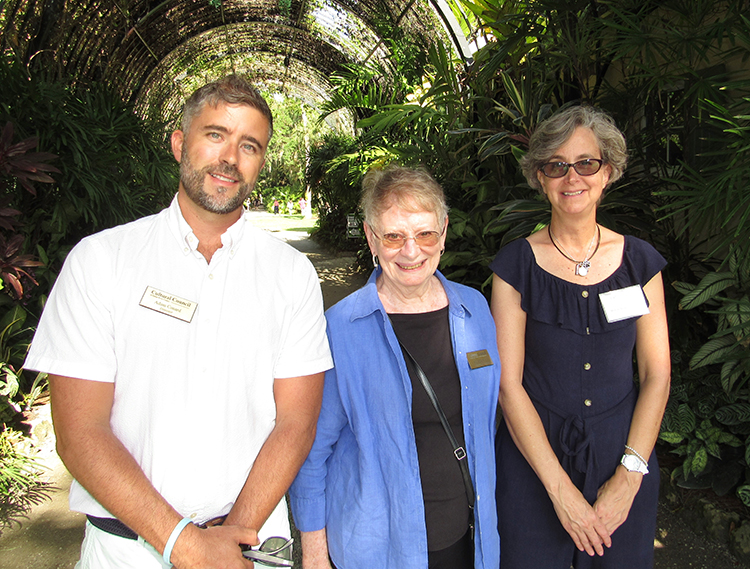 Supporters of the arts made their way to McKee Botanical Garden for the latest Cultural Connection event, a lovely Sip and Stroll evening hosted by the Cultural Council of Indian River County, Salvador Deli and McKee.
It was a gorgeous night for the gathering, where guests wandered about the lush landscape, stopping at stations along the way to enjoy Salvador Deli's "Artfully elevated pub food," paired with a selection of wines.
The goal of Cultural Connections' series of events is to acquaint individuals from local organizations with our cultural arts venues, so that they might share knowledge of them with their clients and others in the community.
"This is one of four social networking events. One of our initiatives at the Cultural Council is to bring people together in cool locations to celebrate the arts," said Cultural Council board member Adam Conard.
"We invite people from the community to highlight how the Cultural Council is bringing people together. We're handing out free Cultural Arts Guides and answering questions. A lot of people want to learn more about the Cultural Council and that's why we're here."
The first event took place at the Environmental Learning Center and the next one is scheduled for June 14 at the Vero Beach Museum of Art. Alicia Quinn, Cultural Council operations manager, said that event will include mini docent-led tours of the juried exhibition Treasure Coast Creates: A Tribute to Local Artists.
The exhibit, on display at the VBMA May 20 to Sept. 3, features recent works by contemporary artists living in and around Vero Beach, and some of those artists will be in attendance.
The fourth in the series will take place at Riverside Theatre this summer, but the date is not yet finalized.
"They're all people who are coming looking to make connections to network in the arts," said Conard. "Outside of the arts, we also have sponsors who are part of the event. Our sponsors change every event, so there's always some new groups here."
For more information, visit cultural-council.org.
Photos by Mary Schenkel