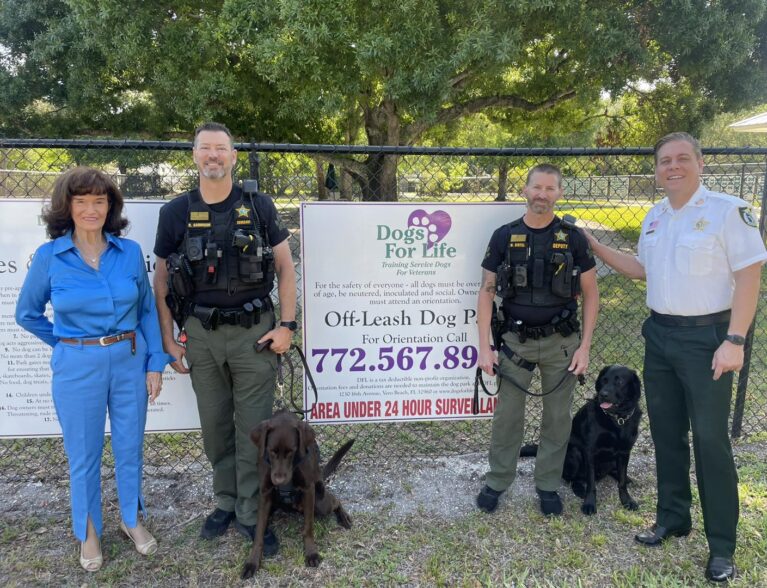 INDIAN RIVER COUNTY — Trainers say two new, fluffy additions to the sheriff's Therapy K-9 Unit are eager to engage with students and the community.
The Indian River County Sheriff's Office recently welcomed "Chip" and "Ellie Mae" to its agency. The canines will join "Gracie," the first K-9 therapy dog in the unit.
The unit – created in 2021 – mainly operates inside local schools and are used by handlers to interact with students and assist in some situations where comfort is needed, sheriff's officials said.
"All three handlers and their K-9 partners are proud to work together to help reduce anxiety, enhance self-esteem and open up communication lines with both students and the public," sheriff's officials said in a statement. "The use of K-9's as a method of rapport building and connection allows our students and citizens to engage with law enforcement on a whole new level."
Chip, an English black lab, is 1.5 years old, while Ellie Mae, an American chocolate lab, is 3.5 years old, sheriff's spokesperson Lt. Joe Abollo said. Gracie, a mixed black lab, is 5 years old.
Gracie is assigned to Imagine Schools South Vero, while Chip will be greeting students at Vero Beach Elementary, sheriff's officials said. Deputies said Ellie Mae will rotate to multiple schools throughout the county.
Dogs for Life, Inc., a local nonprofit agency that trains service dogs for veterans and people with disabilities, donated Chip to the sheriff's office, authorities said. The agency also assisted with donating equipment and providing training for both Chip and Ellie Mae.
Ellie Mae was rescued from Tampa, and Gracie was rescued from Brevard County, Abollo said. Ellie Mae's handler is Sgt. Ron Garrison, Chip's handler is School Resource Deputy Mark Birtel, and Gracie's handler is School Resource Deputy Dave Partin.
"DFL is proud to partner with the IRC Sheriff's Office with the placement of Chip a black Labrador retriever who is perfect as a comfort dog for the school resource program," the nonprofit agency said in a statement. "Our goal is to have a dog in every elementary school in IRC. Thank you (board member) Kathi Schumann for sponsoring this program."
To make a donation to the program, visit the sheriff's office website and look for K-9 Trust Fund section.