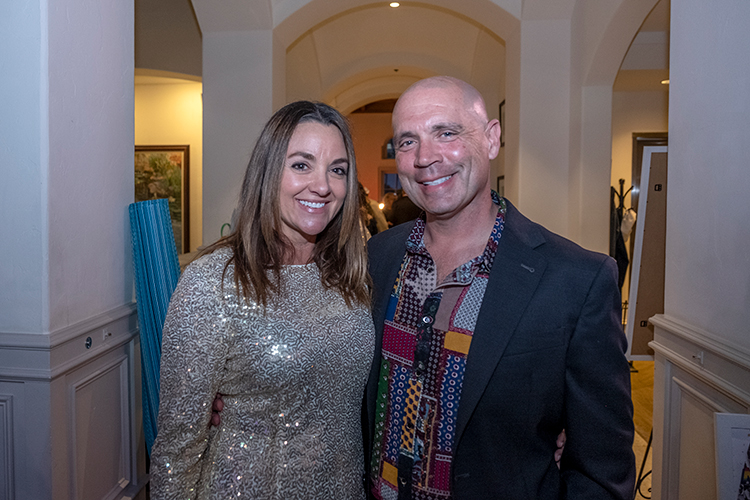 Much like the Motown song "Reach Out I'll Be There" by the Four Tops, the Mental Health Association of Indian River County reached out for support and more than 200 guests responded, attending this year's MHA Rocks Motown fundraiser at the Grand Harbor Golf Club.
Guests put on their dancing shoes and wore their funkiest, solid gold and black attire for an evening filled with dancing, gourmet dining and generous donations through silent and live auctions.
"This past year we've been trying to focus on our services to children, since the need for services and their families has increased by 73 percent," said MHA CEO Phil Cromer, Ph.D.
"During the pandemic people did what they had to do to get through, but now that they are reintegrating back into school and socializing with friends, they unravel. The height of a mental health crisis occurs about a year after the pandemic, so even though COVID might be kind of over, the mental health crisis is ramping up."
Cromer said they are coming up with creative ways to reach children who might need some help.
"We are still with the Boys and Girls Club and in the schools, but we are also collaborating with Youth Guidance and the Vero Beach Rowing Association so that during the summer we can offer a week-long program where we get the kids out on the water and teach them how to row. They will have a therapist with them teaching them team building and social skills."
Additionally, MHA is expanding their mental counselor training programs to try to meet the increased demand. They now have intern programs for master level counselors and social workers as well as a new program for doctorate students from FIT.
The MHA has received appropriation to expand their center and offer additional free services, even for some who have insurance.
"Our screenings are free to everyone," said Angela Guzenski, COO of MHA.
"If someone is under 300 percent of the poverty level, we can offer free services to them under a new program even if they have insurance. This is opening up our services to those who may have insurance but can't find providers or have to wait for several weeks to be seen. At MHA we have no barriers for mental health services."
MHA continues to offer peer-to-peer support through their Veterans Meet-Up group in collaboration with Gold Star Mothers of Indian River County, Dogs for Life and Next Gen Vets, and added a female only Veterans and First Responders group.
They served more than 1,000 unduplicated clients at their Walk-In & Counseling Center last year, 80 percent of whom said they would not have gotten the help they needed were it not for the MHA Walk-In Center.
MHA wants you to remember that it's OK to get help. All you have to do is reach out and MHA will be there.
For more information, visit MHAIRC.org or call 772-569-9788.
Photos by Joshua Kodis