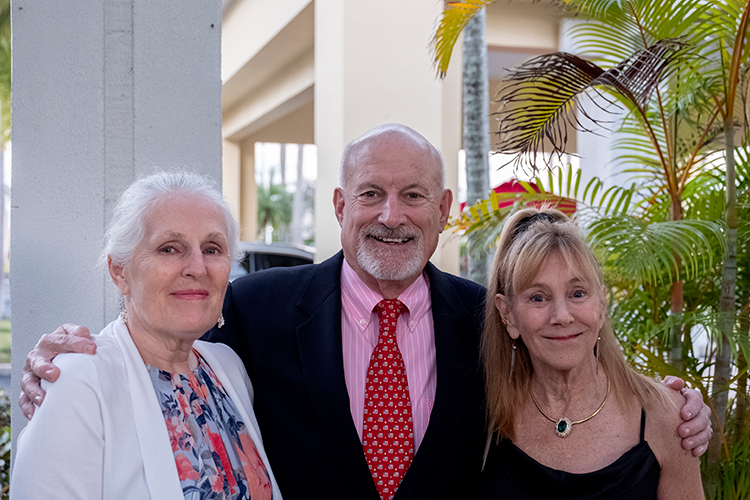 Guests showed a whole lot of love for the less fortunate at an elegant Valentine Ball at the Oak Harbor Club to benefit United against Poverty of Indian River County. It was their first ball since 2020, and the stylish crowd was more than eager to reconnect and support the nonprofit.
Welcoming everyone, UP CEO Gwendolyn Butson said the generous sponsors and gala committee had underwritten the cost of the event, so all contributions raised that evening would directly fund UP programs.
Matt Tanner, UP executive director, acknowledged the hard-working UP staff and said 2023 marks their 20th anniversary.
"Which means that for two decades now, United Against Poverty has been transforming lives and lifting families out of poverty. That's an incredible amount of time," said Tanner, adding that there had been some highs and lows over those 20 years.
"But I can tell you with certainty that we would not be standing here tonight celebrating the impact and success that we have as an organization, if it wasn't for each and every individual in this room tonight."
After commenting on their committed and invested board of directors, Tanner paid tribute to the "irreplaceable" Amy Patterson, recognizing her passion, persistence, patience and sense of humor, before presenting her with the United Against Poverty Hand Up Award.
Tanner said their Success Training Employment Program has grown and evolved since its 2016 launch.
"Every single year since that launch, we've had an opportunity to work with over 100 incredible adults in the community who came to us ready to transform their lives and change their career pathways," he said.
Over each of those three-year pathways, he said, staff supports the graduates as they grow, develop, thrive and ultimately lift themselves and their families out of poverty and into economic self-sufficiency.
"And without fault, every single year, there's always a handful of those graduates who end up impacting our lives more than we probably have a chance to impact theirs. And that's because we have a chance to have a proximity to their energy, to their light, to their amazing stories of overcoming incredible obstacles," said Tanner.
He introduced STEP graduate Bruce Tye, who shared that he had grown up in an abusive home and spent time in prison. "The poverty that somebody talked about was the story of my life. There was no hope," said Tye, who came to Vero in 2021.
United Against Poverty and the STEP program gave him a sense of purpose and the skills needed to become self-sufficient and employed.
"I'm grateful for this opportunity, and I'm grateful for the trajectory that STEP has pointed me towards. And that trajectory is up," said Tye.
"We are the largest social service agency in the county," said longtime board chair Barbara Lowry, adding that UP serves some 750 people a day.
She said it costs almost $3.5 million a year to maintain the level of programming and services they provide. However, as UP is not eligible for any county or state funding; they rely solely on philanthropic gifts and grants.
Other UP services and programs include the Member Share Grocery Program, Crisis Care and Housing Assistance, life skills workshops, job and GED preparation, and specialty skill training.
Collaborative partnerships with other agencies provide additional on-campus resources.
For more information, visit UPIRC.org.
Photos by Joshua Kodis