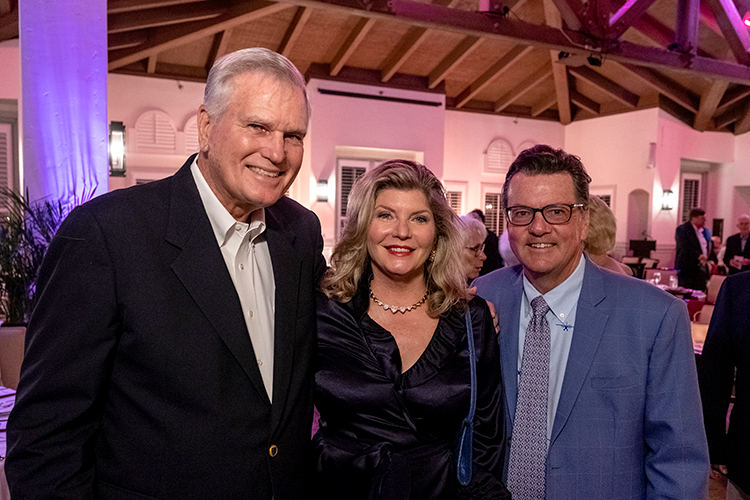 Passports were not needed by the roughly 200 guests who came to enjoy the international culinary delights featured in Wine & Dine, an around-the-world food and wine pairing evening at the Grand Harbor Clubhouse to benefit the Hibiscus Children's Center.
This year's event was co-chaired by Carole Casey and Jan Harrell, whose hard-working committee had also pulled together an impressive assortment of auction items that filled tables along the two hallways leading to the dining room. Music for the evening was provided by four talented students from Vero Beach High School, headed by Sam Moss.
Grand Harbor Executive Chef Joe Ferro and his exceptional staff presented a progressive buffet featuring dishes at various food stations, each paired with a selection of wines to complement the delicious cuisine.
Among them, a spectacular Spanish seafood paella in an enormous pan, a Californian style salad bar, assorted Italian pasta and juicy Argentinian steak. Pastry Chef Tim Blouin outdid himself with a selection of Hawaiian desserts, including a pineapple baked Alaska, and a pineapple bombe starring pineapple ice cream covered in hard chocolate.
To showcase the delectable desserts, Shain Rodrigues, Grand Harbor's assistant general manager, had even set up a backdrop of movie shots of Hawaii that played on a screen behind the tables.
Like all events hosted by the ladies of the Hibiscus Guild, the goal of their fundraising efforts is to improve the lives of teenagers, ages 13 through 17, living in Vero's Hibiscus Children's Village. Once the victims of child abuse, neglect and abandonment, the teens at the village live in safe, secure, family-style homes where they receive counseling, recovery and educational support.
Longtime guild member Suzanne Bertman spoke passionately about several of the residents of the village who had been removed from their parental homes by child protection services and are now sheltered and cared for in their Hibiscus home.
To prepare them for the time when they will live on their own, once they age-out of the system at age 18, teens at the village are taught to develop life skills and are given job readiness training. Additionally, on-site internships are provided in graphic design and culinary skills through the Hibiscus Career Pathways to Independence program.
The funding they raise at events also enables the women of the guild to provide extras for the residents, such as birthday parties with gifts, Christmas presents, and clothes for proms and other special occasions.
Their next fundraiser is the Springtime in Paris-themed Blue Ribbon Luncheon and Fashion Show, April 5 at the Oak Harbor Club.
For more information, visit HibiscusChildrensCenter.org.
Photos by Joshua Kodis