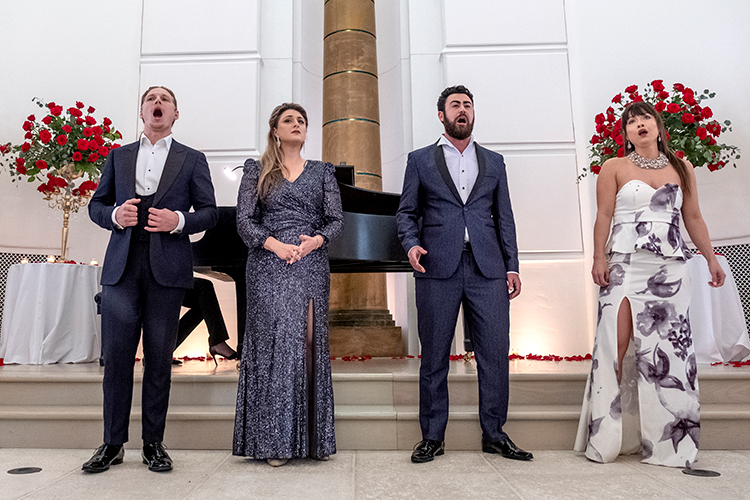 Vero Beach Opera wowed an appreciative Windsor audience with its presentation of 'Broadway Meets Opera,' featuring breathtaking voices, a spectacular venue and a program filled with Andrew Lloyd Webber showstoppers and grand opera favorites.
Six bright talents of the international opera world delivered a brilliant, perfectly balanced performance within the Windsor Town Hall/Chapel, an elegant structure with a cathedral ceiling that delivers excellent acoustics.
After welcoming everyone, VBO president/executive director Joan Ortega-Cowan and artistic advisor Roman Ortega-Cowan introduced the artists.
Baritone Eleomar Cuello, a graduate of the Academy of the National Lyric Theater of Cuba, performed with VBO in January as Dulcamara in "L'elisir d'amore."
Soprano Alexandra Razskazoff holds an MM from Julliard and was the 2022 Metropolitan Opera Laffont Competition Grand Finals Winner.
Pascale Spinney, mezzo-soprano, graduated from Philadelphia's Academy of Vocal Arts and in May will debut as Carmen with the Glacier Symphony Orchestra in Montana.
Tenor Matthew White, another Academy of Vocal Arts graduate, took first place in the 2018 Deborah Voigt International Vocal Competition hosted by VBO.
Acclaimed dramatic soprano Susan Neves, a popular VBO artist, received Distinguished Achievement awards from the Licia Puccini Foundation in New York in 2015 and Vero Beach Opera in 2020.
Collaborative pianist Anna Feteeva has a DMA from University of Miami and is a faculty member for the Miami Music Festival.
The enchanting program blasted to a thrilling start with Lloyd Webber's powerful title song from "The Phantom of the Opera," as Fateeva laid down the first intensely dramatic chords, and the company launched into the eerily, haunting opener.
White's lyrical tenor and Razskazoff's vibrant soprano and dramatic portrayal touched hearts in the romantic duet 'O soave fanciulla' from Puccini's "La Bohème."
Pascale brought it all to the table, vocally and dramatically, as Evita Perón in Lloyd Webber's 'Don't cry for me, Argentina' from "Evita."
Razskazoff beautifully interpreted the almost prayer-like aria 'Non mi dir' from Mozart's "Don Giovanni."
Pascale's interpretation of 'Memory,' the melancholic remembrance of glamorous days gone by from Lloyd Webber's musical "Cats," was (can't resist) purr-fect in every way.
Cuello and Pascale brought the drama with music from one of the most performed operas in the world, Bizet's "Carmen." Cuello's bold baritone brought sexy swagger to 'Toreador,' and Pascale's full-bodied mezzo in the title role dialed up the steamy flirtation.
White and Razskazoff's rendition of 'Waltz' from Lehar's "The Merry Widow" was lush and lovely.
Summoning all the tragedy and despair of the titular Gioconda as she sang 'Suicidio!' from Ponchielli's "La Gioconda," Neves made clear why her exceptional repertoire includes some of the most challenging roles written for sopranos.
The penultimate performances, 'Music of the Night,' performed by White, perfectly brought the Phantom's tragic story to a close, while 'All I Ask of You,' sung by Cuello and Pascale, voiced the lovers' happy ending.
Concluding the evening on a light and lively note, a la Verdi, the company sang the well-known 'Libiamo' from "La Traviata," after which singers and audience adjourned to the patio for champagne and hors d'oeuvres.
"We are so fortunate. Every year, it gets better and better," said Windsor residents Lee and Diane Fentress.
"Lovely, lovely," echoed Maureen and Joe Roxe.
It was the first VBO Windsor concert for new residents Nora Lea and Ed Reefe. He worked for the design firm that built the acclaimed Tampa Bay Performing Arts Center and was impressed by the superb acoustics of the Windsor Town Hall.
Windsor has joined with VBO in support of young artists pursuing operatic careers, funding first prizes in the Metropolitan Opera Laffont Competition in the Florida District in Winter Park and the Southeast Regionals in Atlanta.
For more information visit VeroBeachOpera.org or WindsorFlorida.com.
Photos by Joshua Kodis