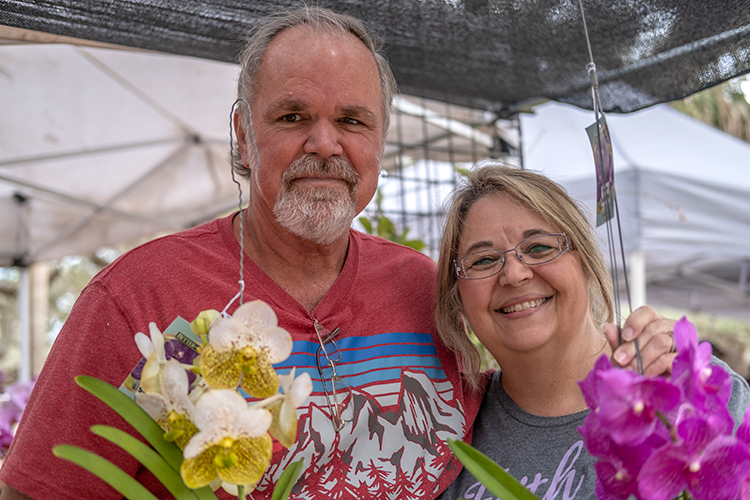 Although huge crowds poured into the 21st annual GardenFest: Nature's Finest Marketplace on the Saturday of the two-day event, Mother Nature didn't play nice on Sunday. Only the more intrepid gardeners braved the showers on the second day of this major fundraising event for the Garden Club of Indian River County.
But Saturday was packed to the gills, as visitors went from vendor to vendor at Riverside Park, searching through the vast array of everything from the familiar to the exotic. Vendors offered all varieties of plants, palms and trees, vibrant flowers, bromeliads and succulents, and a huge assortment of delicate orchids. Still others showcased ways to enhance patios and grounds with lighting, furnishings, fountains, statuary, fire pits and garden accessories.
Members of the GardenFest committee, co-chaired once again by Karen Vatland and Barbara Russell, were instantly recognizable in their characteristic green aprons as they handed out brochures, sold raffle tickets for fantastic, donated prizes and generally assisted visitors. Still others sold their collectible Christmas ornaments, including the 2022 ornament which was a special 20th Anniversary GardenFest ornament that featured a couple walking under the traditional white GardenFest trellis surrounded by a colorful bounty of plants and flowers.
Proceeds from the event go toward the Garden Club's community outreach programs at local nonprofits and civic projects, that are aimed at "enhancing, preserving and beautifying the landscape of Indian River County." They also fund scholarships through the IRSC Foundation and the Scholarship Foundation of IRC.
To become a member or for more information, visit GardenClubofIRC.org.
Photos by Joshua Kodis