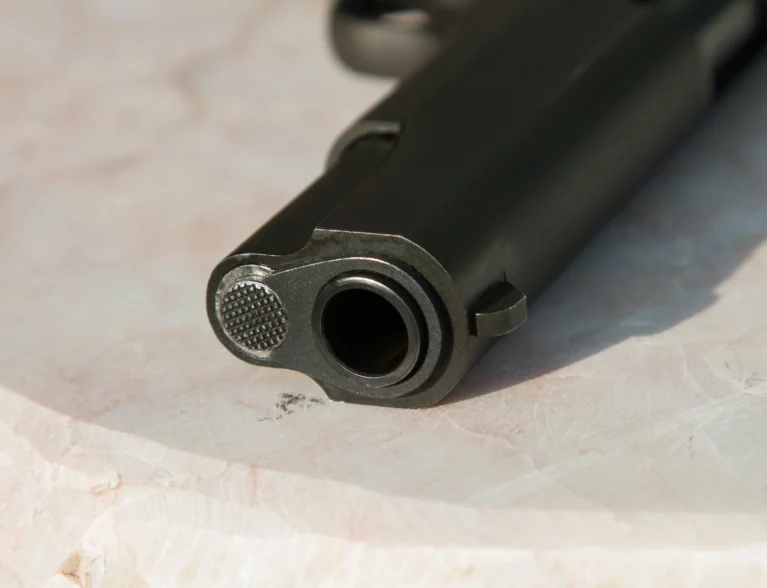 Am I missing something?
What flaw are they fixing?
Why can't I find any compelling reason for Florida lawmakers to even consider allowing citizens to carry concealed firearms without the state-issued permits that currently require they first undergo classroom-type training and demonstrate basic proficiency?
Here's a better question: Why do all but one of our local law-enforcement leaders endorse this proposed legislation, which would inevitably put more guns on the streets and potentially put police officers and deputies in greater danger?
Surely, the political gain from a culture-war triumph isn't worth the increased risk to the men and women sworn to protect and serve our community.
It's not as if the existing licensing requirement is discouraging law-abiding citizens from arming themselves: Florida is among America's most gun-friendly states, having issued a whopping 2.6 million concealed-carry permits.
Yet Florida is poised to become the 26th state to allow what House Speaker Paul Renner and other supporters call "constitutional carry," which has the staunch backing of Gov. Ron DeSantis, the Florida Sheriffs Association and the National Rifle Association.
After the bill was introduced last week in Tallahassee, in fact, Indian River County Sheriff Eric Flowers posted on his Facebook page: "Honored to stand with my fellow Florida sheriffs today to support permitless constitutional carry!"
He then shared a post from Hernando County Sheriff and FSA President Al Nienhuis, who wrote:
"Violent career criminals are not applying for a state permit to carry a gun. Removing the permitting process will assist our law-abiding citizens with the protections they need to defend themselves and their families from those criminals that intend to do them harm."
Under the bill, gun owners who want to carry concealed firearms would need to have only a valid ID while in possession of their weapons.
The legislation would have no effect, however, on the current federal restrictions on buying firearms – a list that prohibits such purchases by convicted felons, fugitives from justice, drug addicts and illegal immigrants, as well as those who have been adjudicated mentally defective or were dishonorably discharged from the Armed Forces.
Background checks still would be required.
That, apparently, is enough to satisfy Flowers, who didn't respond to my email asking him to explain why he supports the bill, along with the police chiefs of Indian River Shores, Sebastian and Fellsmere.
"I have absolutely no fear of an honest citizen carrying a gun – with or without a permit," said Dr. Rich Rosell, the Shores police chief and public safety director. "I wouldn't want to live in a state where law-abiding citizens weren't allowed to carry guns."
Fellsmere Police Chief Keith Touchberry, who announced in November he again would run for sheriff in 2024, echoed those Second Amendment sentiments, adding, "I want people to legally be able to defend themselves."
Touchberry is the president of the Florida Police Chiefs Association, which is scheduled to discuss the merits of the controversial bill this week, but he said he was speaking only as his city's top law enforcement officer.
Both Rosell and Touchberry, along with Sebastian Police Chief Dan Acosta, downplayed any potentially harmful impacts of the proposed legislation and said the bill, if it becomes law, probably would not alter how their officers conduct themselves during their interactions with the public.
Neither Rosell nor Acosta believed a no-permit-required law would produce any noticeable increase in guns on our streets. All three chiefs said they didn't expect the bill to make the job of policing in our community more dangerous.
"Police officers always have to be on guard," Touchberry said, "whether this bill becomes law or not."
Vero Beach Police Chief David Currey, though, wasn't nearly as dismissive.
An FPCA board member speaking for only his agency, Currey expressed concerns about allowing citizens to carry concealed firearms without first undergoing the education and training now required to get a permit.
"We demand that our law enforcement officers be properly educated about and trained in the use of firearms," Currey said. "Shouldn't we require citizens who carry guns to have some level of knowledge and proficiency, even if it's minimal?
"We're talking about the use of a lethal weapon," he added. "Others in the county might disagree with me, but I think training is important and should be required."
Currey said it "remains to be seen" whether the proposed legislation would increase the threat to the safety of law enforcement officers, but he warned that allowing untrained gun owners to carry concealed firearms was a "little nervy."
Actually, it's irresponsible, bordering on reckless.
Supporters of the bill argue that the education and training currently required is so rudimentary that it's essentially irrelevant. The proposed legislation, however, doesn't eliminate the permits, supposedly because they're needed to carry concealed firearms in states that offer reciprocity and require such licenses.
While it wasn't surprising to hear Currey say he would encourage local gun owners to take the concealed-carry classes and obtain the permits, it was somewhat telling that Rosell, Acosta and Touchberry did the same – regardless of the bill's fate.
"The need for gun safety can't be overstated," Rosell said, "but I understand the intent of the legislation."
The real intent should be obvious – and it has nothing to do with public safety, citizens defending themselves or even the Second Amendment, despite how it's being sold by its supporters.
It's political pandering, providing a solution to a problem that doesn't exist in a state where responsible, law-abiding citizens who want concealed-carry permits can get them – if they're willing to take a class and pay for the license.
The classes are offered locally, and they're usually three hours long and cost about $75. As of January, the permit fee is $102, including $42 for fingerprint processing.
Those expenses shouldn't be prohibitive to anyone who can afford to buy a gun and ammunition.
Removing the education and training currently required to get a concealed carry permit, though, can be costly. At the very least, it's risky.
That's why I find it puzzling that law enforcement leaders would have no concerns about putting more guns – and untrained gun owners – on the street, especially in a stand-your-ground state.
And just so you know: I'm not an anti-gun guy, but I am frustrated by our inability to prevent the epidemic of mass shootings that plague our nation.
I'm also alarmed by the surge in road-rage incidents, the increasingly hostile tone of our discourse in recent years, and how quickly disagreements – even among law-abiding citizens – now escalate into altercations.
Do we really want to throw more guns into the mix?