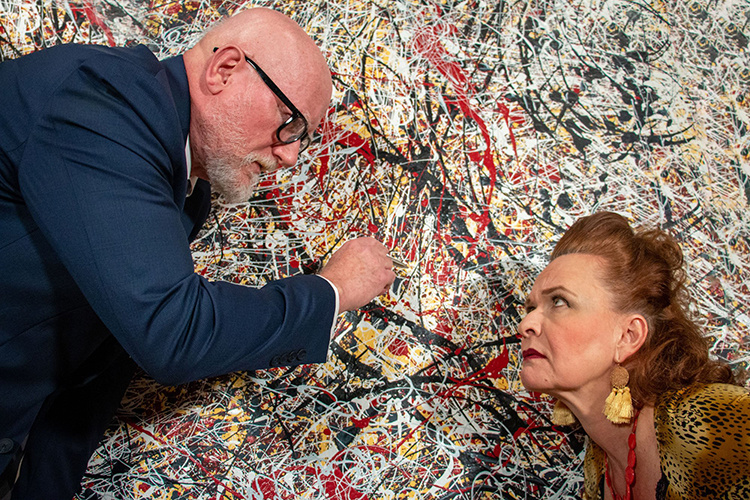 Riverside Theatre continues to shake us out of our cultural doldrums with yet another soul-stirring production. This time, it's "Bakersfield Mist," a smart, witty and provocative play designed to tickle and delight audiences from beginning to end.
In "Bakersfield Mist," playwright Stephen Sachs uses the erudition of an art scholar and the common sense of an out-of-work bartender to explore authenticity, delusion and the power of art.
The backdrop is Maude Gutman's trailer home in Bakersfield, Calif. It is festooned with garage-sale treasures and an ample supply of whiskey. Maude is getting her place, and herself, dolled up to welcome Lionel Percy, a supercilious art expert from New York City.
As former director of the Metropolitan Museum of Art, Lionel has quite the impressive resume. He has deigned to visit Maude in order to verify her claim that she has in her possession a long-lost painting by the major American abstract expressionist, Jackson Pollock.
Lionel's doubt that the painting is real begins long before he sees it. After all, how could this middle-aged woman living in the Sage Brush trailer park, and without any formal education, come into possession of a Jackson Pollock painting. The only thing Maude knows about art is the clown painting she picked up at a garage sale. At least you know what the painting depicts, she says, in not quite those words.
Maude responds with F-bombs and shots of whiskey to Lionel's scholarly speeches about art, while he recoils, reminding her, with disdain dripping from his lips, that his passion is ferreting out fakes.
"It's easier to say something is fake than prove something is real," he says. Moreover, he says he always gets a certain "tingle" when standing in front of something authentic. The irony is that the most authentic thing in the trailer is Maude herself.
What Lionel does not know is that Maude is armed with savvy. As she plays aces tucked up her sleeve, the house of cards upon which Lionel has perched himself tumbles. His armor is eventually pierced, and the lonely man inside becomes vulnerable, at which point Maude lays down her hand.
This play is filled with delicious, intellectually charged combat, while bringing relatable human emotion. Director Allen D. Cornell leads us through this story with righteous respect for the non-verbal moments.
Maude takes her time bringing out the painting in question and setting it up. Lionel takes his time studying every inch of it, front, back and side. (The painting, by the way, is slightly evocative of Pollock's actual painting "Lavender Mist.")
These are long moments on stage, but they are tasty theatrical scenes where action becomes kinetic and we hang on every nuance of movement, wondering how the character will respond, what will happen next. Because of this respect for those moments not spoken – akin to the negative space in a painting (ironically, not so much in a Pollock) – the quiet scenes land solidly, emotion and motivation fully intact. We are rapt. The pencil drops and we hear it.
But, oh, this production is served so very well with two awe-inspiring portrayals by actors Laurie Dawn and Steve Brady. In lesser hands, Maude and Lionel could so easily become two-dimensional caricatures. Instead, Dawn and Brady forge amazingly rich and complex portrayals of two people buffeted by life.
Dawn forges a riveting arc for the character of Maude. At first you think this is a forgotten woman, living out her days in a trailer in the high desert of California. But Dawn brings out her grit and many facets – brassy and wounded, marginalized but hopeful, desperate yet proud.
Brady is superb in the role of Lionel Percy. He is utterly believable as an art connoisseur. He brings his character from being an insufferable snob to one filled with near animalistic understanding of the artist's force. He describes how his life changed when, as a student, he saw Picasso's groundbreaking "Les Demoiselles d'Avignon" and understood then how art might be not just a harbinger of change; as if a madness has a grip on him, he saw how Picasso's work set the stage for Pollock to rearrange "the molecular structure of art."
Brady brings Lionel to the edge in an especially sexually charged monologue about Pollock's painting style, where the canvas becomes the object of Pollock's visceral prowess, both as an artist and a lover. Lionel ends the speech in ecstasy over the sexually explosive nature of Pollock's technique.
And that's where Maude hands him a drink. And the audience needs one too.
Costume designer Anna Christine Hillbery does more than simply dress the characters; she advances theme with her costumes. While Lionel's costume is a given – dark suit, white shirt and tie – Maude's is one that Hillbery has the most fun with.
There are the pedal pushers, the garish jewelry and too-tight top. But what she does is to use touches of reddish orange, which is also seen in the so-called Pollock painting. It subliminally makes us see Maude as an avatar for the painting – chaos incarnate, explosive energy, alive.
That's quite the nice and smart touch.
Sarah Elliott's lighting design is solid, yes, but also a sly one, meaning you will be thrilled by it at one particular moment in the show (and we're saying no more). Director Cornell is also the scenic designer here, and has created a rich environment for characters, actors and audience.
Certainly, those who love art will find "Bakersfield Mist" especially appealing. The writing is smart and scholarly. The monologues where Lionel rhapsodizes over art are simply mouthwatering.
But do realize that, like contemporary art itself, this play is designed to provoke and expand boundaries. In other words, expect language and a few actions that might set a Thomas Gainsborough heart a-flutter.
Do see "Bakersfield Mist." It is excellent theater.
"Bakersfield Mist" runs through Feb. 19 on the Waxlax Stage at Riverside Theatre, 3250 Riverside Park, Vero Beach. Tickets are $65. The show performs 7:30 p.m. Tuesdays, Wednesdays and Thursdays, 8 p.m. Fridays and Saturdays, and 2 p.m. on Wednesdays, select Thursdays, Saturdays and Sundays. For more information, call 772-231-6990 or visit
RiversideTheatre.com.
Photos provided