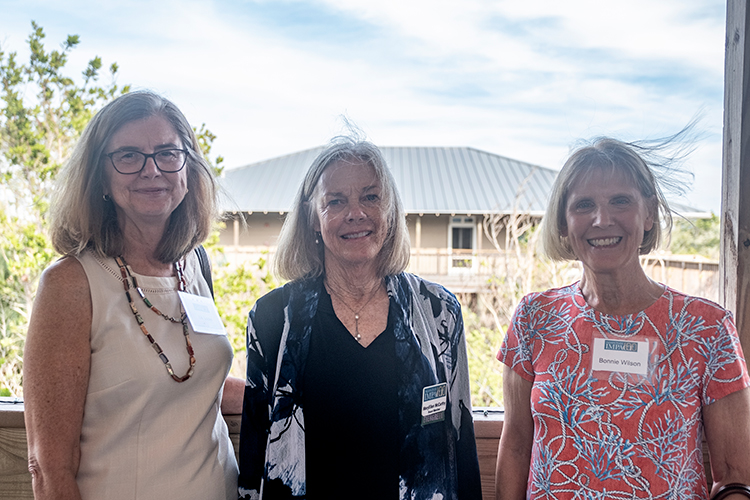 Mary Ellen McCarthy, Impact 100 president, welcomed members and guests to Impact Day, to hear from the four most recent grant recipients about the programs that were funded and their plans going forward.
McCarthy said she hoped that after hearing from the recipients, guests would be inspired to join Impact, and reminded those who hadn't yet done so that they had until Feb. 28 to rejoin.
Impact 100 members donate $1,100 ($100 for administrative costs) and collectively vote to provide high-impact grants to local charities, and the goal this year is to give away six $100,000 grants.
McCarthy introduced the Impact Day presenting sponsor, Cathy Curley, a Realtor with Dale Sorensen Real Estate, who shared a little about her background, including her inaugural Flamingo fundraiser this past fall that raised more than $17,000 to fund breast cancer research.
"I will continue to do my part to pour love into this town I love," said Curley.
Tracy Sorzano, last year's president, introduced representatives from the April grant recipients, who spoke about their programs.
The Gifford Youth Achievement Center was represented by Angelia Perry, executive director, and Jay Lundy, Youth Employability Program director, who spoke about YEP, which prepares students with the skills needed to target high-skill, high-wage jobs after high school graduation.
The program pairs students in grades eight through 12 with employers in their industry of interest to gain real-life exposure and experience, giving them a leg up in navigating and developing a successful career path. Younger students can also take part in a soft-skills employability program in preparation for YEP.
United Against Poverty was represented by Jane McNulty Snead, director of development, and Araminta Caldwell, workforce development specialist, who spoke about the Going UP Bus, which assists adults and families by providing transportation, one of the greatest barriers in breaking the cycle of poverty. The 15-passenger bus provides transportation for clients to the UP Center, where they can access services such as the Member Share Grocery, Crisis Stabilization, UP Education and STEP (Success Training Employment Program), or to on-the-job training at UP employer partners.
The Youth Sailing Foundation was represented by Stu Keiller, executive director, and Julia Butterworth Linus, associate executive director, who spoke about Homeless Children Sail for Life. YSF, in partnership with the Homeless Children's Foundation, offers free afterschool sailing instruction to students in grades six through nine who are either homeless or attend Title 1 schools. YSF transports the children to and from the program, imparting the gift of sailing, which teaches focus, concentration, builds confidence and raises self-esteem, all of which serve as building blocks for a successful life.
Vicki Soule, CEO of Treasure Coast Community Health, spoke about their expanded Vision Program, which provides vision screening and eye examinations, along with affordable glasses for adults and children. The expansion into the Gifford location, focuses on children, providing high-quality eye exams, eyeglasses and early referrals for ophthalmologic care. Recognizing that it is challenging for children to learn if they cannot see well, early vision correction can increase confidence and enable children to meet developmental milestones.
On Feb. 25 from 10 a.m. to 4 p.m., Impact 100 will host Share to Care, featuring representatives from 40-plus Impact grant recipients. For more information or to join, visit Impact100ir.com.
Photos by Joshua Kodis