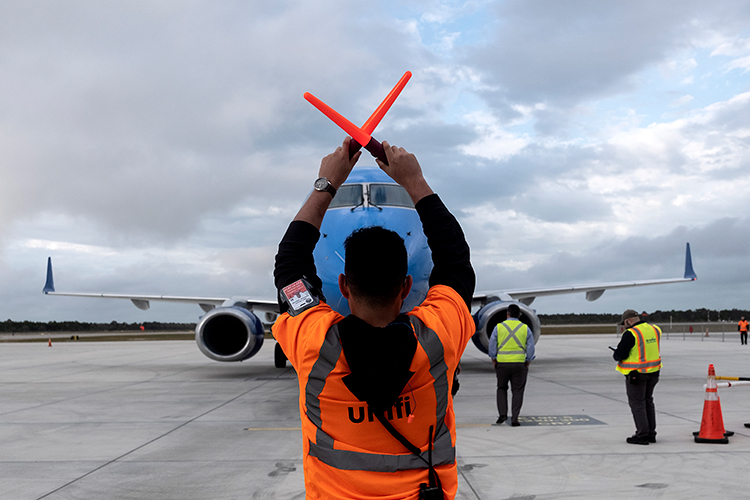 HARTFORD, Connecticut— Breeze Airways, the new airline serving Vero Beach, ran into a spot of bad luck on its first full weekend of service with the unprecedented cold wave that hit the Northeast.
Breeze's Saturday flight from Bradley Field, the airport serving the metropolitan areas of Hartford and Springfield, Mass., arrived in Vero Beach about an hour late and the return flight back to Hartford consequently also left about an hour late.
Breeze prides itself on offering "nice" flights, which includes on-time performance, so on the outbound flight, the captain apologized to the passengers for the delay.
"There was a lot going on in Hartford with the extreme cold in the morning," the pilot said. "The water lines were frozen and the fuel trucks wouldn't start."
Temperatures in the Hartford area were below zero during the night, much lower with the windchill factor, and by mid-afternoon had barely warmed to the mid-teens.
Saturday's Breeze Airbus jet from Hartford brought a full load of 137 passengers seeking to escape the brutal Northeast cold wave.
The return flight to Hartford, however, was less than half full as apparently many would-be travelers had taken advantage of Breeze's liberal cancelation policy — no penalties for last-minute flight changes — to postpone their trips until it warms up in the North.
Breeze this weekend started regular passenger air service from Vero Beach to two Northeast destinations. It serves the Hartford route with brand-new Airbus jets and flies smaller Embraer Brazilian-made jets to White Plains in Westchester County in New York City's northern suburbs.