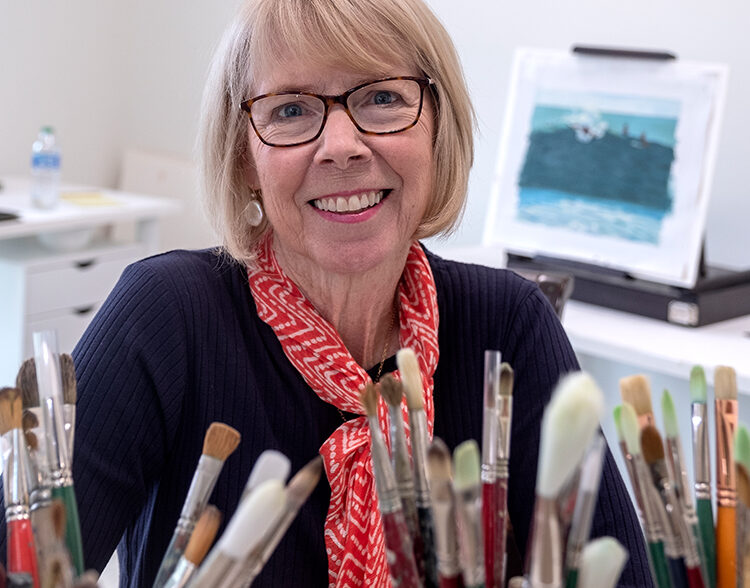 Jill Kerwick, whose artworks include oil paintings, quirky photo collages and a combination of the two, is the newest artist to join the Ocean Drive Gallery in Vero Beach. Kerwick utilizes her varied talents, among them painting, collage, photography, printmaking and set design, to create works that have a touch of surrealism and an open-ended narrative.
"I'm kind of a ritualistic person, but I like to have a purpose. I like to have a plan. Certain times I just try anything in my sketch book and then it just flows from there," says Kerwick.
Calling her sketches "germs" that start the process, she begins with a sketch, followed by a small-scale oil painting, before choosing which paintings might work on a larger scale.
"A lot of issues can be worked out in a smaller style. If I jump into a big painting, it's a struggle," says Kerwick.
"I have no problem with the beginning of a painting. I have lots of ideas in my sketchbook, and if it starts to resonate with me, I do a small painting. If it resonates even more, I'll start a larger painting. Why struggle starting a large painting from scratch and then struggle with it, when I have so many ideas I can draw from and filter through?" she asks.
"I use memory and drawing as a starting point. There is some fleeting moment that's happened, and for some reason I want to investigate it more, or want to remember it. Or it has a feeling that I want to explore, an open-ended moment of wonder."
When evoking an image, she attempts, for example, to not only recreate sunlight, but also "what the water felt like, and what the temperature was, how unbelievable the color of the sky is, and the sound of the ocean. I want to hold onto a playful innocence, so I don't censor myself, especially in the early phase."
Consequently, Kerwick's work has a richness to it, with complex elements. Her use of color and the way she handles backgrounds give her pieces a contemporary feel.
Kerwick says she allows herself to play with the colors.
"Factual reality is not always that interesting. Making up colors other than what I actually see, actually feels more real to me, more like a feeling of the time, or the sound, or the breeze. A whole lot of issues can be worked out in sketches, color and scale," she explains.
"I mix my own colors and do that at the start of a painting and save them throughout the work, so that the colors will match. I put my paints in the freezer if I am going to work with them the next day. There are all these little things you learn," says Kerwick.
With her photo collage work, Kerwick says she used to cut and paste her photographs, but now takes advantage of Photoshop, which makes the process easier, if not as archival.
"Now that you can scan things and change sizes, many collages aren't good looking anymore. But the fun is you get to play with the scale that's already done for you, and you're just finding the things that work together," she explains.
"I think it's good in collage to have some rules and parameters that you have to stick to. Then you have to work within those rules. But then when you break a rule, it's exciting."
Kerwick received a bachelor of fine arts degree in illustration from the Moore College of Art and Design in Philadelphia in 1978, and a master of fine arts in printmaking at New York University in 1995.
She also studied at the School of Visual Arts in New York City, the Vermont Studio School, and at the Anderson Ranch Arts Center in Colorado. She worked as an art director in New York for 15 years but has painted full-time since 1995.
Kerwick spent time in Costa Rica before she and husband Arthur Kontos started coming to Vero in the winter. They spend summers at a farm in New Jersey that they started 12 years ago. It is a working farm, with hired farmers year-round, that produces hay and honey, and which currently boasts four horses, two donkeys, 40 chickens and eight rabbits.
Three years ago, she was one of the founding four members of Friends of Contemporary Art, which has continued to grow.
"There are so many people interested in art. They want to look at it, talk about it, and we go on field trips, studio visits and visit collectors' homes. Art people want to talk about art, just like tennis people like to talk about tennis," says Kerwick. "I do some sort of art every day. That makes me the happiest. Otherwise, I get kind of grumpy."
Kerwick has exhibited at solo and group shows nationwide. Currently, in addition to Ocean Drive Gallery, Kerwick's works can be viewed at the White Collins Gallery in New York, and in the Monmouth Museum's 43rd Annual Exhibition.
From March 3-31, she will have a solo show at the Center for Spiritual Care called "Heightened Awareness," which Kerwick says she is "really excited about. It is one of the best artists 'co-ops' in town. It's the best place around. Warren Obluck has such a good eye."
Photos by Joshua Kodis