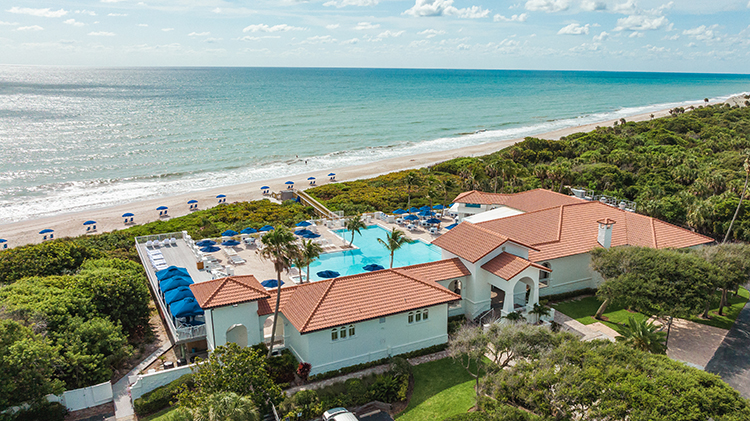 Grand Harbor debuted its remodeled beach club this week to a delighted crowd of 150 or so members and guests, continuing a community renaissance that began two years ago when members took over ownership of the club from the developer.
Grand Harbor Golf & Beach Club, the second-largest residential development in Indian River County in number of homes with 1,180, is located on the mainland but many view it as an honorary part of 32963 because of its proximity, just across the river from Indian River Shores, and its luxury club lifestyle.
And it has a substantial outpost on the barrier island, where the developer bought 5.1-acres with 400 feet of ocean frontage in 1989 to give members access to a private beach club for sunning, swimming and seaside dining.
The 7,688-square-foot clubhouse was built that same year, according to county records. It is located along A1A at 4985 Club Terrace, half a mile south of Wabasso Beach Park. Besides changing rooms, it includes a dining room, expansive swimming pool overlooking the ocean and other facilities.
The just-completed $3 million renovation focused primarily on transforming the 1,800-square-foot Shell Dining Room, which reopened last week after being closed for several months during construction. The dining space, presided over by Executive Chef Rico Hosena, was opened up and refurbished, getting an impressive new bar and two huge NanaWall glass walls – one facing the ocean, the other facing the pool deck.
The energy-efficient, weather-resistant NanaWall glass panels provide a flood of natural light and expansive views when closed and fold-back, accordion style in pleasant weather, opening the dining room fully to the natural world, sharpening the views, and letting in the sound of seabirds and waves crashing on the sand.
A highlight of the deck renovation is the Cabana Deck, stretching toward the sea along the north side of the clubhouse, lined with blue, open-tented cabanas and blue and white chaises.
Upgrades also included two elegant new bathrooms and an elevated walkway across the sea grapes and dunes, leading down to a private beach that typically is dotted with a Riviera-like line of lounge chairs and nautical blue umbrellas stretching along the shoreline.
With a daily staff of 40, the Shell Dining Room is open seven days a week for lunch and four nights a week for dinner, and private catering is available. During the island high season, from after Christmas until the end of March, the restaurant typically serves 300 for lunch every day, according to club GM Michael Gibson, who added that members can get full dining room service on the beach as they relax, toes-in-the-sand, beneath their bright blue umbrellas.
The beach club is popular with members for more than just dining and swimming. Gibson mentioned the well-attended Full Moon Rising beach parties and noted that earlier this month a pod of whales was spotted frolicking just offshore.
"It's wonderful how Grand Harbor has come back around," said club member Nancy Forlines, as guests sipped champagne at the grand reopening. "The club is growing with good growth and more younger people."
Growth is due in part to the club opening membership to people who do not live in Grand Harbor but want a country club – and beach club – experience.
The 800-member club held two other grand openings last week, debuting the dramatically redone River Course, one of two golf courses in the main, riverside community, and four new pickleball courts.
Renovation will continue at the Beach Club this year with the addition of a bar overlooking the ocean and other upgrades, according to Gibson.
Photos provided