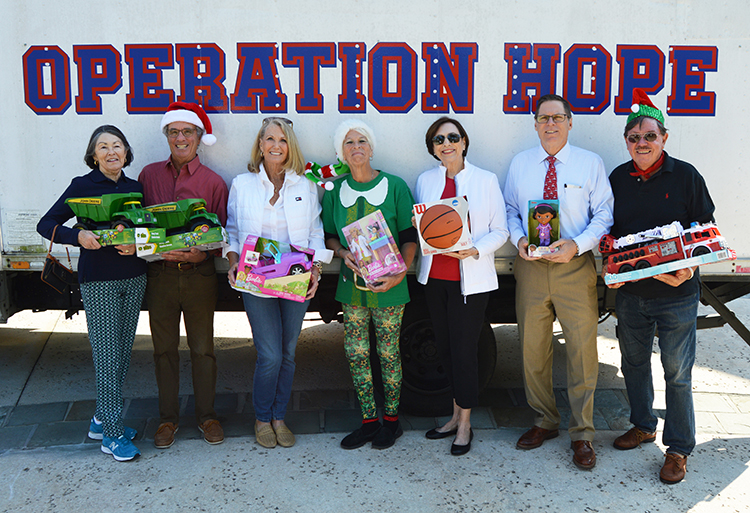 The Christmas tree at the Orchid Island Golf and Beach Club was surrounded by a mound of accumulated gift items suitable for the Island of Misfit Toys. But these brand-new toys were destined for the homes of children living in Fellsmere, who would be attending the annual Operation Hope Santa Claus Christmas Festival held the week before Christmas.
Orchid residents and staff members made numerous trips with their toy-laden handcarts, filling up the Operation Hope truck, aka Santa's sleigh, as busy as elves in preparation for the festive Christmas deliveries.
Orchid Island members had donated more than 200 toys at their annual Operation Hope Toy Drive Cocktail Party and Dinner, amassing building blocks and bikes, Barbies and balls among many other toys and games.
"Who can't relate to Christmas and children?" said Kim Johnson, an Orchid member, as she placed a stack of games into the truck. "Most of us have older grandchildren, so it's fun for us to help out."
Jesse Zermeño founded Operation Hope in 1997 to assist laborers and their families by improving living conditions and distributing food, clothing and household items to those in need.
This year, Zermeño said he hoped to provide 400 families with gifts and food donated by Orchid Island residents and others during the holiday celebration.
On the big day, he said, the Indian River County Sheriff's Office would be there with sirens blasting, a 60-person orchestra and jazz band would be performing with singers and dancers, and there would be lots of activities to keep children busy.
"Orchid Island has been doing this for six or seven years," said Zermeño. "I am so thankful for their support. Right now, a lot of families are going through very difficult times. This really helps."
Operation Hope supports the Fellsmere community year-round with bimonthly food and grocery distributions, a backpack and school supply giveaway during a Back-to-School celebration in August, and turkey giveaways at Thanksgiving.
For more information, visit OperationHopeFL.org.
Photos provided