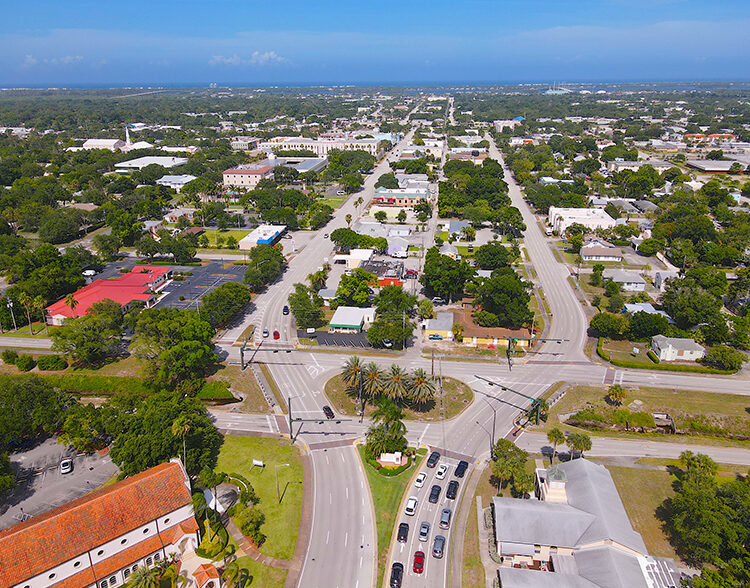 Here we go again.
How many times do we have to revisit a wrongheaded and shortsighted plan to reduce the Twin Pairs to two lanes in each direction – from somewhere east of the railroad tracks to somewhere east of 20th Avenue – ostensibly to revitalize downtown Vero Beach?
But this time, the worrisome news is that three of the five members of the Vero Beach City Council are leading the charge, arrogantly rejecting a more reasonable and palatable compromise reached by their recent Council predecessors.
Why?
Because John Carroll, Linda Moore and Rey Neville believe they're smarter, wiser and know better. Or as one of them inanely blurted out during last week's City Council meeting: The previous panels were "wrong."
The members of this new council majority believe the lane and speed reductions they're proposing along this strategic, half-mile stretch of State Road 60 would entice more people to frequent the downtown area by making it safer, more inviting and more walkable.
They believe downtown needs the additional streetside parking that could occupy the traffic lanes that would be eliminated.
They believe the Twin Pairs, as currently configured with its seven lanes of traffic, is preventing Vero Beach from creating a vibrant downtown, similar to those in Delray Beach, Boynton Beach and, yes, even West Palm Beach.
They also believe the benefits of reducing lanes, even as the county's population surges toward 170,000 and our roads become more crowded each year, far outweigh any of the problems it would spawn.
And they're determined to get what they want.
So now it's up to us.
It's up to the members of our community – county residents, too, because if this proposal passes, it's going to impact all who drive through Vero Beach on State Road 60 – to stand against this ill-conceived game plan for a traffic disaster.
We need to flood City Hall and the Florida Department of Transportation's regional office with emails expressing our opposition. We then need to fill the room at the required public hearings and make sure the decision makers know we think the proposed lane reductions are a bad idea.
And just so you know: FDOT officials, who will make the final decision, want to want to hear from us before they embark on the design phase of the agency's $6.7 million State Road 60 repaving project, scheduled to begin in fiscal 2027.
Let's not be shy.
We need to tell them this lane-reduction proposal is an unnecessarily drastic measure that will do little to attract more people to downtown Vero, which would benefit far more from zoning and other land-use changes designed to spur residential development in the area.
It's ridiculous to think people are staying away from downtown because they're afraid to walk cross State Road 60, which, by the way, is not a "superhighway," as lane-reduction proponents claim.
Not only would reducing lanes of traffic result in frustrating traffic slowdowns and backups during the busier times of day, but adding streetside parking – whether along the curb or in pull-in diagonal spaces – in that section of the county's primary east-west artery would also increase the potential for crashes as drivers stop to parallel park or back onto the roadway.
Many of those accidents likely would involve pedestrians and bicyclists. Some might be catastrophic.
Besides, there is no downtown parking shortage for those willing to utilize the garage across from the County Courthouse. Some people, though, don't want to walk two blocks to the heart of Vero's downtown on 14th Avenue.
Yet lane-reduction supporters say the downtown area needs to become more walkable?
We also need to make sure the FDOT folks know of the proposal's other unintended consequences, which include drivers veering off and finding alternate routes through adjacent residential neighborhoods, such as McAnsh Park, to avoid the throttled traffic along the Twin Pairs.
Anyone in favor of that?
Here's a better question: What's wrong with the plan we have in place – the one approved by a previous City Council in 2021 after members received the results of a study that showed the Twin Pairs were safe and speeding wasn't a significant problem?
Rather than cave to a vocal minority that pushed for lane reduction, those council members agreed to less-draconian measures, opting to reduce the speed limit to 35 mph, narrow driving lanes, widen bicycle lanes and add crosswalks.
They made the right call.
But this is Vero Beach, where two-year City Council terms and staggered elections can produce annual shifts in power. And the 2022 election gave us two newcomers, Carroll and Moore, both of whom hear the clock ticking on FDOT's timeline and want to rush into a decision we'll all regret.
It was Vice Mayor Moore and councilman Carroll who are driving this proposal, which Neville fully supports. Mayor John Cotugno questioned the need for such measures, but he joined the three lane-reductionists in voting to tentatively spend an estimated $150,000 to conduct yet-another Twin Pairs study.
Only councilwoman Tracey Zudans stood firm in her opposition to the proposal, citing the need to look at the real changes that need to be made to continue the city's efforts to revitalize its downtown.
She deserves our applause.
Are the Twin Pairs the perfect roadway system? No, but they have served our community safely and effectively for 30 years. If they posed any significant danger to traffic safety in the downtown area, the lane reductionists would use it to help make their case.
The compromise traffic-calming measures approved by the previous council are sufficient. They'll be more than sufficient in the near future.
Later this year, Brightline's high-speed trains will be rolling through downtown 32 times each day, forcing traffic stoppages and backups. And with the expansion of the ports in South Florida since the widening of the Panama Canal, you can expect to see more freight trains, too.
Then, five or six years from now, the Three Corners development will be completed and offer a waterfront alternative to downtown for people seeking a dining, socializing and retail destination.
We'll need the Twin Pairs' seven lanes to accommodate the inevitable increase in east-west traffic as residents of a still-growing county drive to and from what's expected to be a wildly popular Three Corners site.
We shouldn't need to revisit and reject this tired concept again, but here we are – and with a council majority that doesn't realize it's headed for the wrong side of history.
The City Council is expected to conduct a final vote on the lane-reduction proposal as soon as next month, and you need to make your voices heard.
For what it's worth, Moore should recuse herself from any vote on this project. As co-owner of the Kilted Mermaid, an eclectic craft beer and wine bar just off the Twin Pairs in downtown Vero, she has an obvious conflict of interest.
City Attorney John Turner said Moore is under no legal or ethical obligation to recuse herself under Florida law. She should do so, anyway – because it's the honorable thing to do.
But she probably won't.
Moore sees a chance to get what she wants, just as Carroll envisions a Delray-like downtown here and Neville nostalgically embraces memories of the Vero Beach of his youth.
So now it's up to us.