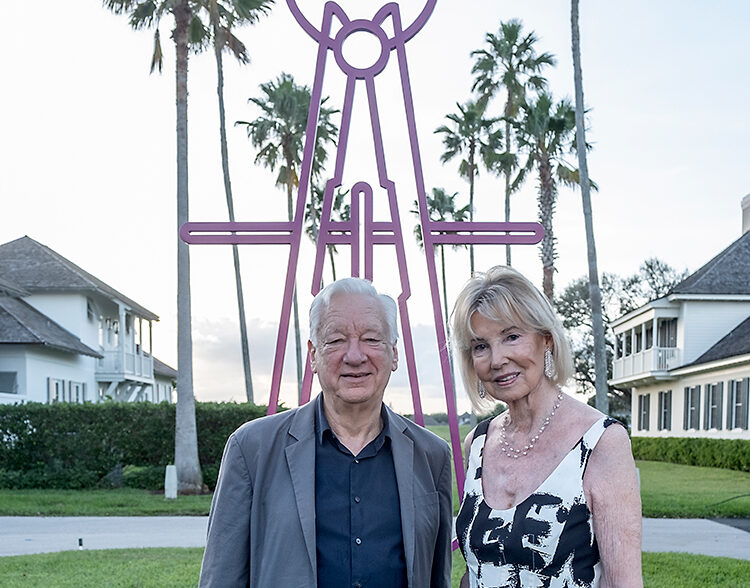 Windsor residents gathered recently for a ceremony to dedicate the W. Galen Weston Memorial Sculpture in honor of the community's visionary founder, who passed away in April 2021.
Artist Sir Michael Craig-Martin said he designed the statue as a compass, saying of it: "The compass' monumental scale seems a fitting tribute to capture his boundless ambition and achievements."
Explaining the genesis of the tribute, Charlie Baillie said a group of residents wished to honor Galen Weston and the "halcyon" Windsor community he and Hilary Weston had created.
Baillie said of Weston, "I have always been intrigued with his positive approach to life, his ability to perceive the silver lining in every cloud and to take advantage of the opportunities presented."
An initial committee, Guy Carr-Harris, Norman Bierman, Georgia Welles and Baillie, quicky grew as the enthusiasm proved contagious.
"We began with two guiding principles. It would be a member-driven initiative, although we recognized that the Windsor staff and management have been extraordinarily supportive. And secondly, Hilary would make the decisions as to the form the memorial would take, its location, and any wording associated with the memorial," said Baillie.
Valerie Pringle, a Canadian television host and a Windsor resident since 1995, was scheduled to speak but, as she was dealing with a bout of laryngitis, husband Andy stepped in to read "Valerie's encomium to Galen."
"Like everyone, the first thing that struck me about Galen, apart from his dazzling good looks, was his enthusiasm, his curiosity and his kindness," said Pringle.
"He was modest, unassuming and kind. In many ways, Galen was defined by his enthusiasm, his energy and his excitement," said Pringle. She noted that he was also a great athlete, whether on the tennis courts, the polo fields or the golf course.
Pringle said Hilary was Galen's closest advisor in their 55-year marriage. Likewise, Galen had been supremely supportive of Hilary during her time as the 26th Lieutenant Governor of Ontario, and she said family was very important to him.
"They made a remarkable and formidable team," said Pringle.
"I want to finish by saying, I think it is really a beautiful, and I think a moral, compass which speaks to Galen's character and is such an example to us all. We are the few who owe Galen and Hilary so very much for creating Windsor, this magical community, this beautiful and special village by the sea," said Pringle.
Craig-Martin commented on the Westons' legendary support of the arts, noting that they had graciously introduced his work to Windsor in a 2019 show.
"It was an honor and a challenge to have been invited to create a sculpture in memory of Galen, who is so greatly missed by all who had the pleasure of knowing him," he said.
Craig-Martin said he had difficulty determining what single object could best represent Galen Weston.
"I chose the compass because I thought what this place is, is the result of vision and planning and realization. People can have dreams, not everybody realizes them," said Craig-Martin.
"I love the compass also because it stands straight, it stands tall, just like Galen was. It's very straightforward, there's a slightly anthropomorphic aspect to the sculpture, it's symmetrical and it seems like the proper classical image."
Baillie thanked Craig-Martin and all those involved in making the commemoration possible, before proposing a toast "To Galen, a man for the ages."
Photos by Joshua Kodis