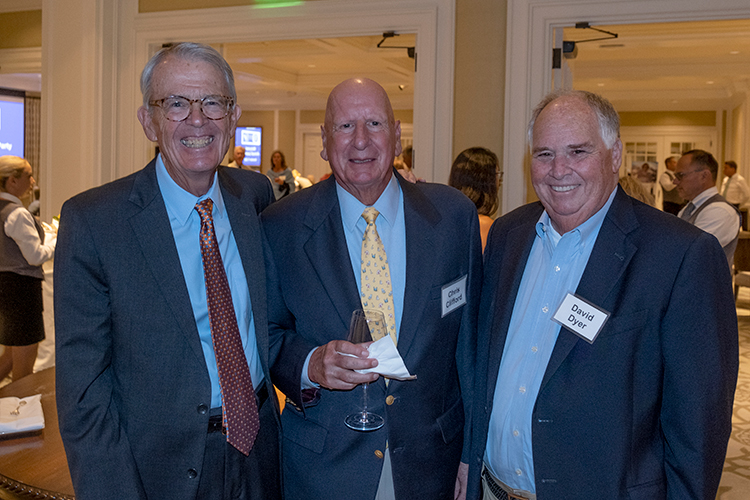 The Learning Alliance blasted off with a Donor Launch Party at the John's Island Club to promote its Moonshot Mission of having 90 percent of Indian River County children reading at grade level by the end of third grade.
Ray Oglethorpe, TLA founder and board chairman, welcomed guests after a three-year pandemic hiatus, saying that despite the tumultuous past few years, there is also good news.
"The Learning Alliance is still here. Not only are we still here, but we're also pleased to be in a strong, strong partnership with the School District of Indian River County and the superintendent, Dr. David Moore. Stronger than ever. We have a lot to celebrate this evening," said Oglethorpe.
He explained that TLA currently provides funding for Early Literacy Coaches and Interventionists in the local elementary schools, which has made a significant difference in county literacy scores.
Each year, TLA supports 4,500 students in kindergarten through third grade through in-school, afterschool and summer programs; trains and supports 350 teachers; assists families with children from birth to kindergarten through the Moonshot Families program; and last year distributed 5,000 books and 1,500 Literacy Kits to families needing additional support.
Oglethorpe said TLA has gained national recognition, by earning its 10th Campaign for Grade-Level Reading Award and said that the school district's ranking has gone from 28th to 12th out of 67 districts in Florida.
"When you live on this barrier island, you don't realize that there's another world over there. This school district is one of the poorest in the state of Florida," said Oglethorpe. Despite that challenge, he said the increased ranking is the result of the dedicated staff at the school district and TLA.
"Even with all these successes, we're still a way from our 90 percent literacy goal," he cautioned, adding that COVID-19 has impacted education across the country.
"Our country has stepped back to where it was in 1992. That's the impact that COVID-19 has had on the education system in the United States. All the gains that have happened over the last two decades – poof! – have gone away," he said.
"Fortunately here, thanks to the people in this room, we're in much better shape than the rest of the country. It's no longer just two moms and a crazy guy [referring to founders Barbara Hammond, Liz Remington and himself] who supported them behind this thing. We now have the State of Florida, who has decided that maybe what we're doing down here in Indian River County is right," said Oglethorpe.
He explained that Florida has co-opted policies and curriculum that TLA supports, along with its Moonshot Moment slogan and goal of 90 percent grade level reading.
Oglethorpe said TLA is "pushing the pedal to the metal" by increasing its budget by 33 percent, adding $1.2 million to overcome the impact of COVID-19, and by launching a Moonshot Acceleration School at Vero Beach Elementary School.
"We're accelerating support to teachers at this specific school so it can serve as a model to all other schools in our county," said Superintendent Moore, noting that donor funding has made the Acceleration School a reality.
"What we're seeing at that particular school is growth head over toe. We are really seeing significant improvements," said Moore.
"We're creating what we call a playbook about how to transform and improve an elementary school in order to ensure by third grade every single student walks out of there at three or above," said Moore, noting that staff from other elementary schools are being brought in to observe the practices, skills, and behaviors that have been developed.
"What you all have done over the last 12 years is really propel this system forward. Some of the success that we have, and we celebrate as a school system, is purely in place because of the expectation you all have created across this entire community," he added.
For additional information, visit TheLearningAlliance.org.
Photos by Joshua Kodis