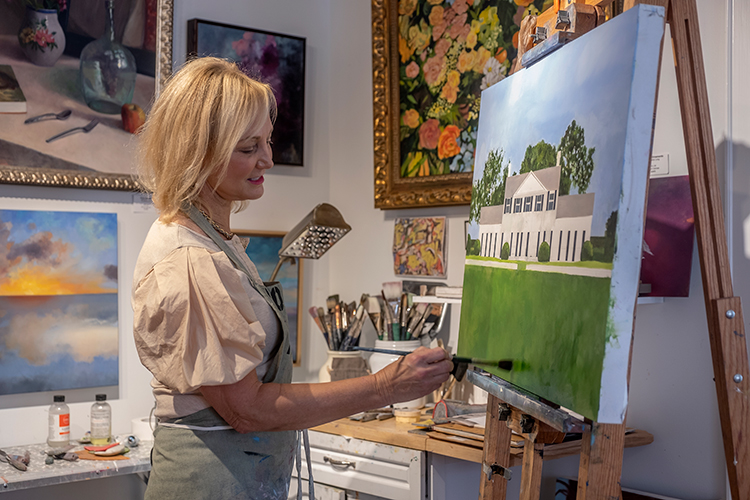 Professional artist Madeline Long says she discovered that she needed to adjust her color palette when she and husband George moved to Vero Beach from New Canaan, Conn.
"The light is so different, a whiter light, it affects how the colors read," says Long, noting that in addition to adjusting colors, her subject matter and style changed as well.
Consistent with artists who paint day in and day out, her style has evolved over the years, and is now a recognizable style that has created a following of serious art collectors.
Long says her artistic journey started at an early age, with drawing. Growing up in Melbourne Village, Fla., there were a lot of artists for her to look up to.
"A friend's father was a member of the American Watercolor Society, and he was a big Andrew Wyeth fan. I still am. I think Wyeth is one of America's foremost abstract painters. If you look closely at his backgrounds, you can see how loosely, but masterfully, they're painted."
Beginning in 2009, Long worked with classically trained instructors from the Florence Academy of Art, founded in 1991 by Daniel Graves. There, she studied the Bargue method, created in the 1860s by Charles Bargue and Jéan-Leon Gérome, whose legendary publication was compiled as an entirely pictorial instructional manual for drawing students.
Her work there included Bargue drawings, cast drawings in charcoal of sculptures, and working in full color from live models. Long explains that these basics form a solid base for serious artists, not only to gain expertise in traditional styles, but to branch out into all painting genres, including figurative drawing.
"This was my passion until we moved to Vero in 2013," says Long. "They talk about how artists flock to certain areas because of the light. Well, my dark, tightly constructed paintings seemed out of place here, and I became totally captivated by the special light quality of this area."
Her training gave her the insight that, while contemporary art may look simple, there is still structure there.
"Why is your eye moving this way around the painting? Sometimes it's a shift of color, whether the color comes forward or recedes. It gives the painting depth. Little things just make the painting click," says Long, adding that it can take time to make it work.
"I don't find resolution in abstract happens as quickly [as in traditional]," says Long.
Her work since moving to Vero more frequently falls into the abstract category and, though the paintings are less detailed than traditional works, Long says she spends more time on them, building up their texture and color.
She approaches each painting as a way to share a story or to evoke a connection or mood.
"I'll consider how I want the viewer to perceive my paintings," says Long, often first defining subject matter, props, setup and lighting.
"However, sometimes I'll just start a work in reckless abandon, painting an abstract completely from scratch, depending on the mood I'm in that day. And then, as a piece unfolds, there is an aspect of discovery that begins to develop."
Other times, she considers the formal elements of the painting, such as line, color, form, value, texture and composition.
"This is the fun part," says Long. "I'll look at whether my colors are primary, secondary or complex-tertiary, warm or cool, contrasting or complementary. Every color can be warm or cool, so I may add a subtle warmth to a color to bring it forward or add coolness to recede."
She explains that when looking at the composition, she considers the balance, symmetry, scale and proportion, and how the eyes move around or off the canvas.
"Finally, I will look at the edges and texture and how they relate to each other or as a whole."
Long prefers painting on Ampersand Gessobord, a harder surface that produces a smoother, crisper finish with a certain luminosity. When she does occasionally use a canvas base, she tops it with a sealer to give the finished product that same sheen.
"I find painting in abstract is sort of like peeling an onion. There are layers, finding out what the essence of the painting is, and understanding what I am trying to evoke, versus someone thinking I just splashed some color, and it worked out."
A recent painting made during one of her frequent visits to Monhegan Island, Maine, features a rock formation that becomes all her own, with rocks coming to life in an unexpected way, a pinkish sky that seemingly oozes down over the top of the rocks like pink lava, and water that takes on a brilliant greenish blue. The total effect moves a traditional subject matter into a clearly contemporary genre, all pure Madeline Long.
Long says it can take a month or two to finish a painting, though she is usually working on more than one at a time. Current works range from traditional to abstract, all proceeding separately yet in tandem.
"At this point, I revisit my intentions. The narrative quality, the composition and the masterful techniques. I spend a lot of time with some of my paintings, so there's always a story."
Many of Long's paintings are playful or have a touch of whimsy. The painting of a white house, currently in the works, has a young girl standing in the forefront, facing the house. The precise lines and tightly rendered details of the house are offset by the loosely rendered girl, whose softer lines lend joy to the composition.
That painting has a Wyeth feel to it, with its loosely constructed background, and more detailed image. Among the other artists she favors are Richard Diebenkorn, Cecily Brown, Gerhard Richter, Willem de Kooning and John Singer Sargent.
"But I love a lot of them," says Long.
A painting of a golf course and sand trap with three tall palm trees has a small, pink flag on the green, flapping in the breeze and softening an otherwise precisely drawn image. It just shakes the painting up a bit and makes it more approachable.
Long's still life "Portmanteau" won Best in Show at the Vero Beach Art Club's Art by the Sea exhibition and sale last year at the Vero Beach Museum of Art. The painting is set apart by its perspective, viewed at table height, as if you were sitting directly in front of it, and by the delicate reflections in an old-fashioned glass bottle.
Long's Vero studio is in the Palm House Gallery on Ocean Drive, where a small group of artists work and display their art. She enjoys involvement in various art organizations in our extensive arts community, including the Vero Beach Museum of Art and the Vero Beach Art Club. In the summer, she paints in her studio in Wilton, Conn., and studies at the Wire Mill Academy in Georgetown, Conn.
She is currently in a Friends of Contemporary Art (FOCA) show at the Spiritual Center for Healing, and says she is looking forward to participating once more in Art by the Sea in January.
"Art brings so much joy in someone's home."
Photos by Joshua Kodis