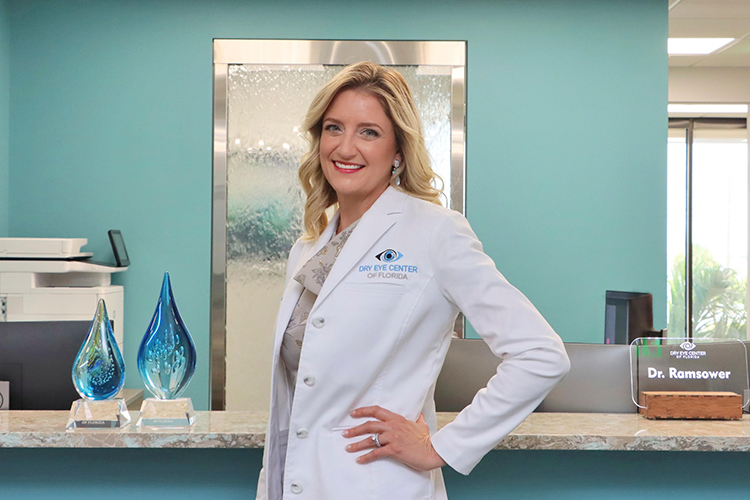 Getting older sometimes brings unwanted surprises. Take, for example, your vision, which had been perfect all your life but is suddenly less than perfect. You notice that it's harder to read the instructions on a package, or the TV guide seems blurry. At times, your eyes burn or itch and you have increased sensitivity to light. These may be symptoms of dry eye, which affects millions of Americans, mostly older adults.
If you are one of those afflicted by dry eye, there is good news.
Dr. Jenifer Ramsower recently opened the first clinic in central Florida dedicated to the diagnosis and treatment of this troublesome condition.
She combines the latest research and technology to relieve patients' dry eye symptoms and treats each individual based on an extensive eye exam and a thorough exploration of the patient's risk factors.
Dry eye is caused by an imbalance in the tear film that leads to an unstable tear structure. A stable tear film provides the outermost protective layer to our eyes, which helps to ensure clear vision.
There are two reasons why the tear film can break down. The leading cause of dry eye is a blockage of the meibomian glands in the eyelids. These glands secrete lipid oils that are essential to keep the whole tear structure intact. A lesser common cause of dry eye is a reduction in tear production. The tear film must have the proper balance of all its components to function properly.
"Dry eye disease is a multifactorial disease," Dr. Ramsower explained. "There are many different reasons a person can develop dry eye, including rosacea, rheumatologic conditions, previous eye surgery, history of sleep apnea, medications, glaucoma drops, contact lens wear, excessive computer use, poor diet, eye makeup use and a buildup of debris along the eyelash margin.
Therefore, the most important element in treatment is determining the underlying cause."
A dry eye diagnostic work-up involves a thorough evaluation with advanced equipment to develop a customized treatment plan that will produce long-lasting results. This technology typically is only seen in a clinic that specializes in dry eye care and generally is not part of a routine eye exam, according to Dr. Ramsower.
"Treatments include reducing inflammation on the ocular surface and around the eyes on the eyelids," she said. "It also includes treating the blockage of the meibomian glands if needed and possibly improving the quantity of tears on the surface of the eye. Overall, I want to achieve homeostasis, where all the components of the tear film are balanced. This creates a stable tear film that protects the front surface of the eye like it should and helps maintain good vision for the patient."
Dr. Ramsower often uses a combination of two advanced treatments that are certified by the FDA for dry eye disease: the Johnson & Johnson LipiFlow Thermal Pulsation System and the Lumenis Optima Intense Pulsed Light (IPL).
LipiFlow is a 12-minute automated treatment in the office that is a precise, computer-controlled way to clear meibomian gland obstruction and restore healthy gland function. Lumenis Optima IPL reduces inflammation surrounding the ocular tissue, which improves meibomian gland function, stabilizes the tear film and reduces dry eye symptoms.
Dr. Ramsower stresses that there are no long-term negative side effects from the treatments and that Lumenis IPL even has some beneficial aesthetic side benefits, stimulating collagen production in the skin and reducing wrinkles.
"Unfortunately, dry eye disease is a chronic condition," she said. "Symptoms from dry eye disease can become so severe that a patient's quality of life and mental status suffers. However, with proper treatment and care, a patient can return to a near normal lifestyle with little to no flareups in their dry eye.
"Left untreated, the symptoms can become very debilitating, making it difficult to complete everyday tasks. There is nothing more rewarding to me than when I am able to help improve a patient's quality of life."
Untreated dry eye can eventually lead to corneal disease. The cornea is the clear tissue covering the front center part of the eye that allows light to enter the eye. It must remain smooth and clear in order for the person to see clearly. The purpose of the tear film is to provide a protective barrier over the cornea from the outside elements. When the tear film becomes compromised, the cornea has no protection and can become rough like sandpaper. It blurs vision and can be quite painful. If left untreated, the cornea can scar, leading to permanent vision loss.
"It is important to remember to take regular breaks during computer work or TV watching, and blink the eyes," Dr. Ramsower advised. "Clean along the eyelid margins daily with a cleanser made for the eyelids. Wash makeup off nightly. Avoid permanent eyeliner or lash extensions. If you have symptoms of dry eyes, seek an evaluation with a dry eye specialist for a thorough evaluation and treat early. Also, avoid LASIK eye surgery if you already have dry eye symptoms."
Dr. Ramsower was in a private practice in Brevard County for nearly 20 years, associated with Holmes Regional Medical Center, before deciding to open her own dry eye clinic. Thirteen of those years were practicing at a glaucoma clinic, where she found a high association of dry eye disease within the glaucoma patient population due to patient age, medicated drops prescribed for glaucoma and the advanced surgeries needed. For the last several years at the glaucoma clinic she researched the latest dry eye treatments to bring the most advanced and effective dry eye care to her patients.
Dr. Ramsower is the clinical director and founder of Dry Eye Center of Florida. She received her doctorate from Nova Southeastern College of Optometry in Fort Lauderdale and completed her residency in Ocular Disease at the Veterans Medical Center and Wilmer Eye Institute at Johns Hopkins University in Baltimore. She is accepting new patients at Dry Eye Center of Florida, 930 S Harbor City Blvd., Suite 200, Melbourne. Call 321-503-2823 for an appointment.