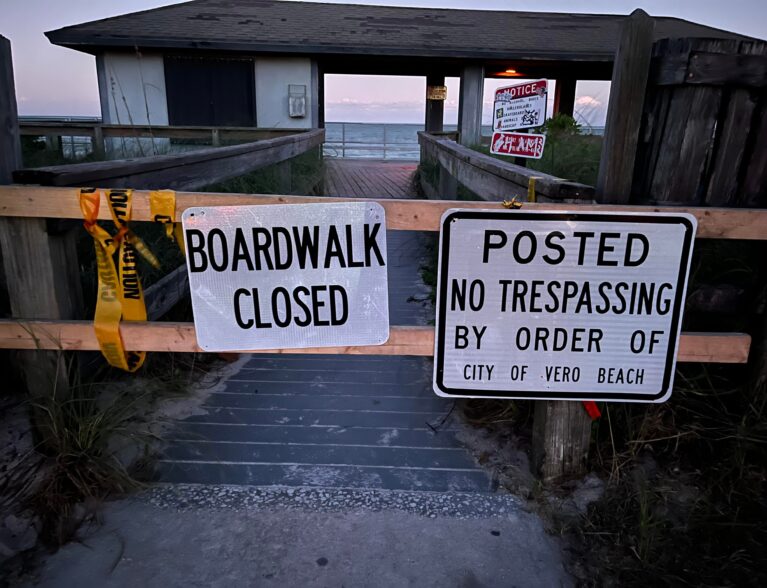 VERO BEACH — The Humiston Beach Park boardwalk – heavily damaged from Hurricane Nicole – could be demolished as early as next week, city officials said.
"We will discuss demolition of the Humiston boardwalk at (Tuesday's) city council meeting," Vero Beach Public Works Director Matthew Mitts said. "We are scheduled to demolish portions of the boardwalk next week."
Nicole, a Category 1 hurricane, brought 75 mph maximum sustained wind speeds and 1.90 inches of rainfall to Vero Beach in November 2022, meteorologists said. Hurricane Nicole delivered strong wind gusts up to 35 mph, which sent water from the Atlantic Ocean up to the wooden access stairways leading to the beaches.
The storm caused heavy erosion, damaging boardwalks including at Humiston Beach Park, Conn Beach and Jaycee Beach Park. Mitts said the boardwalk at Humiston Beach Park is "no good."
"We're going to have to demolish it," Mitts said. "We're looking at our options."
The Humiston Beach Park boardwalk remains closed to the public. Mitts said a beach access point at Humiston will be restored in late January.
City officials have added more sand to Conn Beach, which authorities said had severe erosion. Most of Conn Beach has been restored, while some access points and parking remain closed.
Mitts said Conn Beach was the only city beach in immediate need of sand.
"We've dumped 1,000 tons of sand at Conn Beach to stabilize parking on the road. We would've lost the road if we didn't place sand there," Mitts said. "That's the only place (in Vero Beach) sand was placed since Hurricane Nicole."
Mitts said city officials are working to have all access points at Conn Beach reopen by late January. The total cost to dump sand at Conn Beach was $22,250, Mitts said.
Jaycee Beach Park, which has since fully reopened to the public, and Humiston Beach Park were not in immediate need of sand, Mitts said. Mitts said city officials will likely bring in sand to Humiston Beach Park at a later date.