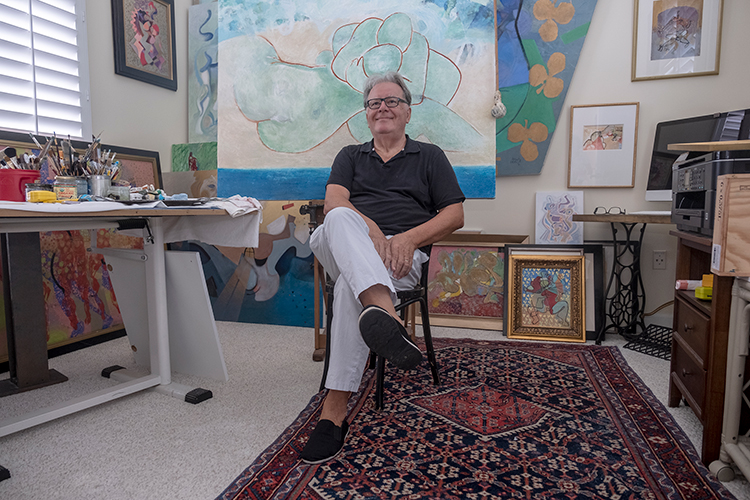 It is fitting that the first name of artist Maciek von Ato is pronounced "Ma Chick." The name sounds a lot like 'magic,' which is exactly what he creates, utilizing his limitless imagination to produce objects of artistic excellence.
"I was about 4 or 5 years old when I first discovered that magic of putting lines, shapes and colors together," says von Ato. "What began as a passion soon became an obsession."
A minimalist at heart, von Ato says, "I feel that one should minimize the number of colors, forms and objects and still be able to tell the story."
Some of those stories come from found objects. "Material drops from the sky, and I use it," he explains.
Examples include exquisitely unique candle holders made from copper gutters that had blown down in a storm, becoming an otherwise mangled, useless mess. A fallen oak tree was carved into the base of a coffee table and was also formed into two carved statues, each depicting different faces on both sides.
Discarded tables by the roadside have been turned into colorful treasures and a pair of large corbels (decorative supports) became a one-of-a-kind lamp. The master bedroom of his home features a hand-painted, gallery-quality headboard that defies description.
Allowing form to follow function, a multi-panel screen in his living room becomes a masterful adornment that keeps the television from taking center stage, and their charming Christmas tree is made from some of those old copper gutters, with its angel, stars and candleholders.
The Polish-born von Ato received a master's degree from the Academy of Fine Arts in Warsaw but left the country in 1981 when it became politically unsettled and before martial law was declared. He lived in Austria for two years before moving with wife Jayne and their young daughter to Australia, where he worked in graphic design to support his family.
He found the country to be beautiful but quite conservative and almost too vast. His daughter loves the country and still lives there, but he felt the need for a change.
Arriving in the United States by way of San Francisco in 1994, he soon relocated to New York City. He again worked in graphic design, before moving a few years later to the Philadelphia area, where their wooded retreat gave him greater room to think and create.
"The Philadelphia house had a six-car garage, which became my studio," says von Ato.
It provided plenty of space to work on wood or metal sculptures, flat, free-form wall sculptures or large-scale canvases. There was also enough buffering between houses that their neighbors weren't disturbed by the noisier aspects of his sculpture work.
He appreciated the area's rich history and respect for art, saying, "The DuPont family had developed all of these places of interest. It was very art-oriented."
Eventually, the couple tired of the cold and snow and, on the recommendation of a friend, they moved to Vero Beach five years ago. However, he says back troubles followed by COVID wasted much of that time and it has limited his ability to make connections with friends and fellow artists.
Nevertheless, he wants to be part of the contemporary art scene that is now gaining a foothold in the Vero area with the influx of new artists bringing in their expanded artistic tastes.
Many of his creations, sculptures and paintings alike, feature women. Not portraits, except for one that he made of his wife, but rather the sense of a woman, ethereally painted. Far from still life, his paintings are in motion, guiding the eye from one point to another.
Utilizing his graphic design training, von Ato interweaves colors and shapes as he tells his intended story, contrasting softer silhouettes with pyramids and triangles. Some of his contemporary pieces feature bolder colors and large canvasses.
Von Ato's use of gold in many of his works radiates light, capturing the viewer's attention to a higher extent and touching on spiritual depth. Nothing is excessive, yet everything contributes to the overall story.
While von Ato says he finds inspiration all around him, certain events have made deeper impressions, such as his large painting "Desert Storm," inspired by the Iraq war, and others that were influenced by the tragic events of 9/11.
"A matter of thought just comes to me," von Ato explains. "I hear something, or see something, and the project begins."
Though his sources of inspiration are unlimited, as are a wide range of materials, the minimalist in him comes out in his careful choice of elements for each piece, with their precisely edited images and colors.
Von Ato says of his work that "the boundaries between reality and imagination blur, exposing a moment in time, a dream, an experience, or merely an observation."
He uses only oils in his paintings, applying it in layers of various opacities, until obtaining the desired color, occasionally applying metallics.
"The illumination effect offers the viewer different perspectives, depending on the light source and time of day or night," says von Ato.
Von Ato has had solo and group exhibitions in the United States, Europe and Australia, and his work can be found in private collections worldwide.
He is a member of the Vero Beach-based Friends of Contemporary Art group, and some of his work can be viewed in the Viva FOCA exhibition at the Center for Spiritual Care in Vero through Jan. 3.
Von Ato says he looks forward to becoming a bigger part of the art scene here, as he and Jayne have embraced Vero and its lifestyle.
"We are happy here."
Photos by Joshua Kodis