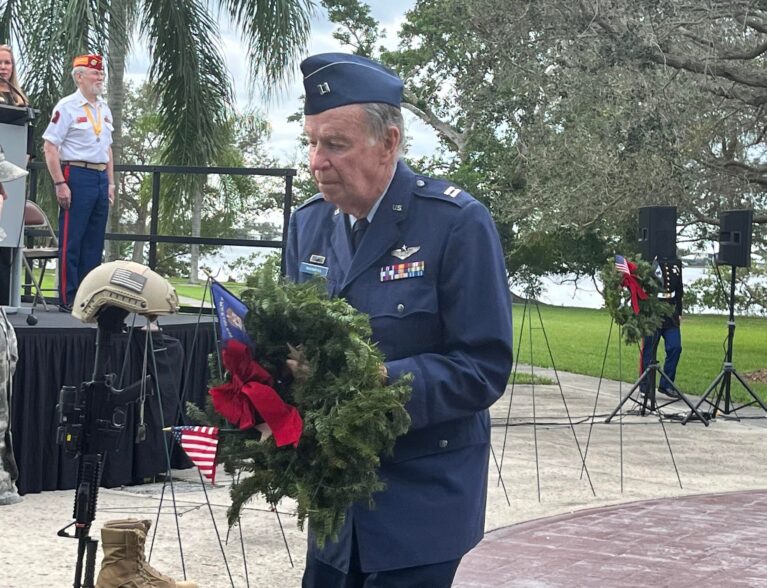 The short, but powerful ceremonies honoring veterans across the nation is what inspired resident Joe Crowley to help organize local services in Indian River County. Crowley, his wife Sue, both of Vero Beach, and Sebastian resident Rick Lewis co-organized the National Wreaths in America event held Saturday in the county to honor fallen veterans.
"I participated in Wreaths Across America when I lived in Massachusetts. When I moved here, it wasn't being done. I went to the veterans' services to ask if it could be done and here we are," Crowley said. "This (event) is for any veteran who has passed away."
This is the fifth year Indian River County has held a ceremony part of National Wreaths Across America Day, organizers said. Wreaths Across America – a 501 (c)(3) nonprofit organization – aims to remember, honor and teach by holding wreath-laying ceremonies for fallen veterans, according to its website.
The event in Indian River County drew about 500 volunteers, including children and adults from organizations such as the Boys & Girls Club of Indian River County, along with The Boys Scouts of America and Girls Scouts of the USA, organizers said. The volunteers gathered Saturday morning to place 2,800 wreaths on veterans' graves at 10 different cemeteries, including in Vero Beach, Sebastian, Gifford, John's Island, Wabasso, Winter Beach and Oslo.
An 18-minute ceremony was held at noon at Veterans Memorial Island Sanctuary on the barrier island. Audience members sat quietly as they listened to speeches that paid tribute to war heroes and inspired future leaders.
"World War II veterans saved the world," said John Michael Matthews, Chairman of the Veterans Memorial Island Sanctuary Committee.
Volunteers also placed wreaths on neatly lined memorials at the sanctuary, though there are no grave sites at the location, organizers said.
Those in attendance included Vero Beach Councilmember and Veterans Council of Indian River County board member Tracey Zudans, who led the pledge of allegiance. Other legislators present were Vero Beach Mayor John Cotugno, Chairman of the Indian River County Commissioners Joe Earman and Commissioner Laura Moss.
National Wreaths Across America Day is held every third Saturday in December, just weeks after remembrances for the attack on Pearl Harbor. Those who want more information on the event can go to the organization's website.
Photos by Nick Samuel