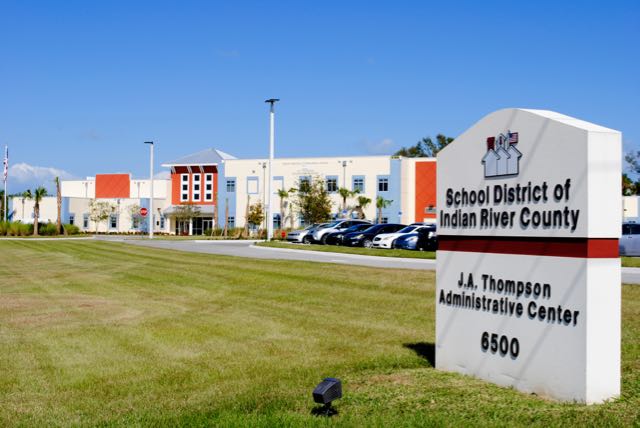 My guess is, most of you know very little about Dr. Gene Posca, who became the newest member of the School Board last week.
And, really, why would you?
Posca, a physician who specializes in internal medicine, ran unopposed for the District 1 seat – which means he didn't need to campaign and, thus, escaped the media spotlight and sometimes-harsh scrutiny endured by candidates in the two other local School Board races.
"I've probably treated more than 10,000 people in my five years in the county," Posca said last weekend, "so I'm fairly well known in that regard."
He also attracted statewide attention during the COVID-19 pandemic for his leadership role in opposing federal vaccination mandates for healthcare workers and advocating for the later-enacted state law preventing such mandates for businesses and schools.
In fact, Posca testified in front of the Florida House's Commerce Committee in November 2021 and was quoted by FloridaPolitics.com as referring to COVID vaccines as a "dangerous and experimental drug" being imposed by "fascists" from Washington.
Locally, he challenged Cleveland Clinic's vaccination mandate, which he said was opposed by as many as 300 Indian River Hospital employees.
Posca said he believes his anti-mandate efforts – particularly his testimony in Tallahassee last year – were "directly related" to Cleveland Clinic not renewing his hospital position here.
Though he never received an official reason, he said he was "put on leave my first day back and escorted out of the building by three security guards."
It was amid the pandemic, Posca said, that he became even more concerned about "government overreach" and began thinking about running for a seat on the School Board.
"I was watching a lot of things happening in this county and saw some things moving in a negative direction," he explained. "I decided to run for School Board because, to me, education is the most important factor in a community."
Besides, Posca said, he has always embraced opportunities to educate – as a math and science tutor in college, as a chief resident helping other resident doctors, and as an associate professor of internal medicine at Florida State University's College of Medicine.
He plans to bring his "passion for education" to the School Board, where he replaced Mara Schiff, who served one-term and opted to not seek re-election.
What else does he plan to bring? How will his presence impact the direction of the board? Will he join the re-elected Jackie Rosario in wasting time on culture-war issues at the expense of improving education and student outcomes?
For what it's worth: Posca was endorsed by the local chapter of the Moms For Liberty, a hard-right parental-rights group that also endorsed Rosario and often uses the public-comment segment of board meetings to draw attention to concocted controversies, such as allegedly inappropriate school library books and critical race theory.
Apparently, though, it's not worth much – because Posca said he merely inherited the Moms' endorsement after an earlier candidate dropped out of the race.
Then again …
Posca nominated Rosario to be the School Board's vice chairman, only to see her lose a 3-2 vote and the post go to former chair Teri Barenborg.
"There has been a lot of speculation about who I am and what I am, so let me say this: Assume everything you've heard about me is wrong," he said. "I am not aligned with anybody. I have my own internal belief system."
Posca said he supports parental rights, so much so that he publicly accepted an endorsement in the nonpartisan School Board race from the Republican Liberty Caucus of Indian River County, which cited his commitment to "empowering parents to make educational and medical decisions for their own children without interference from bureaucrats and unions."
His position aligns with the Moms, who also believe parents should have a significant say in their children's education. However, Posca said parents must be willing to accept "some things they disapprove of."
Similarly, Posca's first meaningful action as an elected official last week was to appoint Kristy Tankersley Molledo to the School Board's 11-member District Objection Committee, which will preside over challenges to the use of instructional, library and reading-list materials.
"If people are wanting to get to know how I will operate on this board," Posca said, "this being my first action is very noteworthy."
Why?
"She is a veteran and member of the LGBTQ community," Posca said.
Posca, who is married with three children and a fourth on the way, describes himself as a "conservative Christian."
Then there's this: During his swearing-in ceremony, Posca took an oath to defend the constitutions of both the United States and Florida. Later in the meeting, he said that, in his opinion, his pledge included "not following unconstitutional laws and respecting the Bill of Rights."
When asked to explain his stance last weekend, Posca said the oath to defend the constitution would prevent him from abiding by "unlawful mandates and executive orders," as he believes were imposed during the COVID pandemic.
As for what's happening in schools, Posca said he has some specific concerns, "but most of the things I talk about are not on people's radars." He cited among his priorities campus safety, student health and helping teachers.
He said he plans to work with law enforcement and review the entire school-security system, including safety plans and risk-assessment measures.
From a health perspective, Posca said he wants the district to address students vaping on campus.
"Kids are vaping all day, and their parents aren't aware there's a problem that's growing all over the county," he said, adding that the district needs to increase student supervision and install vape detectors "because kids are destroying their lungs."
Lastly, Posca said he wants to review the science curriculum – an area in which he has expertise – and, perhaps, get involved in coaching teachers to maximize their opportunities to inspire students.
"Many of the successful people I've encountered have had at least one teacher who made a big impact on their lives," he said. "I care greatly about every parent and kid in this county, and I want to ensure every kid receives the best education we can provide in a safe and healthy school environment."
By the way, Posca said he does not believe the district has a problem with teachers indoctrinating students.
"We have a lot of great teachers here," he added.
Unlike politicians who seek public office for the wrong reasons, Posca said his motives are pure: He wants to help.
That's why he has promised to donate his School Board salary to a fund he plans to create to help students interested in attending technical and trade schools.
That's why he'll serve on the board while commuting to his job at the Moffitt Cancer Center & Research Institute in Tampa, where he spends two weeks each month – though he did arrange to take off for two months to familiarize himself with his new elected position here.
"It's been a constant flow of information," Posca said. "Fortunately, I practice a specialty of medicine that allows for a good amount of free time."
We'll see where he goes from here.