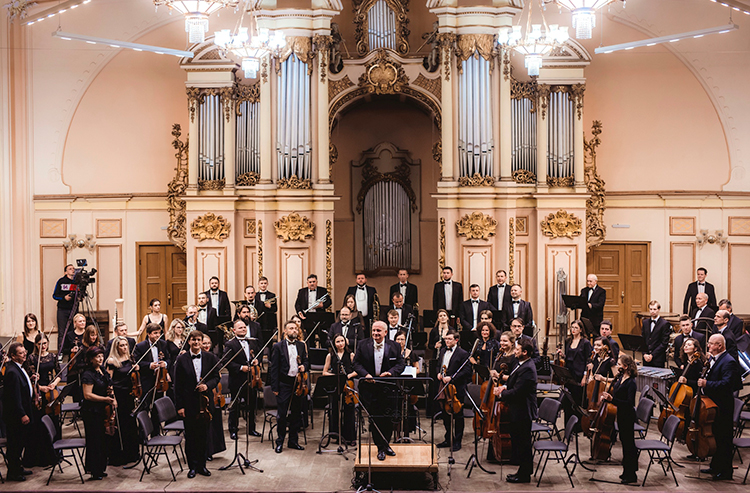 Vero Beach hits the international stage once again in January when they present the Lviv National Philharmonic Orchestra of Ukraine, led by conductor Theodore Kuchar and featuring guest pianist Stanislav Khristenko.
The concert, scheduled for Friday, Jan. 13, 2023, and presented by the Indian River Symphonic Association, is the first stop in a 36-city tour by the acclaimed orchestra. The last concerts on their U.S. tour will include performances at Carnegie Hall and Radio City Music Hall in New York City.
IRSA vice president Christopher Kitts, who has a long career in symphonic music, is well connected to booking agents. When he heard that the Ukrainian National Philharmonic Orchestra and Theodore Kuchak were going on tour, Kitts booked them as soon as the opportunity presented itself.
"This is the real deal," he says.
The music selected for the Vero Beach program includes two works by Brahms and one by Sibelius. The dramatic musical compositions evoke a sense of dread, courage and, ultimately, triumph. Adding in that the musicians performing the music are Ukrainian, the concert is likely to stir the audience to tears.
Kitts says audiences can take the music as an "evocative, perfect examination" of what Ukraine is going through right now, explaining that the program is designed to take people through some fairly dark, weighty pieces, into something haunting and with a brilliant conclusion.
The audience won't be the only ones affected. The musicians, who have been living under constant threat, should experience performing the music on a different spiritual level, Kuchar says. For most of them, this will be their first performance in the Unites States, which is their dream and ideal.
"The United States of America will always be the United Stated of America regardless of the president, politics and the world," says Kuchar in a phone interview. "You can be sure that when they are sitting there playing Brahms and Sibelius there will be something symbolic."
The intriguing aspect of the Sibelius Symphony No. 2 is that it was composed when Finland (Sibelius' homeland) was experiencing oppression by the same foe, says Kuchar.
"The Sibelius Second Symphony is a triumphal response to Russian oppression," Kuchar says.
"You can't compare the situation (to the current atrocities in Ukraine) but it was the hands of the same oppressor."
Stanislav Khristenko will perform the Brahms Piano Concerto. An award-winning pianist, Kuchar first met him during an early residency at the Cleveland Institute of Music, when Khristenko was a student and Kuchar was then a Distinguished Visiting Conductor.
"(He) is undoubtedly one of the most skilled and successful international pianists of his generation," Kuchar says.
Born in the United States and raised by a Ukrainian father who spoke seven languages, Kuchar confesses to a "weakness and loyalty" to his ancestral homeland.
In 1994 he became the artistic director and principal conductor of the National Symphony Orchestra of Ukraine based in Kyiv, Ukraine's capital. Then, in 2018, he joined the Lviv National Philharmonic Orchestra of Ukraine and became its principal conductor.
Living in the medieval city had always been a deep joy, he says, noting that its history is a rich one.
Kuchar easily and quickly talks about its recent history as part of the Austro-Hungarian Empire, part of Poland, part of Tsarist Russia and the Soviet Union. Because it is in the western part of Ukraine, he says Lviv is a "fairly peaceful" town in a country that its aggressor wants to turn into "rubble, cement and dust."
"Lviv was a fantastic place to live … one of the most beautiful cities in Europe," he says.
His home there is 15 minutes from the airport, perfect for an in-demand conductor who flies all over the world to lead orchestras. But now, he says, because of the war, all Ukrainian airports are closed. In order to fly out somewhere, you need to travel to Warsaw or Krakow in Poland.
A recent conducting trip to Capetown, South Africa, had him get on a bus at 11 p.m. and spend five hours at the Polish border before getting to Warsaw the following afternoon. He says the 17 hours he spent in the air was the easiest part of his journey.
Daily alarms have had their toll on everyone there.
Kuchar tells the story of a soloist who came to him recently, crying. She has a 2-year-old, 18 private students and needs to practice at least three hours a day.
"She said, 'Maestro, how can I think of music when we don't know where the next rocket will fall?' People are traumatized, because they don't know what their next step will be."
"Nobody knows where the rockets will land," he says. "Nobody is living peacefully. Everyone lives under a threat. But life has gone on. The orchestra has given concerts. But when alarms go off, everyone has to run to the shelters and an hour has to pass before returning."
Yet once the concert begins and they walk onstage, the world outside disappears.
"You forget about rockets, alarms, limited hot water, not being able to take a shower," Kuchar says. "Your job is to focus completely on the music you are doing and ultimately to make the people who have come to listen to you forget about any difficulty."
The Lviv National Philharmonic Orchestra is just the start of the Indian River Symphonic Association's season.
The next internationally acclaimed orchestra they are bringing to town is the venerable Philadelphia Orchestra.
"It's a wide ranging, balanced season, with something for everybody; our strongest season," says Kitts.
The entire 2023 Indian River Symphonic Association season of concerts includes:
Friday, Jan. 13: Lviv National Philharmonic Orchestra of Ukraine, Theodore Kuchar conducts, with pianist Stanislav Khristenko. J. Brahms Tragic Overture, Op. 81, J. Brahms Piano Concert No. 1 in D Minor, Op. 15 and J. Sibelius Symphony No. 2 in D Major, Op. 43. Single tickets are $80.
Sunday, Jan. 22: Brevard Symphony Orchestra, Christopher Confessore conducts, with soprano Kyaunee Richardson. H. Villa-Lobos Aria from Bachianas Brasileiros No. 5, J. S. Bach (arr. by G. Mahler) Suite from BWV 1067 and 1068 and G. Mahler Symphony No. 4 in G Major. Single tickets are $60.
Sunday, Feb. 5: Brevard Symphony Orchestra, Christopher Confessore conducts. "Comedy Tonight POPS" featuring music from "The Pink Panther," "The Producers," "Monty Python," "Curb Your Enthusiasm," and classic cartoons, plus "Sneaky Pete and the Wolf," a comic re-telling by Peter Schickele of Prokofiev's "Peter and the Wolf." Single tickets are $65.
Thursday, Feb. 16: Philadelphia Orchestra, with principal guest conductor Nathalie Stutzmann and violinist Gil Shaham. P. Tchaikovsky Polonaise from "Eugene Onegin," J. Brahms Violin Concerto in D Major, Op. 77 and J. Brahms Symphony No. 1 in C Minor, Op. 68. Single tickets are $110.
Friday, March 24: Palm Beach Symphony, Gerard Schwarz conducts, with pianist Mischa Dichter. Joseph Schwantner Sojourn: Reflections on Thoreau, G. Gershwin Piano Concerto in F Major and I. Stravinsky "The Firebird" (complete). Single tickets are $80.
Tuesday, March 28: Buffalo Philharmonic Orchestra, JoAnn Falletta conducts, with violinist Sandi Cameron. Z. Kodály "Dances of Galanta," F. Mendelssohn Violin Concerto in E Minor, Op. 64 and Dvorak Symphony No. 7 in D Minor, Op 70, B. 141. Single tickets are $90.
Sunday, April 16: Brevard Symphony Orchestra, Christopher Confessore conducts, with cellist Mark Kosower. A. Copland "Fanfare for the Common Man," A. Dvorak Cello Concerto in B Minor, Op. 104, B 191, J. Higdon "blue cathedral" and H. Hanson Symphony No. 2 in D-flat Major, Op 30, W45 "Romantic." Single tickets are $60.
The concerts, presented by the Indian River Symphonic Association, begin at 7:30 p.m. in the 868-seat sanctuary of the Community Church of Vero Beach, 1901 23rd St., Vero Beach. Season subscriptions range in price from $395 to $435. For more information, call 772-778-1070 or visit IRSymphonic.org.