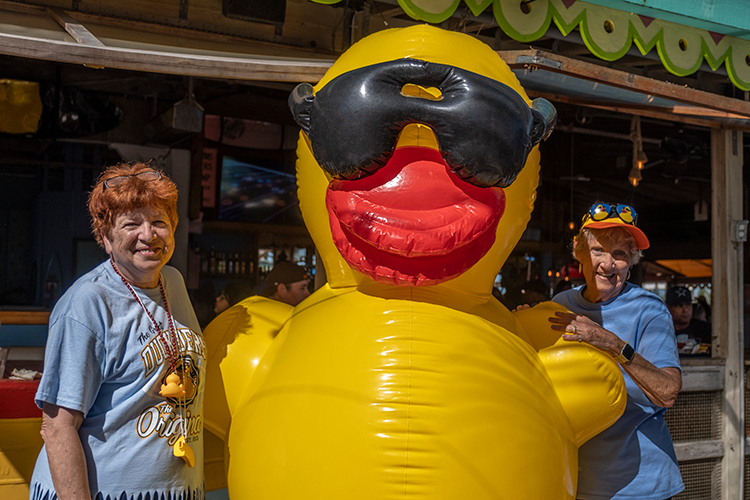 Cheered on by the crowd, 5,000 yellow rubber duckies bobbed their way in a 'race' to the shoreline at the Capt. Hiram's Sandbar during the 10th annual Duck Derby to benefit Treasure Coast Community Health. The first three 'adopted' ducks that made it to shore amid the turbulent waves fetched cash prizes for the 'lucky ducks' in the crowd.
Before the nail-biting race, attendees went quackers over the glorious afternoon as they danced to music by Johnny and the Blaze, participated in raffle drawings, and enjoyed the overall camaraderie. Indy the Duck – an American Pekin duck – stopped by to ensure nobody's feathers were ruffled, although Quackers, the TCCH Duck Derby mascot, wasn't quite sure what to make of the usurper.
The Vero Beach Art Club earned a feather in its cap for coloring outside the box with a silent auction they held earlier in the week that featured duck divas designed by local artists.
Contenders included everything from a pirate to a surfer and a peacock to a cowboy.
"We've sold out two years in a row," said Vicki Soulé, TCCH CEO, of the rubber duck adoptions.
"Next year, we will have more ducks to put in the water. The community support is phenomenal, and we're very grateful that we can pass that on to the patients who need it."
The nonprofit TCCH serves more than 25,000 clients yearly, many who are at or below the Federal Poverty Level, providing accessible, cost-effective, high-quality, comprehensive healthcare to everyone, regardless of their socio-economic circumstances.
Duck Derby proceeds will help them provide a variety of treatments, including substance abuse, dental care, behavioral and mental health services, vision and medical healthcare at costs based on income.
"This year, the need is great all over," said Soulé. She explained that proceeds were previously designated for a specific healthcare need, but now they will be used for anyone who
needs additional care.
Vision care is one of their newer services. A part-time optometrist specializing in adult eye diseases can perform full-scope eye exams and, if needed, will refer patients with cataracts or glaucoma to an ophthalmologist.
"We're also putting glasses on children," said Soulé, explaining that children often don't realize they have vision problems.
"If they've got a cough, we hear it. If they have an earache, we see them rubbing their ears. If they have a toothache, there might be swelling. The kids are identifying this hurt. There's none of that with vision. If you have poor vision and you've had it since birth, that's all you know," she continued.
Noting the difference glasses can make to a child, Soulé said: "One of the first little boys that we fitted with glasses came back and said, 'Did you know that trees have leaves? They're not just green. I can pick the leaves, and we can make things with them.'"
TCCH offers services in eight locations in Indian River County and has in-house pharmacy services in three of them. Currently, she said their biggest issue is a lack of space to meet the increasing needs.
"We are out of room. We just completed the purchase of the land right next to our Oslo site with the intention to build another building there," said Soulé.
For more information, visit TCCHINC.org.
Photos by Joshua Kodis