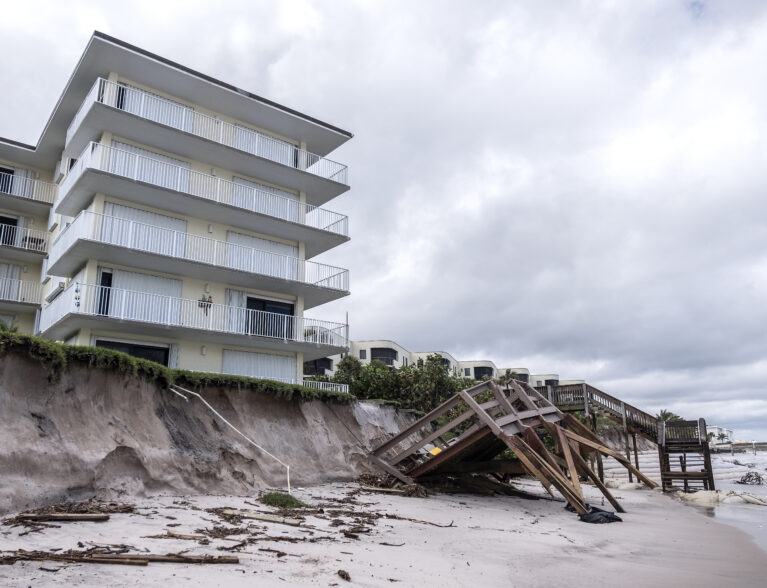 Update: Access to the beach at Sexton Plaza reopened as of Wednesday Nov. 16, 2022
Earlier story:
Hurricane Nicole left behind heavy erosion at several beaches in Indian River County – along with damage to beachfront properties – before tearing its way through central Florida last week. The Category one hurricane also brought winds and heavy storm surge that wrecked portions of boardwalks, shutting down access points to Vero's most popular beaches.
"We will continue to inspect our beach facilities and will reopen beach access points once conditions are safe for the public," Vero Beach police said in a statement. 
Police officials posted the current status of city beaches on social media this week:
Bahia Mar Beach Access: The dune crossover at Bahia Mar was destroyed and will be closed until further notice.
Jaycee/Conn Beach: Access to the beach is closed. Portions of the boardwalk will remain closed until we can safely restore the access points to the boardwalk.
Sexton Plaza: Access to the beach reopened as of Wednesday.
Humiston Beach: Access to the beach is closed until further notice. The Humiston Boardwalk is no longer safe and has been posted with no trespassing signage.
South Beach Park: South Beach is open. We are requesting residents use South Beach Park until our other beach facilities are open.