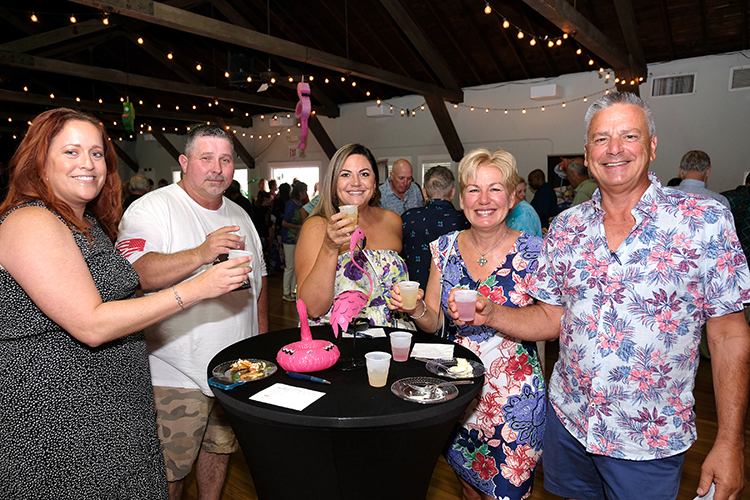 A Sangria and Margarita drinking flamingo, wearing a sombrero of course, flamboyantly celebrated an inaugural Sangarita Challenge at the Heritage Center that was hosted recently by the Exchange Club of Vero Beach.
Throughout the evening, six local restaurants – Armani's Cucina, Blue Agave, Chive, Cobalt, Polo Grill and Southern Social – vied for bragging rights as to who could serve up the best Sangria, Margarita and small plate appetizer.
Attendees enjoyed sipping and sampling their way, embracing the difficult task of voting for their favorite spirits and nibbles, as they perused a wide array of silent-auction items, with proceeds supporting the Exchange Club of Vero Beach Scholarship Foundation.
In the end, Blue Agave earned the title of Best Margarita for their Mango Habanero Margarita, made with a house-infused tequila. Chive was informed by the crowd that it had poured the Best Sangria, a White Sangria with granny smith apples and grapes.
Armani's Cucina took home awards for the Best Small Plate, a Pear and Gorgonzola Fiocchi served in a creamy white sauce drizzled with truffle oil, and Best Overall for their double offering of an amaretto-based Italian Margarita, and their house-made Sangria.
The idea for the event was inspired by a sangria event held by an Exchange Club on the West Coast, said Dustin Haynes, president.
"To widen the audience, we added the Margaritas, so there were options for everyone."
The Vero Beach Club has been serving the community for more than 60 years and is one of five Exchange Clubs in Indian River County. Each works to make the community a better place to live through Exchange Club pillars – preventing child abuse, community service, Americanism and youth.
In addition to local service projects, such as packing and distributing bags of hygiene products to the homeless, Haynes said, "We give between $30,000 and $35,000 in scholarships to local students each year."
He explained that the student scholarship applications are reviewed and awarded by the nonprofit's scholarship committee, and that several scholarships are given to students attending technical schools.
As part of the National Exchange Club's work to prevent child abuse, the nonprofit distributes public awareness materials about child abuse prevention.
Haynes added that Youth Guidance of Indian River County will become a Child Abuse Prevention Center. Through a parent aide program, CAP centers serve as a conduit to train parent aides, who then go into the homes where abuse has been reported or where families are at-risk for abuse.
The program helps parents learn how to cope with daily stresses and how to create a positive environment to raise their children, all in hopes of breaking the cycle of abuse.
Since its inception, more than 545,000 families and 1.3 million children have been assisted through the Exchange Club's Child Abuse Prevention Center network.
For its next fundraising opportunity, the Exchange Club of Vero Beach will once again partner with the Vero Beach High School Band to sell Christmas trees near the Cleveland Clinic Indian River Hospital.
Meetings are held from noon to 1 p.m. Tuesdays at the First Baptist Church, in their Family Life Center on 15th Avenue.
For more information, visit NationalExchangeClub.org.
Photos by Joshua Kodis