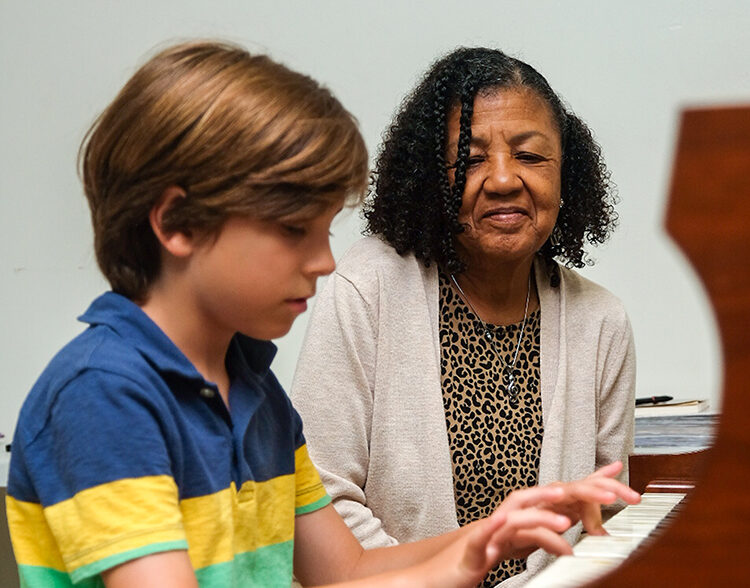 Ellen Sheffield-Charles was essentially born into music, although her parents were of differing minds as to how she should apply her musical talents. She has a photo of herself playing a miniature baby grand at just 4 months old, and today, at age 80, music continues to be a major part of her life.
Her father, Leslie Sheffield Sr., was considered an Oklahoma jazz pioneer. A notable jazz pianist, composer and arranger, he was inducted into the Oklahoma Jazz Hall of Fame in 2003. Her mother, on the other hand, was equally passionate about her playing music at church, and Sheffield-Charles says she has spent her entire life straddling both worlds.
"The day I was born, my father was in Los Angeles, California, playing on Wilshire Boulevard with the Lucky Millinder Band," she says. "My father wrote a song for me when I was 2 years old and showed me how to play it. I played it on his band's radio show."
She recalls that her father would frequently bring sheet music home for her to play, listening to her while he shaved.
That's how I learned the standards, like 'Sincerely,' 'Tenderly' and 'My Funny Valentine.'
He could tell if I played a note wrong. By him being an arranger, he knew when something was out of sync," she explains.
She began playing the cornet in the third grade and picked up other instruments along the way. Eventually, Sheffield-Charles says, she learned to play multiple instruments, along with each instrument's part in the arrangements.
In junior high school I played whenever somebody was absent. I played their part."
Her father played with some of the great jazz, swing and rhythm-and-blues musicians, including Snub Mosley, Oran "Hot Lips" Page, Buster Smith, Walter Page, Count Basie and Bennie Moten.
Sheffield-Charles says she was influenced by their music and, even today, can still vividly recall meeting some of them.
"I remember Nat King Cole telling my daddy that he missed playing with him, and Count Basie telling me to convince my daddy to write more arrangements for him, because, 'He's one of the best arrangers we've ever had.'"
According to Sheffield-Charles, when Charlie Christian, an early electric guitarist, left Leslie Sheffield's Rhythmaires Band to play with the Benny Goodman Sextet, he brought with him some of her father's original compositions. Among the pieces was "Flying Home."
Sadly, their family home burned down while she was still young, destroying many of his original works, so she has very few of them in her possession.
At age 42, Sheffield-Charles was playing at an Oklahoma City club and had a chance meeting with a former high school classmate which changed the direction of her life.
She recalls the classmate telling her: "With all the talent that you have, that you should end up here [at the club]. Do you know where you could go if you would put forth effort and have goals?"
Two days later, the friend had set up an interview for her with the band director at the University of Oklahoma. An impromptu session ensued, and she was offered a four-year scholarship. The band director related that her father had visited the college in the past and had occasionally taught workshops with students in the program, bringing the relationship full circle.
Sheffield-Charles says one of the greatest things she learned in college was not only how to enhance her skills, but how to apply her music in concert with others.
"Working with other people, with the band, a whole different world opened up," she says.
While earning a Bachelor of Arts in music education, Sheffield-Charles toured with the University of Oklahoma jazz band, performing in Paris, France, and Berne, Germany, before playing in the Montreux Jazz Festival in Switzerland.
"Musically I've been very fortunate. I'm happy to still be involved in the music world," says Sheffield-Charles. She adds that life is full of opportunities; you just have to grab them when they happen.
Over the past 68 years, she has filled many roles in churches, from minister of music to choir director, and she has also taught countless children how to play the piano.
Additionally, she was the band teacher at the very high school she graduated from and was the artist-in-residence at the Oklahoma Arts Council.
"One time I passed by Ballet Oklahoma and thought it would be interesting to play for them. So, I sent them a letter. The director hired me on the spot. I became one of the main pianists there and was instrumental in hiring other Black musicians to play," says Sheffield-Charles.
Another creative talent is writing. Her book, "The Diary of a Musician's Daughter," chronicles her own life, and she has contributed Black history articles to the Ebony Tribune about famed musicians and others who paved the way for future generations.
"Everyone should have a bucket list. At the top of my bucket list was to have my own baby grand piano. When I got this one, I threw my bucket list away," says Sheffield-Charles.
Although many years as a pianist has caused her to develop carpal tunnel syndrome, she still gets up every morning and tickles the ivories on that baby grand. Interestingly, she says that it is only when she's not playing that she feels any pain.
She moved to Vero Beach two years ago with her daughter, local singer Muffy Charles. Sheffield-Charles is also a vocalist and enjoys performing with her daughter, which she hopes to continue doing.
Locally, she has continued her teaching skills with Gifford Youth Orchestra participants.
"It takes practice, practice, practice. You learn more than just how to play," says Sheffield-Charles. "Music is made up of letters and numbers. You use cognitive skills and technique. It teaches you how to put things together to be successful. Music uses all the skills kids really need."
Sheffield-Charles believes that music is also spiritual.
"It brings about emotion and evokes feelings. Everybody ought to be exposed to music," she adds. "My music career has been a blessing to me. I can say I've done just about everything I really wanted to."
Photos by Josh Kodis