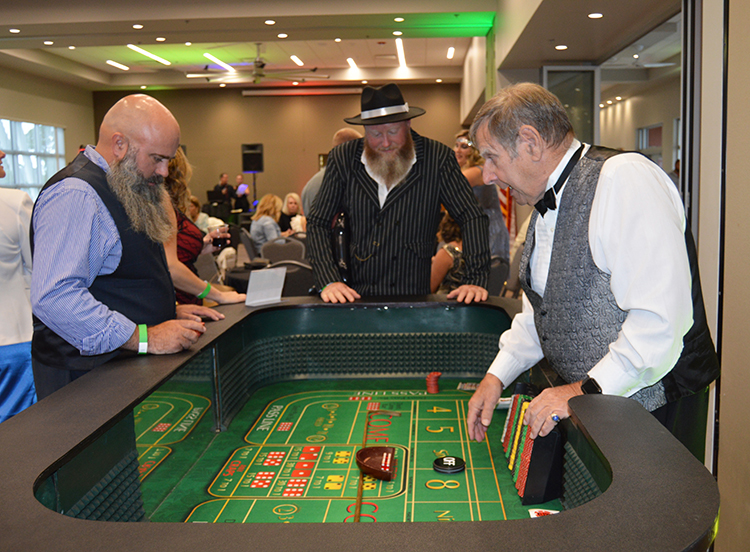 Everything came up aces during the Indian River County 4-H Foundation's 13th annual Viva Vero Beach Casino Night fundraiser at the Intergenerational Center.
Attendees cozied up to play blackjack, craps, roulette and poker with fun money in hand, later cashing in their winnings for chances at winning one of the numerous donated prizes.
Marianella Tobar's Latin Addiction Formation Dance Team had kicked things into high gear with a Vegas showgirl-style performance, as guests nibbled on a lovely spread catered by Huck's Catering.
The stakes were high as players embraced their roles as high rollers, leaving it all on the tables knowing that proceeds would benefit Indian River County 4-H youth programs. Guests also applauded this year's Erin Foster Arena Memorial Senior Achievement Scholarship Award recipient, Trevor Berryman of the Barn Blazers 4-H Club.
The Indian River County 4-H Foundation was founded in 2008 and works alongside the Cooperative Extension Office through the University of Florida to extend agricultural education opportunities to local youth.
The nonprofit's "learning by doing" approach for ages 8 to 18 helps them gain the hands-on experience, knowledge and skills needed to become responsible, productive citizens.
Participants choose 4-H clubs specific to their interests and attend camps and educational events from local to national levels.
The IRC 4-H Foundation provides funding assistance to help mitigate costs incurred when members travel to compete in local, regional, state and national level club-sponsored events and field trips, explained Jennifer Penn, foundation president, a former IRC 4-H participant.
Commenting that 4-H helps children become better citizens, she added: "They have more community awareness and learn how their actions affect those around them."
Despite the assumption that 4-H is only about animals, Penn said the program includes math, science, public speaking, leadership and creativity.
"It teaches them how to care for something other than themselves, whether caring for an animal or a citrus tree," said Penn. "By the time they graduate from high school, if they've been involved the whole time, they have 10 solid years of this framework that builds great young people. The demonstrations they are encouraged to give each year develop strong, young professionals. They learn how to be better citizens and take what's around them and make it the best possible."
Penn added that they encourage participants to think beyond club opportunities and to recognize that their actions can directly impact the community. "We want them to dream big," said Penn.
The Indian River County 4-H Foundation will resume monthly meetings in September, beginning with a Meet and Greet at 6 p.m. Sept. 5, and continuing the first Monday of the month at the County Administration Building A, room A1-101. No previous 4-H experience is required.
Photos provided