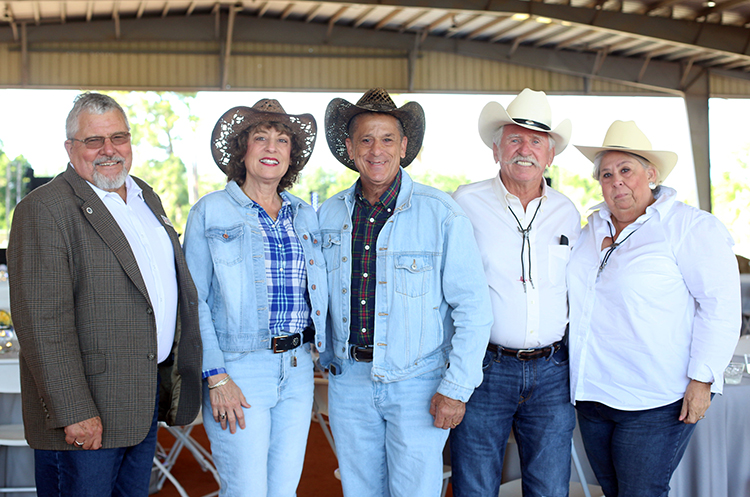 Roughly 150 supporters of the Veterans Council of Indian River County got their yee-haw on at a Denim and Diamonds fundraiser at the Indian River County Fairgrounds. Proceeds were going to be divvied up into the various programs of the council, said Jim Romanek, executive director.
Among its veteran services, Upward American Veterans provides emergency basic living expenses when other sources of support are not available, and Veterans Helping Veterans assists with basic home improvements. Veterans Transportation provides non-emergency bus service to the VA Hospital in West Palm Beach and some local medical appointments. Veterans in the Classroom visits local schools to give first-hand accounts of military service, history and patriotism.
Toe-tapping music was provided by the country western band Southbound 75, and once guests got a little loosened up, the daring ones took a turn on the mechanical bull. Following a mouthwatering BBQ dinner, Wesley Davis led spirited bidding on impressive auction items as well as a call to heart to raise funds for hygiene bags to be given to homeless veterans.
Steve Hume, an Air Force veteran and treasurer of the Veterans Council, said their two annual fundraisers are also a way to raise awareness of their services and those of its 28 member organizations.
"One of biggest problems we have, that I've noticed, is that everybody knows us, but nobody knows what we do. My drive right now is to get more volunteers," said Hume. "What we really need to start doing as an organization is come out and show people who we are, how we can help these veteran organizations and why they should be members."
As this Veterans Council is one of the largest in the state, Hume would like to see it expand into multiple counties and ultimately the state. He envisions a campus with a VA hospital – the closest one now is West Palm Beach – and a veterans' center, where vets can get help from their first day out of the military in areas such as education and training, jobs, and access to other organizations.
"Vero Beach is a great spot for it because it's central to so many cities. And that's the vision, that's the future," said Hume. He noted that there are some 16,000 veterans here, roughly 10 percent of the population.
"It's actually one of the biggest populations outside of a base. Why do we have so many vets here? It's because we're so veteran-friendly, and we want to keep those programs."
He said that more recent veterans, those who served in Operation Enduring Freedom and Operation Iraqi Freedom, are coming home with different problems than earlier wars and conflicts.
"You have contingents coming through now that have less representation as far as numbers, but more time downrange, more time deployed," said Hume, explaining that most WWII veterans served one tour and came home, whereas most OEF and OIF servicemen and women serve multiple tours.
Retired Air Force Col. Marty Zickert, who served on the Veterans Council board for 14 years, said that with this next generation getting more involved, he sees it getting bigger and better.
"It's so nice. We don't have to beg people anymore. They volunteer. So it's onward and upward."
Photos by Kaila Jones